If the TL competes with BMW 3-series, then the new CL must target the 3-series coupe. Both TL and CL are derived from the American Accord, so many things are common, such as suspensions, engine and transmission. However, it is not to say CL is simply the coupe version of TL, at least its wheelbase is 30 mm shorter, or equals to Accord's.

In male's point of view, the styling is not very attractive. Not only there is no much character to talk about, the women-pleasing sleek curves and long rear overhang can't deliver a powerful message like the compact BMW coupe. On the other hand, in terms of pure beauty, it is not in the league of our favourite Peugeot 406 Coupe which is penned by Pininfarina. In pure engineering point of view, placing the rear window so forward must limit the rear passengers' headroom. In terms of fashion, the extra-long boot seems reflecting the American love affair of long coupes of the 50s and 60s instead of the latest design theme of the 21st century. Not a clever design.

Ridiculously, underneath the feminine skin is the most powerful engine in class - not just the standard 225hp 3.2-litre V6 coming from 3.2TL, but there is a new, modified version delivering a full 260 horsepower. Remind you, the 328Ci has just 193hp on tap and even the US version M3 still trails the Acura coupe by 20 horses !

The 260hp model calls Type S. As already carried out in the Japan-only Prelude Type S, the badge "Type S" is reserved for high performance versions of Honda's models. Only the human-finished Type R can topple the Type S. Undoubtedly, there won't be a Type R for the Acura CL, therefore the Type S will be the hottest CL. Compare with normal 3.2CL, its sohc VTEC V6 is enhanced with higher compression ratio (10.5:1 instead of 9.8:1), dual-stage variable length intake manifold and low restriction exhaust system. This raise the redline from 6,300 to 6,900 rpm. Because of the variable intake, torque spread is also improved - from 217 lbft / 4,700 rpm to 232 lbft / 3,500-5,500 rpm. With such power and torque, it can sprint to 60 mph in 6.6 seconds, even faster than the manual gearbox 328Ci coupe.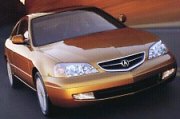 Like 3.2TL, the CL is not provided with manual gearbox. It is driven via a Tiptronic-style 5-speed automatic which is described by Acura's website as "Formula 1 race car-inspired". What a joke ! Well, Honda is coming back to F1, but don't link everything they have with F1, OK ?
In real world, the CL handles and rides more like a TL rather than BMW. Although the Type S is equipped with 17-inch wheels, thicker rear anti-roll bar, quicker steering rack ratio and VSA stability control, it is still a front-wheel-driver with 63% of weight taken by the front axle. Therefore understeer always exists. Suspension bias towards soft to suit its target buyers (obviously no bimmers, as suggested by the styling). Moreover, the kerb weight of 1600 kg also burden handling. Torque steer, however, may be eliminated by double wishbones front suspension.
As usual, the CL is generously equipped - leather seats, 6-disc in-dash CD changer, climate control - and is still cheaper than 328Ci, but the price gap is not too much.