The Statesman is surprisingly close to Buick Park Avenue in philosophy. Like the American car, it is near-luxury but not really luxury. It is big and bulky, softly sprung to please old men. It is reliable but feels cheap. And both cars are a stretched version of an existing platform - for Buick it is GM's G-platform, for the Australian car it is the Commodore platform.

The Statesman is built out of Commodore's parts bin. The chassis is lengthened to 5.2 meters - the same as the longest Cadillac today, with an astonishing 2.94 meters wheelbase to match. In many ways it is as big as a LWB Mercedes S-class, but like Buick, size does not reflect its status as an low-priced executive car. Maximum space per dollar still means a lot to Australian (and American too). Underneath the huge body is purely Commodore, with the same not-so-advanced suspension, the same old-tech engines (204hp 3.8 V6, 230hp 3.8 supercharged V6 and 300hp 5.7 V8, all are push-rod engines) and the same 4-speed automatic. Although it does not have any mechanical advantage over the bread-and-butter Commodore, its 1.7 ton kerb weight should not harm performance too much.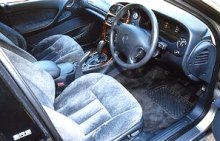 Performance is never a priority of this car, not only first priority but also second and third priority. Acceleration is not slow unless you choose the normally aspirated V6, but without a decent chassis the driver is unlikely love or dare to drive quickly. Predictably, the Americanised Australian car handles poorly. Thanks to the soft suspensions and huge body, it hates attack corners at anything other than leisure speed. It rolls, pitch, dive severely, floats up and down on ripples. That might not be a problem for its target buyers, but what about refinement ? sorry, the rough edges of Commodore's hardware becomes more obvious in this near-luxury model. The pushrod engines are harsh at high rev, especially the base V6; NVH suppression in the cabin is far from executive car level; the automatic is clunky at shifts and it is 4-speed only; the weighting of speed-sensitive power steering is inconsistent and non-linear.
The cabin is one of the biggest in the world today. No one knows why Holden needs so much extra room in front of your knees. Instead, I would have liked to shortened the chassis for more rigidity and better handling. Space aside, there are a lot of equipment, but you won't find advanced technology like keyless entry or big computer screen. Alright, buyers in their 50s or 60s may not be fancy with high-tech, but I think they should love faultless fit and finish, soft-touch plastic, beautiful wood and leather as well as high-quality switch gears ? Statesman has none of them. Sadly, its interior feels very cheap - not by exec standard but by family car standard as well. The dashboard design is dull to look too.
For a car so outdated in philosophy and so poor in execution, the conclusion is again this one: unless you need those interior space or you love a lot of metal for the money, look elsewhere. If it is not sheltered by Australia's protectionism - hence cheaper than a BMW 320i there, it would not have been surviving.