You won't be wrong calling it a Commodore coupe. Everybody knows it is a coupe version of Commodore, just like the relationship between Peugeot 406 sedan and coupe. However, Holden would rather name it after a 1968 coupe which is unheard to most of us - and ladies in their 40s will deny knowing it.

Monaro's chassis is purely Commodore, even without shortening wheelbase. However, Holden replaces nearly all body panels and windows, lowering the roof by 40mm, shortening the rear overhang and lowering the windscreen and fastback angle. The car looks particularly handsome from side and rear, although the nose is quite ordinary. Compare with Peugeot 406 Coupe, it looks big and less elegant.

The interior is disappointing for looks and build quality. Once again, the hard-plastic dashboard is carried over from Commodore, just adding fake aluminium decoration. In the positive side, it has plenty of space front and rear, because the car is actually very big.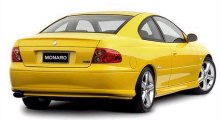 If you expect a sportier handling and performance, you will be disappointed. The Monaro not only shares the same engines with Commodore, but the suspension setting is even softer than Commodore SS. It seems that Holden wants to make it a comfortable tourer like 406 Coupe or 3-series Coupe, but then again its semi-trailing arm suspensions prevent it from offering true supple and quiet ride quality. Strangely, steering ratio is tuned slower than the sedan to make it more progressive and less nervous. Push the car hard, it is really more composed. It will understeer safely at the limit, it will power slide under hard throttle, but something seemed missing: agility and sharpness. By coupe standard, it feels too big and heavy.
There are two familiar engines - 230hp supercharged 3.8-litre V6 and 315hp 5.7-litre V8. The latter is definitely the better one, being powerful, torquey, good to ears while adding little weight. The Monaro is slightly heavier than Commodore, but given so much cubic-inches it should do 0-60 in under 6 seconds. That said, you need a M3 to beat it.
Performance and space are what the Monaro excels, but it has too many flaws - a sticky 6-speed manual, an old 4-speed auto, weak brakes and poor brake feel, undesirable interior, poor quality ... most disappointing, it does not offer more excitement than the Commodore, which is a fatal fault for a coupe.