HSV Commodore GTS 300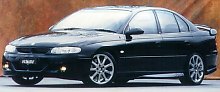 11 years ago, Lotus Omega set a performance record yet to be matched by any sports saloons - it was timed in 5.1 seconds to complete 0-60. Even without top speed tested, people believed it could top somewhere near 180 mph, in contrast to the electronically limited 155 mph of today's sports saloons. Now HSV is saying its new rocket, Commodore GTS 300, has broken the record by doing 0-60 in a mere 4.8 seconds (or 5.1 sec for 0-100 km/h). Is it true? not really. The best timing recorded by magazines is 5.2 sec. In terms of maximum speed, Australian sources estimated between 165 and 170 mph.

However, the GTS 300 is already the fastest saloon currently available, marginally beating BMW M5 and Mercedes E55 AMG. This must thanks to a Callaway-prepared LS1 V8 pumping out 300 kilowatt (which gave its name) or 402 horsepower. Again, that's marginally more than the more expensive M5. The GTS 300 is not cheap either - in UK, it is sold for £50,000 compared with M5's £60,000, although the gap in home country must be wider. Anyway, as supply of the Callaway engine is scarce, only 100 cars are available in a one-off production and all of them had already been sold.

Undoubtedly, the GTS 300 is an upgrade from the regular, 335 hp GTS. Instead of using a stock Corvette LS1 engine, HSV sought help from Callaway, who undoubtedly is the expert for modifying Corvette. The 5665 c.c. engine received improved breathing, such as larger ports, lower back-pressure mufflers, elimination of airflow sensor (to reduce pumping loss), higher lift cams and lighter valves etc. As a result, the power band has been widened to cover up to 6,500 rpm where engine cut-out takes place. High speed power output is enhanced a lot while torque at below 3,600 rpm is actually reduced slightly. In other words, the engine is more linear and not as low-rev bias as before. Peak power and torque occur 400 rpm and 800 rpm respectively higher than before, that is, at 6,000 rpm and 4,800 rpm. It sounds unlike a push-rod engine !

The engine retains the rumble and grumble of typical American V8. Idle quality is quite unsteady due to the big port etc. Throttle response can't match half of that of M5. Nor it is as smooth or as free-revving. The noise is deep at low speed and get serious from 4,000 rpm upward. However, it is undeniable that the 5.7-litre V8 is extremely powerful and torquey, and its efficiency even made the 4.9-litre BMW a little bit embarrassing.

The worst link is undoubtedly the Borg Warner 6-speed gearbox. Shift quality is very poor - heavy, stiff and rubbery feel. From 2nd to 3rd is especially difficult to shift. This harm very much the otherwise remarkable driving fun. The same goes for the long-travel clutch pedal. It is these trivial things that made BMW, Mercedes and Audi so precious. HSV is still very much a car tuner.

The good points? power aside, the handling is also remarkable, if not world-beating. Strong grip from 235/40 ZR18 tyres, powerful braking from cross-drilled ventilating discs with 4-pot calipers, fluent handling from new rear suspensions. Not really new actually. It came from the Lotus Omega, that is, basically semi-trailing arm plus a toe-control link. It fits the GTS 300 perfectly because the rear suspensions of regular Commodore were actually derived from the old regular Omega. The extra control arms keep the rear wheels toe-in slightly under even the hardest cornering, thus prevent from any uncontrollable rear-wheel slide as experienced in other Commodores or the 335 hp GTS. Now powering out of a hairpin becomes more fluent.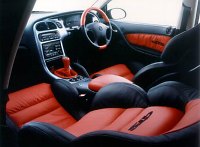 Entering a corner, there's a little bit initial understeer like any well-sorted sports saloon. Keep pushing hard, the car can power slide progressively and predictably, sometimes even 4-wheel drift is obtainable. At the limit, it is no inferior to the M5. Ride comfort is pretty good for this kind of cars. However, M5 and Audi S6 are even better. There's still quite a lot of unsprung weight of the semi-trailing arms to cope with.
In short, the GTS 300 has performance to amaze and has handling to match with the best European sports saloons. What it lacks is the ultimate precision and refinement found in its strongest competitors - engine, gearshift, clutch and ride. The cheap cabin may also let down those paying so much to secure one of the 100 cars made.