Hispano-Suiza H6 (1919)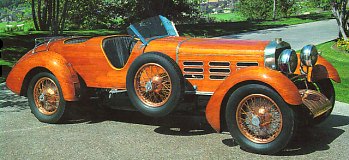 Hispano-Suiza was one of the most prestigious car marques in pre-war era. Its first class engineering and craftsmanship won the same fame as Bugatti and Rolls-Royce in Europe. The company was originally a Spanish company. Financed by Spaniard and led by Swiss engineer Marc Birkigt, that's why it got the name Hispano-Suiza (meaning Hispanic-Switzerland, where Hispanic is the old name of Spain and Portugal). However, the company then moved its majority production to France and therefore regarded as a French car maker.

H6 was the most famous model produced by Hispano-Suiza. Like most cars then, you can hardly describe its design because bodywork was custom built by various coachbuilders. It could be a sports car, a heavyweight limousine or whatever. What engineer Birkigt excelled was the engine – a 6.5-liter straight six with aluminum block and head and an overhead camshaft. To showcase its pursuit for excellence, the crankshaft was carved out of a solid steel block. The advanced engine produced 135 horsepower and was capable to push the car to 85 mph. Even the heaviest sedan could top 80 mph. Another advanced feature was power-assisted brakes, which was then licensed to Rolls-Royce.

The H6 evolved to H6B and then H6C, the latter had the straight-6 engine enlarged to 8 liters and good for 160 horsepower. Production of the series ended in 1933, then the company changed to produce aircraft engines for war use (again designed by Birkigt). After WWII, Hispano-Suiza effectively became an aircraft engine manufacturer, sadly.

Specifications
Model

Hispano-Suiza H6B


Hispano-Suiza H6C

Year of production


1919-32

1923-33
No. produced

All H6: 2508 units

All H6: 2508 units

Layout, Gearbox

Front-engined, Rwd, 3M

Front-engined, Rwd, 3M

Engine

Inline-6, sohc, 2v/cyl


Inline-6, sohc, 2v/cyl.


Capacity

6597 cc

7983 cc


Power

13

5 hp

160 hp


Torque

N/A

383 lbft


Weight

N/A


N/A


Top speed

85

mph

100 mph


0-60 mph

N/A

N/A

---
Copyright© 1997-2009 by Mark Wan @
AutoZine