Cadillac XLR

Debut: 2003
Maker: General Motors
Predecessor: no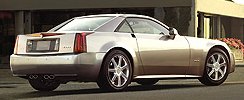 Old people might remember how proud they owned a Cadillac. However, since the 60s, the American luxurious marque fell behind European competitors and became a second division player. Ancient technology, cheap engineering and poor quality characterized the Cadillac cars from the 70s to the 80s. In the 90s, the modernized Seville STS scored back a few points, but then again it was not good enough to rival its German and Japanese competitors, simply because GM did not spend enough money to its jewel-of-the-crown division.

Since the launch of CTS sedan, we have hope again. The CTS proved that GM is now willing to pursue engineering excellence like European companies, even in the price of extra cost and time. Perhaps they finally understand that this is the only way to revive the reputation of Cadillac.

The CTS is not completely perfect. Its interior is the result of cost control - a small mistake, but could cost its success. Therefore, when Cadillac developed their range-topping XLR luxurious roadster, they decided not to repeat this mistake. They can save money in somewhere else, but not where the customers can see.

So, what is XLR? you can see it as an American version Mercedes SL500. In terms of size, accommodation, power and speed, it follows the format set by the Mercedes benchmark. It is rear-drive, powered by a 320hp 4.6-litre Northstar V8, accelerates from 0-60mph in around 6 seconds and tops 155mph under computer intervention. Also like the SL, it has a retractable metal roof which converts it from roadster to coupe by pressing a button. Yes, the roof is actually produced by the same supplier to the Mercedes. The similarity even spreads to the name - XLR versus SL. By the way, Mercedes has an even faster car called SLR, are you confused?

Predictably, Cadillac's uphill battle is not easy. Because its image was ruined for 3 decades, it can neither ask for as much money as the SL nor sell as many cars as its rival. Mercedes is selling 20,000 SLs a year. Cadillac won't sell more than 8,000 XLRs annually. How can the XLR not making a loss then?

The answer is to share platform with Chevrolet Corvette. What? pardon? do you mean the Vette? yes, Cadillac XLR uses a chassis derived from the Corvette - halfway between the current C5 and the next generation C6 which is currently under development. Therefore it is also produced in the Corvette factory in Kentucky. Like the Corvette's, the chassis of XLR is a highly-rigid construction consisting of folded steel backbone, hydroformed side rails, tubular steel bulkheads, aluminum windscreen structure, magnesium steering mount and aluminum/balsawood composite floor. This structure is strong yet relatively lightweight, part of the reason why XLR can undercut SL500 by 110kg. Compare with Corvette, XLR is slightly shorter, narrower and taller, although luxurious packaging and retractable roof make it 200kg heavier.



Under the chassis lies double-wishbone suspensions at each corner, with aluminum control arms. Trademark composite leaf spring for the rear ones prove that the suspensions came almost untouched from Corvette. Also like the recent update of Corvette (since the 50 Anniversary version), the suspensions employ magnetic adaptive dampers. Let me have a short explanation here - GM calls it as Magnetic Ride Control. The Delphi-developed shock absorbers use a special magnetorheological fluid instead of the usual oil as damping media. Under the application of magnetic field, the viscosity of the fluid will change, hence the damping rate. As a result, damping rate can be instantly and continuously varied by computer signal.

The heart of XLR is an uprated Northstar V8, but now it is amounted longitudinally for the first time to drive the rear wheels. While displacement remains at 4.6 litres, it gets continuous VVT at both intake and exhaust camshafts. The result is an increase of 20hp and 15lbft from the Seville or Deville STS, now 320hp and 310 lbft. You may ask why not using Corvette's LS1 small-block V8, as it is cheaper, lighter yet more powerful. The answer is simple: the push-rod V8 does not rev as smooth and sound as refined as the 32-valve Northstar, which is crucial to luxurious car buyers.

The engine drives a Tiptronic-style 5-speed automatic transmission shared with CTS and the last generation BMW 5-series. As in the Vette, it is mounted at the rear axle to achieve a wonderful weight distribution of 49% front and 51% rear.

The exterior styling of XLR is quite striking. Its angular, stealth-fighter-style body was first revealed in the Evoq concept car and just smoothened a little to become the production XLR. Many people may prefer the sleeker styling of Mercedes SL and Jaguar XK, but the Cadillac really has its own character and is likely to attract equal amount of admirers. Surprisingly - or predictably? - the body is made of glass-fiber-reinforced plastic like the Corvette, but Cadillac has paid extra attention to quality control so that it is miles ahead of the Vette and looks not much different from a steel body except the smell of resin. Panels are tightly fitted, assembly gaps are narrow and consistent, unlike conventional plastic body cars.

The interior is also the best among current Cadillacs. The generous use of wood and real alloy delivers real quality feel while the fit and finish is good. The multi-adjustable driving position is excellent, with pretty good visibility. Leather seats are comfortable and supportive. Cabin space is never a problem for an American car. In contrast, the boot with roof folded offers just half the space of Mercedes SL, simply because its retractable roof design is simpler and cheaper.

When you drive the XLR, it never feels like a Corvette. It is more matured, more refined, with far better noise insulation and you are surrounded by a high-quality environment. So, GM is successful to hide its Corvette underpinnings from the user interface.

The Northstar V8 has been GM's pride for years for its power, willingness and refinement. Although Mercedes' 5-litre V8 is more torquey from low to mid-range and therefore gives the SL an edge in overtaking, the Northstar is freer at the top end and delivers a sporty snarl at above 5000rpm. GM's own 5-speed automatic is responsive and seamless to operate, almost matching Mercedes' box.

The steering isn't the most magnificent one. Magnasteer electrical assistance devoid it of road feel and leaves you only ice-cool accuracy and linearity. The chassis is much better though, its perfect weight distribution leads to good balance in corners. Neutral steering can therefore be maintained up to cornering limit. The Magnetic Ride Control works well to contain body roll and pitch while bump absorption is not sacrificed.

However, the Mercedes' active body control is ultimately more effective to resist body roll in cornering and delivers a higher cornering limit. Moreover, the XLR wears narrower tires and uses smaller diameter brakes, thus its handling ability is no where near the class-leading SL. That means, it doesn't grip the road as hard, it runs into understeer at lower cornering speed and it doesn't kill speed as quickly.

That means XLR is a nice car, but not good enough to challenge the near-perfect Mercedes SL. However, we have to praise the effort GM spent into the project and its clever execution, especially knowing it is derived from the Corvette.
The above report was last updated on 25 Jun 2003. All Rights Reserved.
XLR-V
At US$100,000, XLR-V is the most expensive ever Cadillac. Does it have the qualities to challenge our favourite Mercedes SL55 AMG ?

As you may have guessed from its name, it is powered by the same supercharged 4.4-litre Northstar V8 as the recent STS-V. 32 valves and continuous variable valve timing at all four camshafts mate with an intercooled Eaton Roots type supercharger located deep into the V-valley. It boosts a maximum 0.8 bar into the combustion chambers, resulting in 443 horsepower at 6400 rpm and 414 lbft of torque at 3600 rpm. But wait, why are these figures lower than the STS-V's 469 hp and 439 lbft ? well, the engine bay of the roadster is tighter than the sedan, restricting its intake and exhaust manifolds hence breathing smoothness. This is not a good news, especially when SL55 AMG possesses 500 horsepower and 516 lbft.

The deficit in engine output is not too obvious in 0-60 mph (both cars do that in around 4.6-4.7 seconds), but by 100 mph the difference is already a noticeable 1 second (10.3 vs 11.3 sec). The gap will be widened further until both cars hit their speed regulators set at 155 mph. Fast it may be, XLR-V is not in the same league as SL55 AMG.

Apart from engine, the "V" conversion also includes upgraded gearbox, suspensions, steering and brakes. How good are they? We shall see one by one…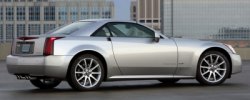 The rear-mounted transaxle gearbox has been upgraded from 5-speed automatic to the new GM 6L80 6-speed automatic with manual function. It occurs to be a good news to Maserati, which has been searching for a suitable automatic transaxle to replace its unrefined manual-based DuoSelect / Cambio Corsa, but in fact the GM gearbox is rather slow reacting in manual mode. Moreover, the manual gearchange is operated via the traditional shifter rather than paddles or buttons. This is both outdated and cheap for a roadster at this performance level and this exclusivity.

In the suspension side, XLR-V has its Magnetic Ride Control reprogrammed. When you switch the gearbox to manual mode, the damping is automatically set to sport mode which firms up the ride. Accompany with thicker anti-roll bars, body control is excellent. The well-balanced (50:50) chassis feels agile, but cornering grip is average, as it employs rather narrow rubbers (235/45 front and 255/40 rear). Most European grand tourers should beat the Cadillac in corners.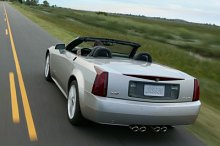 In the braking department, XLR-V employs larger discs (340 mm front, 330 mm rear) from the Corvette Z51 package, but again, they are modest for a 1740 kg car. The narrow tires also have a negative effect on braking distance, as they provide less adhesion to slow down the car. Besides, road testers found the brake pedal feels spongy, actually worse than the regular XLR.

The steering of XLR-V has gained some weight, but unfortunately not feel. Some people would say Mercedes SL and BMW 6-series are also lack of steering feel, but in fact their hydraulic servos are still better than XLR's Magnasteer electrical assistance.

Inside, the cabin of XLR-V is lifted by full leather upholstery, which covers the dashboard, console and doors with high-grade stitched leather. That said, it still lacks the expensive feel of Mercedes. Refinement is another weakness of XLR-V. The car's separate frame chassis and composite body is not the best construction for NVH suppression. On poorer surfaces there are some body structure shakes that would not happen in the monocoque SL55 AMG. Cruising on highway, the noise level is rather high.

Back to our question: is the XLR-V good enough to challenge SL55 AMG ? well, do you still need an answer ?
The above report was last updated on 26 Apr 2006. All Rights Reserved.