Buick LaCrosse (2004)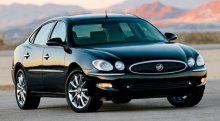 When General Motors is replacing both Buick Century and Regal with a single model called "LaCrosse", even after the death of Oldsmobile Intrigue (together with the century-old brand), you know a lost of market share is estimated. The demand of American-style full-size sedans has been shrinking for years, mainly eaten by the Japanese (Lexus and Infiniti in particular) and Sport Utility Vehicles. However, there are still many old customers buying such cars every year. What they want are very simple - a lot of cabin space, a comfortable ride, an affordable price and lastly, an American brand. That's why GM decided not to spend too much money into the development of LaCrosse.

Apparently, the easiest way to save money is to design the LaCrosse based on its predecessors. That means it also share the W-platform with Pontiac Grand Prix, Chevrolet Impala and Monte Carlo. All-strut suspensions are not anything to be proud of for such a big car, but it guarantees low production cost, which translates to a significant price advantage over Japanese saloons. Moreover, it is reasonably stiff and quiet, thanks partly to a new aluminum front subframe.

Measuring over 5 meters in length and have a 2807mm wheelbase, LaCrosse is able to sit 5 big guys in comfort. Moreover, being a front-drive machine its rear seat is not obstructed by transmission tunnel. Predictably, the cabin design is conservative to please the old people who buy it. Fake wood and so-so quality plastics might be an improvement over Century and Regal, but fall short behind its foreign competitors. Again, cost control is the driving force behind that.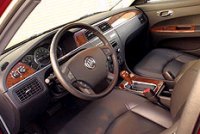 LaCrosse offers a couple of V6 engines. One of them is the familiar 3.8-litre push-rod engine. Now updated to Series III, it complies with the latest emission standard and received a new intake manifold to reduce induction noise, but its uninspiring manner remains unchanged. The iron-block engine produces just 200 horsepower, translating to a low power to weight ratio rarely seen today. The only good news is that Series III will be the last evolution of the push-rod V6. GM will replace it with multi-valver eventually.
Another engine is a cheapened version of Holden / Cadillac's 3.6-litre dohc 24-valve V6. This is a world-class engine, featuring variable valve timing at all 4 camshafts. What a pity in the Buick application it is detuned to 240hp and 225lbft, while Cadillac CTS 3.6 provides 255hp and 250lbft. The peak torque is actually no more than the push-rod V6, therefore performance is just average, especially it is mated with a lazy 4-speed automatic. However, the multi-valve V6 is definitely a more lovely choice than the Series III V6, as it revs cleanly towards 6000rpm and sounds much more eager.
The "updated" chassis is not really so updated. It still employs very soft springs and dampers compare with foreign saloons. Yes, the setup is already sportier than Century and Regal, body movement is now better controlled, but you know Century and Regal were never famous of handling. Like them, LaCrosse is tuned to please customers in their 50s and 60s. Their sore backs need a supple ride to take care. Don't talk about driving fun to them.
Externally, LaCrosse looks every bit a modernized saloon. However, underneath the skin is actually very conservative and outdated. Chrysler 300 and Ford 500 will give it a hard time, so are many Japanese saloons. Buick had better hope it has enough loyal customers.