Oldsmobile Intrigue (1997)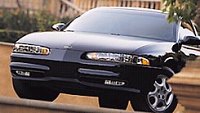 Oldsmobile Intrigue was given a mission that no other W-platform derivatives dare to undertake : to compete with the best Japanese family saloons directly. When we say "directly", it implies the void of those usual description for GM's cars, say, "However, it is a lot cheaper yet offers full lists of standard equipment and a class-leading interior room, so it is still a choice worth consideration ...." Instead, Intrigue has numerous significant changes to make it performs more like a Japanese or European car instead of a typical American car. The most notably new item is, undoubtedly, the first dohc 24-valve V6 for the world's no. 1 car maker. Then there is a higher spec suspension - with four-stage valving dampers and tauter setup. Furthermore, a so-called "Autobahn handling package" is provided as option, which includes bigger brakes, stiffer springs and higher-spec tyres. It looks right on paper, but does it really work that well ?

The all-alloy V6 is derived from the famous Northstar V8 family, which includes Cadillac's 4.6-litre unit and Oldsmobile's Aurora 4.0. As it retains the basic structure of the V8, including the 90-degree incline angle, no wonder some journalists described it as a Northstar with 2 cylinders chopped out. The 90-degree design is a cost-oriented compromise which allows it to be built by the same tooling as the V8, but it also requires an extra balancer shaft to be fitted to the V-valley to smooth out the axial vibration. Unfortunately, GM is not Mercedes-Benz and it failed to make the 90-degree V6 as smooth as competitors, say, Toyota Camry's or Honda Accord's V6s. And we have not yet talked about Acura's 3.2 V6 or Toyota's VVT-i V6, which are even better.

Another feature of the Northstar V6 is the large capacity - it displaces 3.5-litres, or half a litre in excess of the industry standard. However, peak power output is rather disappointing - just 215 horsepower - due to the low compression ratio of 9.3 to 1, in other words, the Intrigue can drink fuel of lower Octane grade than competitors without hurting output. Moreover, the maximum torque of 230 lbft proves that "there is no replacement for displacement".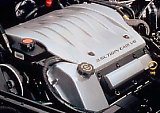 However, this slogan also applies to the comparison between the Northstar V6 and the old Series II 3.8-litre V6, which had been used by the Intrigue until the arrival of the new engine. Traditional push-rod fans regard the Northstar V6 as more peaky than the Series II V6, hence a slower 0-30 mph acceleration recorded, and it is also thirstier. At above 30 mph and especially at the top rev range, the new V6 is of course stronger, smoother and more eager, but then again it couldn't match the Japanese rivals. Too bad.
0-60 mph in 7.9 seconds is reasonably fast for a car weighing 1560 kg, thanks to the 230 lbft of torque. However, the same 230 lbft causes torque steer under acceleration that rarely appears in this segment. Undoubtedly, the all-strut suspensions have nothing to do to prevent that happening. Talking about suspension, it should be noted that Oldsmobile claimed the Intrigue as well as Alero having a "Trilink" rear suspension but actually this is 100% cheating. My English is not very good, but in my understanding the word "Trilink" equals to three links, in other words, multi-link. In fact, it is a conventional strut suspension with the coil-damper unit (Olds sees it as the first link) and a pair of lower control arms (2nd and 3rd links). According to this interpretation, all MacPherson strut in the world could be said as "Trilink" !
Apparently, Oldsmobile knows clearly that all-strut suspension is nothing to be proud of. Almost all European and Japanese saloons of this segment or above are all riding on either multi-link or double wishbones or their derivatives at the rear, with the exception of Passat (torsion beam, but it has four-link for front suspension) and Alfa Romeo 156 (strut at rear, but double wishbones at front). It is not to say all-strut suspension cannot make a driver's car, Porsche Boxster is a good example, but then General Motors is not Porsche. It did employ a stiffer suspension setting and a 4-stage valving damper with integrated rebound springs. It really controls the body movement far better than typical soft-sprung American sedans (in the pre-Lincoln LS era, of course), minimizing understeer pretty well yet provide a good ride quality. It did win many praise from American journalists but still fail to edge out Honda Accord in several comparison tests. But I can't help feeling strange that the journalists praise its "Euro-style" handling but without bringing any European car for comparison. The only European car of this class American know is Ford Contour, or our dear Mondeo, and VW Passast, but nothing was heard about them when they praised the Intrigue's "Euro-style" handling. And what about our European class-leader, Peugeot 406 ? That car rides and handles even better than the Mondeo and makes the Accord and Passat feel dull ! Next time don't mention "Euro-style" without knowing the best of Europe.
GM still haven't sorted out the problem of the Magnasteer electromagnetic power steering. It is not all that rich on feel, as in Cadillac Seville, and over-assisted. Another problem is the weight, which prevent it from changing direction as agile and tidy as European cars or Accord. Brakes, however, is strong and responsive in the Autobahn package. The electronic 4-speed auto also works brilliantly.
Inside, Oldsmobile also tries to offer a Euro-style environment with supportive seats and higher quality dashboard. Again, it beat foreign rivals in both cabin space and trunk volume. Again, fit and finish lags behind the Japanese and Volkswagen, but who else not ?
Although the Intrigue fails to match its toughest foreign opponents, it still worth our respect. At least it is going to the correct direction and it tries hard to do so. I hope this is just the first step for GM, although GM has already got enough unsuccessful "first steps" - Quad 4, Saturn, EV1....