Pontiac Solstice

Debut: 2005
Maker: General Motors
Predecessor: no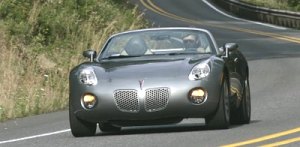 In January 2002, GM showed a concept roadster in Detroit motor show. It was Pontiac Solstice. At the time, most people, including me, did not believe GM would put the great-looking concept roadster into production. But we were wrong. GM product director Bob Lutz made a brave decision to put it into development, giving it a new dedicated sports car platform called Kappa. This platform is going to be used only by the Solstice and sister car Saturn Sky. It will be produced at a rate of 20,000-30,000 cars a year, priced at US$20,000 and target directly at the mighty Mazda MX-5. The car is finally born 3 years later.

The Solstice undertakes the mission to revive the Pontiac brand as an exciting American performance brand. Whether this mission impossible can be accomplished is not optimistic to me, but the car itself definitely worth applause. In most areas, the Solstice runs close to the new Mazda MX-5. This is undoubtedly the best effort from Pontiac for years, not even the mid-engined Fiero sports car of the 1980s can match its achievement.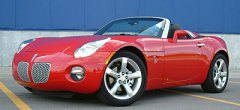 The Solstice really looks great. It's radical, aggressive and expressive in typical American way. Compare with its Mazda arch-rival it is far more emotional and attractive, making the Mazda bland and boring. Its body has the same short length as the MX-5, but is much wider (by 9 cm) and longer in wheelbase (by 8.5 cm). It also has bigger (18-inch vs 17-inch) wheels wrapping with astonishingly wide rubbers (245/45 vs 205/45). No wonder it looks more muscular and sportier.

The soft roof of Solstice is not as convenient to operate as the MX-5, because it needs you to go outside, open the boot lid, drop the roof into the boot and close the lid again. In contrast, Mazda's roof can be operated by the driver in his seat - no other manual cabriolet roof is easier to use like this one. However, the Pontiac's roof seals and insulates very well. It also has a glass rear window with defrost heater, so it gives you no cheap feeling like many other American convertibles.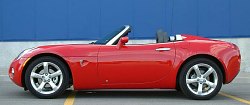 Thanks to the longer wheelbase and wider body, the Solstice provides more leg and shoulder room than the MX-5. Headroom is also abundance with the roof up, because Bob Lutz is 6ft 4 tall. On the contrary to its Japanese rival, the dashboard design is radical but plastic quality is poor. Neither can the fit and finish match Mazda's. Luckily, the chrome-ringed gauges looks smart.

The Kappa architecture is designed purely for low-volume sports cars. Without Bob Lutz, I think GM would have opted for a cheap front-drive platform shared with other GM mass production cars. Kappa employs a longitudinally-mounted straight-4 engine and drives through its rear wheels like all classic roadsters. Most of the engine is mounted behind the front axle, thus GM calls it a front-mid-engined car. This, however, cannot match Mazda MX-5, which has the whole engine located behind the front axle and achieves 50:50 balance. In the Pontiac case, front-to-rear weight distribution is 52:48, still a good figure.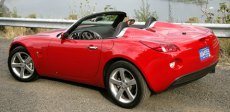 The Kappa architecture does not employ conventional monocoque chassis, but a frame chassis built on two hydroformed steel rails running the north-south of the car. Then the windscreen frame, bulkhead, firewall and boxed transmission tunnel are welded to the rails to form a stiff structure. Sports car-dedicated double-wishbones suspensions are attached to all four corners. Then covered with hydroformed steel body panels. Because of MIG welding, the whole production process is human intensive thus is only suitable to low volume production.

Unlike the chassis, the powertrain comes from GM's parts pool: the 2.4-litre inline-4 engine comes from Chevrolet Cobalt etc., the 5-speed gearbox comes from Chevy Colorado pickup (though with improved shift mechanism), while the rear differential and brakes come from Cadillac CTS.


The four-cylinder engine has twin-balancer shafts to damper vibration while dual VVT to boost power and torque, which is 177 hp / 6600 rpm and 166 lbft / 4800 rpm respectively. Compare with MX-5's smaller 2-litre engine, the Pontiac provides just 7 more horsepower, but an the advantage of 26 lbft of torque nearly compensates the loss of a gear and the extra 200 kg kerb weight. This means the Solstice is marginally slower against the clock (it takes about 7.5 seconds from rest to 60 mph) but feels more relaxed when cruising, because its engine does not need to rev as hard as the MX-5.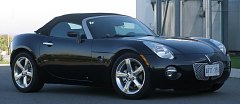 However, by sports car standard the long-stroke 2.4 engine is not good enough. This kind of engine might work flawlessly in a Toyota Camry or Honda Accord, but in a pure sports car it lacks the eagerness, responsiveness and rev-happy manner that keen drivers ask for.

Ditto the 5-speed manual gearbox GM does not have a suitable 6-speed manual gearbox in its parts pool, so it chose a 5-speeder. It is not a bad transmission, but the widely separated ratios do not help quickening engine response and the shift quality cannot match the likes of MX-5 and Honda S2000, which are slicker and crisper.

The Solstice weighs 1300 kg because its chassis and body are all steel. In return, the extra kerb weight and high chassis stiffness contribute to a competent handling and ride quality. Its suspension feels firmer than the MX-5 but on uneven surfaces it is more compliant and tide down to the road. In corners it resists roll better than the Mazda and its 245/45 rubbers provide superior grip.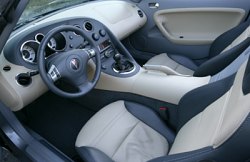 Is that meaning the Pontiac has won the handling contest? the answer is yes until approaching the limit. At the limit, the Solstice tends to understeer more than the Mazda - it does not have enough power to break the strong rear grip. You can regain neutrality by easing off the throttle like in the Mazda, albeit in a more inert manner. The MX-5's skinny tires and better weight distribution make it always feel sharper and more sensitive to steering / throttle input. This means it delivers more driving fun while the Solstice feels more secured.

In the steering department, the Solstice's hydraulic steering is precise and nicely weighted (luckily it did not employ electric assistance). It resists kickback from the road better than the MX-5's but delivers slightly less feel.

Undeniably, GM has done a fine job to produce Pontiac Solstice. It is just not good enough to shake the winning status of Mazda MX-5. Give it a better gearbox and more powerful turbocharged engine and it might be another story. The chassis is obviously capable to take more power, so I won't be surprised if GM launch a hotter Solstice in the future. Before that, the base Solstice is still capable of capturing a lot of sales because it is more sexy and a better cruiser than the MX-5, and runs it close in most other areas.
The above report was last updated on 29 Sep 2005. All Rights Reserved.
Saturn Sky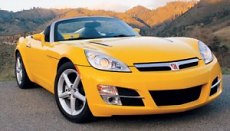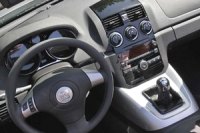 Saturn Sky is the badge-engineered sister car to Pontiac Solstice. Basically, only the clothes and tuning differ them. The Sky's exterior design was derived from Vauxhall VX Lightning concept car penned by Simon Cox in England. As the Vauxhall version did not get the go-ahead, Saturn reused it from the recycle bin. Compare to the organic, wild Solstice, the Saturn looks crisper, cleaner and more tasteful. Inside, it also got a more stylish center console, with piano-black surface to lift the quality feel, though the rest of the cabin is still full of cheap plastics.

To prevent from internal competition, GM prices the Saturn higher than the Pontiac, but it offers more standard equipment to justify the price hike. The Saturn is tuned to be slightly more comfortable and refined, thanks softer and longer suspension travel, better hood insulation and quieter exhaust. While it rides more comfortable than Solstice, there is virtually no tradeoff in handling. It seems that the extra time for development paid off in the Saturn. However, both cars share the same 2.4-litre 177hp power plant and 5-speed gearbox, so performance is neck to neck. Overall, the Sky is a better car than Solstice, although both trail Mazda MX-5.

Later this year, the Sky will be exported to Europe under the name Opel GT.
The above report was last updated on 12 May 2006. All Rights Reserved.
Solstice GXP and Saturn Redline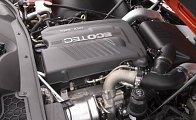 Learning that the weakest link of Pontiac Solstice and Saturn Sky is their 2.4-liter 16V engine, we are glad to see GM introduces a more powerful version for both, Solstice GXP and Sky Redline. As both cars share the same engine, gearbox, chassis… tires and even the same suspension setup, we can combine both in the same report.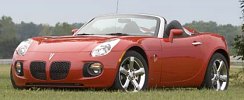 Focus here is the new 2.0-liter turbocharged Ecotec 16V engine. Having aluminum block and head, twin-cam 16 valves, continuous variable valve timing at both intake and exhaust valves, direct gasoline injection, twin-balancer shafts and a twin-scroll BorgWarner K04 turbocharger, you won't believe it is a product of GM, who still builds pushrod V8s today. Thanks to a heavy turbo boost (max 1.2 bar) and direct injection, it produces an outstanding 260 horsepower from only 1998 cc, accompany with a wide spread of torque reaching 260 lbft from 2500 to 5200 rpm. The only other engine having such versatility I can think of is the latest Audi S3 (265 hp and 258 lbft).

However, the horsepower measurement method by GM must be different from Audi. Theoretically, Solstice GXP and Sky Redline should do 0-60 mph in 5.5 seconds and 0-100 mph in 13.9 seconds easily. In fact, a couple of magazines expressed that the test cars did not seem to produce as much punch. One of them was Car and Driver, which measured 5.6 seconds and 14.9 seconds respectively using its typically fast launching technique. This is not at all slow, but neither it is as quick as its horsepower and weight figures suggested.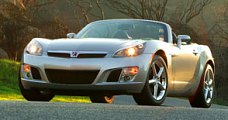 That said, we care more about quality than quantity. The GM engine loses more marks here. While it is as smooth as its balance shafts suggested, while its turbo conversion muted the coarse noise of the original engine, its throttle response is annoyingly slow and there is moderate turbo lag. The combination of the two means there is a long delay from stepping the throttle to the emergence of motive power. Without an immediate throttle response, in addition to an annoyingly long travel pedal, GXP and Redline are not the roadsters you would like to play throttle steer in corners.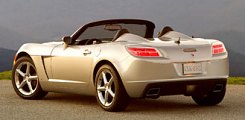 In fact, the calibration of nearly all controls are problematic. The 5-speed Aisin gearbox is heavy and sticky, no match with Mazda MX-5's quick and slick 6-speeder. The 2.7-turn steering is slow and non-linear. The understeer gets worse because of the heavier nose (now weight distribution is shifted from 52:48 to 54:46). The same brakes as the normally aspirated car do not match the upgraded performance. There is a set of grippier Goodyear F1 Eagle and slightly stiffer suspension setup, but we can't see any improvements to handling. Luckily, the ride remains good, and the direct injection turbo engine is slightly more frugal than the 2.4 engine.

The other flaws share with the base cars, namely, poor quality cabin, no cabin storage, small boot and the inconvenient roof operation. Summing all up, Solstice GXP and Sky Redline are disappointing. They looked promising when details came out from January's Detroit motor show, but unfortunately the execution was poor. An MX-5 may be much slower, but it will put more smile on your face.
The above report was last updated on 21 Sep 2006. All Rights Reserved.