In the 80s, Japanese dominated the American small car market. To strike back, GM decided to set up a new division called Saturn, building small cars using new engineering, marketing and production methods never tried before by any American car makers. The first Saturn, S-series, went into production in 1990, taking place at a brand new factory in Tennessee. It had a sophisticated look, 16-valve engine and plastic body panels to made it headlines in automotive magazines. The result? after 13 years, one major renew, 1 mid-life makeover, the American small car never really took off. Corolla and Civic - now enter the European-designed Ford Focus - still dominate the small car segment. The Saturn only succeeded to keep its customers satisfying (as shown in JD Power surveys) thanks to its good customer services.

GM admits the defeat, but it won't give up so early (by the way, it already gave Oldsmobile 100 years to prove itself). Here comes its third generation attempt - Saturn Ion. In mechanical aspect, Ion has taken a big leap forward. It is built on GM's new global platform Delta, which will give birth to the next generation Opel Astra as well. The Delta was developed in Germany, therefore you can trust its chassis stiffness and NVH suppression. Its rear wheels ride on torsion-beam axle in European way, unlike the trailing-arms of the S-series.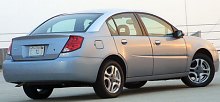 Although Delta has a conventional steel monocoque chassis, the Saturn version is covered with polymer plastic doors, fenders and rear quarter panels in traditional way for the benefit of dent-resistant and easy replacement in case of damage. Customers can also choose different colors of roof rails, this is probably learned from Smart city car. In terms of size, the Ion matches the latest generation of European hatchback in wheelbase and exceeds them by a large margin in overall length, thanks to its 3-box structure. The trunk offers an astonishing 520 litres of luggage space.
Engine is the familiar Lotus-developed Ecotec 2.2-litre 16-valve four-cylinder, with twin-balancer shafts to ensure smooth and linear power delivery. This is a world class engine, and probably the only item better than its competitors. 140 horsepower and 145 lbft of torque is class-leading too, although it also drink more fuel than its 1.8 or 2.0-litre counterparts. Another surprise is the adoption of an automatic transmission with 5 ratios and a CVT gearbox taken from Saturn VUE, beside that standard 5-speed manual.
Does the high specifications deliver in real world? not really. Despite of big engine and 5-speed automatic gearbox, Ion takes 10.2 seconds to reach 60mph, a second off from my prediction beforehand. Its top speed is electronically limited at 107mph. This is quite disappointing for a 2.2-litre small car weighing 1255kg. Handling is tidy enough but not very interesting. Steering feel is lifeless, while the electrical assistance is artificially non-linear. The new suspensions and rigid chassis deal with bumps pretty good, providing a much smoother and quieter ride than the outgoing S-series. Braking is also up to the job. Overall speaking, Ion is easy to live with but it is also rather boring to drive.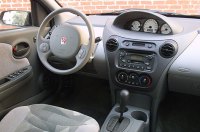 So far, this could have been a 3-star (read "average") car. Unfortunately, Ion loses most of its hard-earned stars by its cabin. There, you will see an unbelievably cheap, ugly and odd-looking environment. The instrument readings are positioned right over the center console instead of the usual place in front of the driver. That's not a problem, as Toyota also does this in its Yaris, but the design in Ion is really too bad. Look at that instrument panel! look at that center console! look at that steering wheel! look at their strange shape and all those rough, 1970's kind of plastic materials. They suddenly make Korean cars luxurious. Running over rough surfaces, you can hear creaks and rattles coming out of the poor fit of plastic panels. Now you wonder how GM could spend a lot of money into the chassis and then decided to save the same amount of money from the interior. Despite of Bob Lutz, this is still very much an accountant-driven company, sadly.
Space and comfort aren't remarkable too. The front passengers enjoys good room, but the seats are flat, unsupportive and uncomfortable. At the rear, both headroom and legroom are less than its rivals like Civic, Corolla and Focus.
So, at least the price is cheaper than its rivals? no. Saturn Ion is actually no cheaper than the aforementioned rivals in the USA. So, you can forget this car as if it were never existed. One day, if you read news about its disappointing sales, its plant closure or even the termination of the Saturn division, you need not to be surprised. This is the American way of starting and ending a dream.