Chevrolet HHR

Debut: 2005
Maker: General Motors
Predecessor: no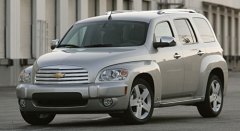 Apparently, Chevrolet HHR is a carbon copy from Chrysler PT Cruiser. Seeing the success of the Chrysler retro yet practical hatchback, GM's product director Bob Lutz decided to copy the successful formula of PT Cruiser. He won't admit that of course. Instead, he said the styling resembles the classic '49 Chevy Suburban while the name HHR stands for Heritage High Roof - what a silly name.

With an annual sales targeted at 60,000 units (that's just half of the PT) and an affordable price from US$16,000 to US$21,000 when all options are ticked, the Chevrolet HHR cannot afford a dedicated platform. In fact, it is a derivative of the Delta platform that already gave birth to Chevrolet Cobalt and Saturn Ion. This is a rather rigid platform, with strut and torsion-beam suspensions. Power comes from the familiar 143 hp 2.2-litre Ecotec 16V or 172 hp 2.4-litre version. Transmission are the predictable 5-speed manual or 4-speed auto.

On the road, the HHR is rather slow because it is some 200 kg heavier than a Honda Civic. The rich torque of the 2.4-litre four-pot engine compensates, but it still needs to rev hard and therefore generate more noise than desired. In terms of handling and ride, the HHR has a similar story. The Delta platform provides a fundamentally safe (understeering) and easy driving character, the suspensions are compliant and the cabin well insulated from road noise. However, keen drivers is better to choose a regular sedan or hatchback because the HHR's High Roof, Heritage or not, results in very high center of gravity, hence a lot of roll and truck-like cornering behaviour. Besides, the electric power steering is too light and lack of feel. In addition to the poor braking power from the rear drum brakes, its handling can earn no more than 2 stars out of five.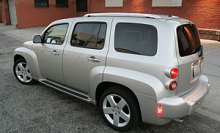 Perhaps the strongest aspect is how it looks. In my opinion the HHR looks prettier than the PT, though I would say retro theme is never my cup of tea. One thing cannot be denied: the HHR has a more upmarket feel in its cabin construction and materials, having none of the cheap plasticky feel of the PT. Space-wise, it is not as spacious as PT, especially rear legroom, but its rear seat can fold flat to form a big cargo loading area. The boot also got a movable parcel shelf. However, both cars are not real people carriers, neither as spacious nor as flexible as European Multi-Activity Vehicles.

GM took 5 and a half years to reproduce a Chrysler PT Cruiser, yet the car does not handle or accelerate as good as its benchmark, nor did it break any new area in packaging. More crucially, being an imitator, it won't have the original image as the PT Cruiser. Bob Lutz wins no applause this time.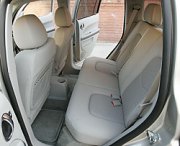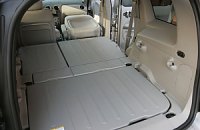 The above report was last updated on 21 Sep 2005. All Rights Reserved.
HHR SS

| | |
| --- | --- |
| | Chrysler PT Cruiser Turbo has never been a success. Can Chevrolet HHR SS break new ground ? |

As American no longer fascinate with small sports cars these days, car makers switch to build more hot hatches. Hot hatches provide good performance and driving fun without compromising practicality. They are also cheaper to develop and build than dedicated sports cars. However, not many American car makers get the know-how to build good hot hatches. Chrysler group, for example, failed with its PT Cruiser Turbo and Caliber SRT4. General Motors is also following its footprints with Chevrolet HHR SS.

Basically, this car is the HHR meets Pontiac Solstice GXP's 260 hp 2.0-liter 16V direct-injection VVT turbocharged engine. When mated with 5-speed manual gearbox it is capable to go from zero to 60 mph in 6.3 seconds. With 4-speed automatic, its engine is limited to 235 hp to avoid damaging the gearbox, thus 0-60 mph acceleration is slower at 7.5 seconds. Nobody will complain it for being slow, but a sluggish throttle response means this is not the most inspiring turbocharged four-cylinder engine on the market, no matter how sophisticated it looks on paper.

In the Solstice sports car, the engine is mounted longitudinally to drive the rear wheels. In HHR SS, it is transversely mounted and drives the front wheels. Like many cost-conscious hot hatches, the front axle does not have any limited-slip differential, but Chevy fine tuned the suspension geometry, springs, dampers, anti-roll bars, bushings, steering knuckle, employs a quicker steering rack and cleverer traction control. As a result, torque steer and wheel spin are largely eliminated and the car corners more agile than you might imagined. Chevy even claims it lapped Nurburgring in 8 min 44 sec, the best of its class...

Obviously, Chevy classified it into a minivan and ignored all its possible hot hatch rivals. The problem is, in terms of functions and accommodation, the HHR SS is closer to a hot hatch than a minivan. By the standard of hot hatches, it rolls too much in corners and feels too bulky in the twisty. Moreover, its funny appearance is totally irrelevant to the performance image. Therefore I really doubt how many customers it will get.
The above report was last updated on 27 Dec 2007. All Rights Reserved.