Pontiac G6

Debut: 2004
Maker: General Motors
Predecessor: Pontiac Grand Am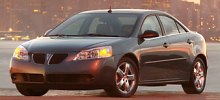 Globalization is something you cannot avoid. Not even a car maker as big as General Motors. In the past, GM used to sell completely different cars in the USA and Europe. Time has changed. Its home market is being eaten up by Japanese and Korean cars, forcing it to give considerable incentives or simply cut price. Under such intensified competition, cost reduction became the No. 1 job. Eventually, this led to the cooperation between its European and American arms in the form of platform sharing. For the first time in many years, Chevrolet and Pontiac have cars derived from European-engineered platforms. And not just one but two platforms. GM called them Delta and Epsilon. Both were developed by Opel in Germany. The Delta is a small car platform and out of our scope. What we are talking now is Epsilon, the one that gave birth to Opel Vectra and Signum, Saab 9-3, Chevrolet Malibu and Maxx as well as Pontiac G6. 2 years from now the list will also include Saturn Aura.

Pontiac G6 replaces the outgoing Grand Am. With 4 million copies sold in the last 20 years, Grand Am was the best selling model in the Pontiac division. But it was a bad car indeed, whose success was primarily based on low price and fleet sales. Over the years, Grand Am was only remembered for being forgettable. That's why when GM product director Bob Lutz (that lovely old man!) decided to revive the division with a new car, he dumped the name Grand Am without the slightest hesitation. But why he chose the name G6 is unsure. Yes, the fastest version of G6 has a Gearbox with 6 speeds, but the relationship with the name is just as thin as that. What I am sure is that G6 sounds pretty cool.

Even cooler is the exterior design. It is the first "Lutz's car" for GM - not designed by the old man of course, but was conceived by him from the beginning, designed and developed under his guidance. The G6 is a 4-door sedan but it looks more like a coupe, thanks to a cab-forward design, steeply raked windscreen and rear window. Its lines are sleek and simple. Surfaces are clean and tidy. That's a clear departure from the boy-racer-like, plastic-cladding-everywhere style of previous Pontiacs. It is a refreshing sight from the mainstream Camry and Accord.


The cabin may not be as stylish as the exterior, but quality is OK while space is competitive. You can see the G6 as a stretched Opel Vectra. Its 2852mm wheelbase is the longest possible of the Epsilon platform. That's also 152mm longer than Chevrolet Malibu. However, it is no wider than its sisters. That means while rear legroom is generous, 3 people sitting at the back may not be as comfortable as Camry and Accord.

As always, the Vectra-based chassis is immensely strong. To compensate with the wheelbase stretch, Pontiac added a magnesium cross beam behind the dashboard. On the road, the G6 feels rock solid and refined. Its strut and multi-link suspensions are tuned softer than its European cousins to deliver better ride that GM believes American ask for. The electric power steering is also lighter.

Unfortunately, the revised setting is also what magazines criticized most - they found the car understeer too much, the ride is somewhat floaty, the power steering overboosted and lacks feel. Admittedly, Vectra was never renowned for driving excitement, but it shouldn't be so bad. Part of the reason could be the heavyweight iron-block V6 the G6 uses. The Detroit iron made the car nose-heavy thus deteriorated its dynamic balance. Another reason could lie on the way Pontiac tested and tuned its car. As I always say, chassis tuning is equally important as chassis design. Given a solid basis you still need to work hard to get the best out of it. Perhaps this is what Pontiac still lack of.


If we say the European-based chassis is disappointing, then the homegrown 3.5-litre push-rod V6 engine must be every bit predictable - you know it is unrefined and reluctant compare with rival's multi-valve V6s, because you have already read from Chevrolet Malibu which shares the same engine. In the heavier Pontiac G6, the combination of 200hp / 220 lbft and a 4-speed automatic is even more struggling. The result is a sluggish performance.

Later on, a 3.9-litre version of the V6 will be added to the range. The additional capacity, variable valve timing (unusual for push-rod engines) and variable intake manifold will lift its output to 240 horsepower and 245 lbft. But why not simply give us the much better 24-valve V6 that Cadillac is using today? isn't it more suitable to the sporting character of Pontiac?

Before that, the best engine for G6 is perhaps the smallest one - the 170hp 2.4-litre Ecotec 16V. This all-alloy engine should improve handling a bit and its top-end refinement could be better than the old V6. Remember, it was engineered by Lotus. Moreover, before Pontiac has found out the right chassis tuning, less power is likely to cause less embarrassment.

Overall speaking, although G6 is a vast improvement over Grand Am, it still falls behind the established Japanese sedans for refinement and driving pleasure. If this is really the first "Lutz's car", then I must admit I am disappointed.
The above report was last updated on 19 Jan 2005. All Rights Reserved.
G6 Coupe GTP
Like Honda Accord coupe or Toyota Camry Solara, Pontiac G6 Coupe is a comfort-biased coupe. In other words, it is a G6 sedan with coupe's clothes. Don't fooled by its attractive fastback, this car runs the same very long wheelbase as its sedan sister. Inside, it offers the rear passengers plenty of legroom, if not headroom.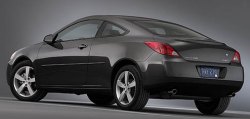 Handling and ride remains uninspiring. Owing to a 62:38 weight distribution (blame to that front-wheel-drive and iron-block V6), soft suspensions and high-profile 225/50 tires, the coupe understeers heavily.

The top GTP model employs GM's LZ9 3.9-litre V6. It is the first ever push-rod engine employing variable valve timing technology. A hydraulic cam phaser retards the camshaft timing by up to 25 degrees at low rev to improve torque and emission, or advance the timing by up to 15 degrees at higher rev to quicken breathing. VVT also allows the engine to use higher valve lift to enhance top end power without sacrificing idle quality. As a result, the 3.9 engine produces 240 horsepower at 6000 rpm and 241 lbft of torque at 2800 rpm. A 2-stage variable intake manifold also helps broadening the torque curve.

For smoothness and willingness, the push-rod V6 is incomparable to modern multi-valve V6s, but when mated with a 6-speed manual gearbox it takes just 6.5 seconds to go from 0 to 60 mph. Unfortunately, the manual gearshift is very stiff. In fact, we cannot find any single area really impressive. The G6, coupe or sedan, is not a car you will get excited.
The above report was last updated on 14 Feb 2006. All Rights Reserved.
G6 Convertible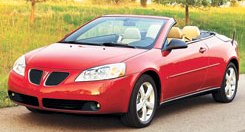 Coupe-cabriolets employing retractable roof have been very popular in Europe in recent years, but so far American car makers have yet to follow suit. This may be because they lack vision or expertise in this technology. Anyway, Karmann, the German convertible expert which produced the retractable roof for Renault Megane CC and Nissan Micra C+C, has an office in the United States, and it helped GM to develop a similar retractable roof mechanism for Pontiac G6 Convertible.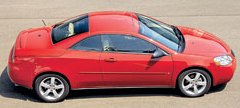 The car is based on G6 Coupe and shares its handsome design. To keep price below US$30,000, it employs a simple 2-piece metal roof. Unfortunately, this mean the roof panels are large thus eat a lot of boot space. When the roof is down, luggage volume reduces from 355 liters to a laughable 62 liters, effectively eliminating the boot. In other words, you can either carry luggage or enjoy sunshine, mutually exclusive. The cabin is quite roomy. Thanks to the same very long wheelbase as the sedan and coupe, there is adequate legroom for adults at the back, though when the roof is closed rear headroom becomes limited.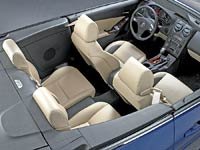 Scuttle shake is inevitable for the long wheelbase chassis. On rough pavement, vibration is visible at the windscreen header as well as steering wheel, and detectable through the seats. It's not as bad as older American convertibles, but apparently its chassis rigidity is not up to the level of Volvo C70. Furthermore, the roof conversion added some 160 kilos to the already hefty GTP Coupe, dampening the performance offered by the 3.9-litre ohv V6. The push-rod engine used to be modest, now its output is even reduced from 240hp to 227hp in the Convertible without giving any reasons. Besides, GM thought convertible drivers don't prefer to shift gears by themselves, so it offers only a 4-speed automatic. Both the motor and transmission feel outdated.

The suspension of G6 Convertible is set softer than the coupe, so there is a lot of understeer and roll. In addition to the increased weight and loss of chassis stiffness, handling is hardly sporty, driving fun is limited. Its priority is put on ride comfort and predictable driving manner.

Next year, Pontiac will offer it the Holden-developed 3.6-liter DOHC VVT V6 engine (252hp) and a new 6-speed automatic gearbox. This could improve the car markedly, but even then it will be difficult to compare with European offerings. However, if you want a coupe-cabriolet with real 4-passenger accommodation and costing below US$30,000, there is no alternative.
The above report was last updated on 8 Aug 2006. All Rights Reserved.