Chevrolet Cobalt

Debut: 2005
Maker: General Motors
Predecessor: Chevrolet Cavalier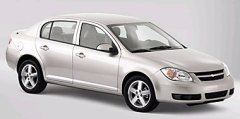 The outgoing Chevrolet Cavalier (and its sister car Pontiac Sunfire) got only 1 star in AutoZine's rating. Some people would say I were anti-American cars, but in fact my view is shared with most American car magazines. The car was based on the J-platform which could be dated back to 1982. It was powered by either a push-rod engine or Quad-4, the worst 4-valve engine in the world. It was cheaply made to serve those only wanted a cheap car. How can we put up with it?

Recently, there were three significant changes influenced GM's small car program: first, GM took over Daewoo a couple of years ago. This allows it to rebadge the Korean-made Kalos as Chevrolet Aveo and sell it as the brand's entry-level model. As a result, the successor of Cavalier can move up half a segment, concentrate on challenging the big players like Toyota Corolla and Honda Civic.

Second, GM decided to combine its European and American small cars into one platform, Delta, whose development was led by Opel. German engineering and bigger development budget guarantees better products. In this way, the new Chevrolet Cobalt is born from the same architecture as Opel Astra, sharing the same stiff structure, Europe-tuned suspensions and the Lotus-developed L850 aluminum 16V engines.

But then you may say the same Delta platform also gave birth to a poor car, Saturn Ion. Yes, the Saturn version is really poor, blame to its cost-cutting strategy. However, Chevrolet Cobalt did not repeat the failure of Saturn, because it is a real "Lutz's car". That lead us to the third change. Since Chrysler veteran Bob Lutz joined GM as product director, he has been changing the culture of this accountant-driven company, transforming it to a product-driven company. Lutz told its engineers not to save cost by dumping good designs, just make the Cobalt as good as possible out of the Delta platform. Don't worry about cost. Good products can sell for higher price.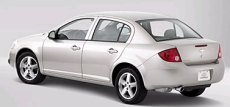 In this way, the Cobalt received many expensive designs that the Ion didn't, some not even its European cousin did. It gets high quality plastics in the cabin. It gets hydraulic-mounted bushings for its torsion-beam rear suspension. Its cabin is insulated from noise by a lot of sound-deadening foam, while the fire wall is made of sound-absorbing laminated steel (so-called "quiet steel"). The engine cover provides extra noise insulation while low-noise tensioner is used for cam-drive chain. Drivetrain vibration is reduced by extra strengthening to transmission mounting. These efforts pay off in driving - the Cobalt feels remarkably quiet, refined and solid. Not only sets new standard for American small cars but actually matches the best European and Japanese rivals.

The Chevrolet gets more powerful engines than its Opel cousin. Most cars in the class run engines no bigger than 2.0 litres, but the Chevrolet's base engine is already a 2.2-litre 16V. That is the familiar Ecotec engine that powers Saturn L-Series and Ion, Opel Astra, Vectra and Speedster. It has not only a lightweight all-alloy construction but also a pair of counter-rotating balancer shafts to ensure smooth revving. But the 145hp engine provides only average performance, because the Cobalt weighs a hefty 1460kg. That's the price it paid for refinement and quality.

No wonder a bigger 2.4-litre engine is also offered. Benefited by the extra cc and a variable valve timing, the 2.4 version produces 170 horsepower and 170 lbft of torque. It should power the Cobalt from standstill to 60mph in less than 8 seconds.

Like Opel Astra, Chevrolet Cobalt is not exactly fun to drive. While it feels secured and stable to drive fast, it lacks the fluidity of Volkswagen Golf V and Ford Focus. Its torsion-beam axle suspension cannot match the rivals' multi-link setup. The result is more understeer at the limit and less composure on bumpy surfaces. Besides, like Astra, the electric power steering delivers a numb feel, although it is accurate and nicely weighted.

Anyway, it is competent enough to rival Toyota Corolla and the like. After countless of attempts, GM finally built a small car capable of rivaling the Japanese. And quite surprisingly, this is not a Saturn but a Chevrolet.
The above report was last updated on 21 Jan 2005. All Rights Reserved.
Cobalt Coupe SS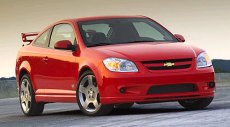 Cobalt is available in 4-door sedan as well as 2-door coupe form. The top model of the coupe is SS. Apart from a racy look, it is powered by an all-alloy 2.0-litre Ecotec 16V, charged up by an Eaton root-type supercharger to deliver 205 horsepower and 200 lbft of torque. Yes, this is the same engine as sister car Saturn Ion Red Line.

The powerplant delivers strong bottom and mid-range torque in the tradition of supercharged engines. 60mph can be reached in about 6.5 seconds. It is therefore faster than most similarly-priced rivals, but slower than Dodge Neon SRT-4 (which is more powerful) and Ion Red Line (which is lighter).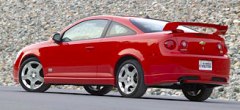 Inevitably, it generates some torque steer to the front-drive chassis, but this can be eliminated by choosing the optional Quaife limited slip differential. To keen drivers, the LSD and the supportive Recaro bucket seats are worth paying for. As such equipped, the Cobalt SS has fool-proof handling. Power is put down to the road effectively via the grippy Pirelli P-Zero tires (215/45ZR18 in size). The rigid chassis and firmer suspensions (now with aluminum control arm at the front) enable stable and confidence-inspiring cornering. It can carry fairly high speed into corners without risk of losing control. It has enough low-end grunt to storm out of corners. In other words, it is a better "Street, Road and Track" car than Chrysler's SRT-4.

Such a good handling is the result of extensive testing on test tracks in the US as well as at Nurburgring in Germany. But the testing did not solve the fundamental problems of the Delta platform, i.e., too much understeer and too little steering feel. They might not affect the absolute performance of the car, but they did make the driving experience less involving and less inspiring than Toyota Celica GTS and Honda Integra Type R.
The above report was last updated on 21 Jan 2005. All Rights Reserved.
Cobalt Coupe SS turbo
| | |
| --- | --- |
| | New turbocharged SS raises the performance bar of the class... |

GM introduced a very sophisticated turbocharged Ecotec 2-liter engine in Pontiac Solstice GXP and Saturn Sky Red Line last year. It has direct gasoline injection, twin variable cam phasing and an efficient twin-scroll turbocharger to enable some 260 horsepower. So good that GM could let the old supercharged Ecotec engine retired. As a result, starting from this year the performance Chevrolet Cobalt SS adopts the new Ecotec turbo engine. The firebreathing horsepower and abundance of torque (260 lb-ft from 2000 rpm) allows Chevrolet to claim 0-60 mph in 5.7 seconds for this car. Moreover, an unrestricted top speed at 160 mph allows it to edge out many German performance cars. At the same time, the efficient direct injection engine returns better fuel consumption than the old engine.

You might say, "well, American cars are always fast in straight line. Let's see how it handles in corners !"

Surprisingly, the revised Cobalt SS is equally impressive in the twisty. This must thanks to the tuning works done at Nurburgring by the engineers of OPC – you're right, that's Opel Performance Center. Opel is familiar with Nurburging testing as well as this chassis (as it was derived from Opel Astra). The Cobalt Coupe SS got revised front suspension geometry, new lower control arms, stiffer springs, retuned dampers, thicker rear anti-roll bar and a 10-percent quicker steering rack. The front brakes are upgraded to 4-pot Brembo calipers and 315 mm ventilated discs. 18-inch forged aluminum wheels and aggressive 225/40 tires are employed. Thanks to these mods and the extra power, it lapped Nurburgring in 8 minutes and 23 seconds, some 13 seconds faster than Opel Astra OPC. This is also a new class record !


| | |
| --- | --- |
| | Chassis dynamics is equally impressive, thanks to OPC and Nurburgring testing |

Apart from speed, the Cobalt SS handles and rides like good European hot hatches. Its ride is firm but stable and well damped. Excellent body control and grip give you confidence to attack corners. The steering is the best ever for GM's front-drive cars, being well weighted and precise. Understeer and torque steer are well tamed. The improvement to its chassis dynamics is much more than its looks suggested. On the down side, you may criticize for the lack of steering feel from the electric power steering and the gearshift of the Saab-sourced 5-speed manual gearbox too rubbery. However, those flaws are no surprise to Opel.

The biggest problem of the car is actually its low rent cabin and outdated appearance. I know GM needs to control its cost, but a decent revamp would have been a good match with its good dynamics and created one of the most desirable "rocket pockets" on the market. What a pity.
The above report was last updated on 1 Apr 2008. All Rights Reserved.