| | |
| --- | --- |
| Published on 9 Oct 2012 | All rights reserved. |

American motoring journalists seem to be very excited about the new Cadillac ATS as this car promises dynamics to match or even beat BMW 3-Series. That would be a big achievement if it really succeeds. However, not so amusing is the means it used to achieve this goal. The ATS simply copied all the good ideas that made the 3-Series so successful. This is immediately obvious from its near identical size – its length, width and height are all within 10 millimeters from the BMW. Its cab-rearward proportion, longitudinally mounted engine, rear-wheel drive layout and 50:50 weight distribution are exactly the winning formulas of the German car. Ditto the suspensions consisting of MacPherson struts up front and multi-link at the rear. Without its own innovations and character, it would be difficult to get the same admiration as the BMW.

Anyway, it doesn't hurt to see how Cadillac created its most promising European fighter yet. Compare with the existing CTS, the ATS is able to take the challenge to higher level because it is given a dedicated platform called "Alpha". This is a premium rear-drive platform with a lot of good ingredients. Like the case of BMW, its double-pivot MacPherson-strut front suspension introduces virtual axis to improve camber control, while ball joints and hydraulic bushings isolate unwanted forces from the steering without affecting road feel. The 5-link rear axle has anti-squat geometry, whereas its mounting subframe is made of stiff yet lightweight hydroformed steel. Speaking of weight, the Alpha platform has implemented a lot of measures to trim weight, such as aluminum bonnet, magnesium engine cradle, all alloy engines and transmission case and rear suspension links with lightening holes. It could have saved even more weight with aluminum rear suspensions, but it opted not to do so for the benefit of weight distribution. Thanks to putting the engine far back in the engine compartment and relocating the battery to the trunk, the ATS achieves near perfect weight distribution – 50:50 with 2.0 turbo engine and manual transmission, 51:49 with automatic box and 51.5:48.5 on the V6 model. This provides an excellent basis for chassis development.


Then there are more goodies: ZF variable-ratio electrical power steering, Magnetic Ride Control suspension (magnetorheological adaptive dampers), mechanical limited slip differential, powerful Brembo brakes and oversized Bridgestone rear tires measuring 255/35WR18. It sounds more a rival of M3 than the regular 3-Series!

All these ingredients are wrapped within an Art-and-Science body shell which looks pretty tasteful to my eyes. Inside, Cadillac's new CUE infotainment system (see XTS) is definitely eye-catching. Its large capacitive touch screen and iPhone-like icons look high-tech and user friendly. The rest of the cabin looks up to the job, too. Leather-wrapped dash top, lacquered console and chromed elements smell expensive. You can't help thinking perhaps Cadillac really has a good chance to beat its German rival this time around…

Unfortunately, if you go into details, you will find the American challenger has many areas to improve. Despite of its same exterior dimensions, the ATS cannot match BMW 3-Series for interior space. It is not too bad up front, but the rear seat offers significantly less knee room, foot room, head room and shoulder room, so a six-footer will be difficult to seat comfortably behind another six-footer. That is virtually an unforgivable sin for an American car, which is supposed to offer more space for the money. Moreover, access to the rear seat is made difficult by the small door apertures and sloping C-pillars. The boot is also significantly smaller than its rival's. The bottom line is: BMW 3-Series uses space and materials far more efficiently.


The CUE screen that looks good initially also falls short of expectation once you start using it. While BMW's iDrive keeps hardware knobs for most frequently used functions, the Cadillac User Experience controls everything through navigating its touch-screen, so it wastes your time and distracts your attention from the road when you need to do simple things like adjusting audio volume or air-con. Besides, touch-sensitive screen is not easy to control in the presence of shocks and vibration. This mean it does not work as well as BMW's rotary knob when the car is running. That is why most luxurious cars opt for iDrive-style controls rather than touch-screen interface.

The 3 engines available to ATS are no match to the German camp, too. The base 2.5-liter Ecotec direct-injected four-cylinder engine – see Chevrolet Malibu in transverse form – produces 202 horsepower and 191 lbft of torque here. Not bad, but it feels underpowered in reality and I seriously doubt its 0-60 mph claim of 7.5 seconds. Moreover, it does not rev as sweet as a premium engine should.

It might be better to opt for the mid-range 2.0-liter Ecotec DI Turbo. Its output figures of 272 hp and 260 lbft are eye-popping, actually more than those offered by BMW 328i. Nevertheless, on the road it is once again disappointing. Although peak power is said to be available from 1700 to 5500 rpm, the power band feels narrower, with little fireworks below 2500 rpm and above 6000 rpm. Turbo lag at low rev is far more obvious than the BMW engine, while at top end it feels tired. This engine simply lacks the flexibility and polished manner of its German rival. On the road, acceleration figures proved that the ATS is considerably slower than 328i. Its Tremec 6-speed manual gearbox is balky to shift, adding further to the embarrassing mismatch between specifications and real-world performance.

This leaves the priciest 3.6-liter DI V6 and its compulsory 6-speed Hydramatic box to be the only competitive choice. As always, the big V6 produces smooth, linear power and satisfying noise, if not the punch and flexibility of 335i. The automatic transmission matches this manner with smooth and well-judged shifts. Unfortunately, for its extra price and thirst the V6 is unlikely to be a big seller.


That said, the ATS can claw back some points with its good handling. Thanks to the aforementioned Brembo brakes, grippy rubbers and LSD, it may teach the 3-Series a lesson or two on racing track. Its chassis reacts to steering and throttle input more sharply, probably due to its stiffer suspension setup. At the limit, it shows better chassis balance and more willingness to change direction. Repeated high-speed stops cannot upset the powerful brakes.

However, on regular roads, the Cadillac is not as sweet to drive as the class-leader. No matter with regular dampers or magnetorheological dampers, its ride is too firm, lacking the suppleness of BMW. The alertness of its chassis response becomes a little nervous on less than perfect roads. While the 3-Series can flow through B-roads beautifully, the Cadillac suffers from a hardcore ride, more tire noise, a rougher exhaust note and a steering which is quick but rather lifeless. The various elements of its dynamic aspect do not come into harmony like the BMW, especially the handling, ride, engine and gearbox. As a result, it does not feel as intimate to drive.

It is nice to see Cadillac is finally upping its game to challenge the established German premium brands head on. However, the challenge is once again failed. Apart from more development into its ride, the ATS needs better engines, better gearboxes, a more polished infotainment system and more space in the cabin. Until then, it is only one of the average players in the class, even though with unusually good handling.

Verdict:



(2.5 / 2.0 Turbo) /




(V6)
| | |
| --- | --- |
| Published on 8 Aug 2014 | All rights reserved. |
ATS Coupe


Unquestionably, Cadillac ATS Coupe follows the template set by BMW 3-Series Coupe instead of the new 4-Series, otherwise it would not have looked so close to the sedan. Although Cadillac said it shares no exterior panels except the bonnet, and it is slightly lower (by 30 mm) and wider (37 mm), it is still unmistakably the 2-door version of the sedan. While the 4-Series looks so sleek that it could be called a mini-6-Series, the ATS Coupe looks quite fat and wind-blocking. Its waistline and boot appear to be uncomfortably tall for a coupe, whereas the very shallow side windows and glasshouse look out of proportion. Cadillac's last CTS Coupe had the same problems, but the ATS Coupe makes things worse with its more compact dimensions.


Speaking of CTS Coupe, its position is now substituted by the smaller car as Cadillac is repositioning its cars to aim directly at its German rivals. Theoretically, the ATS is its 3-Series fighter, so the ATS Coupe should rival 4-Series Coupe. Unfortunately, both cars run a shorter wheelbase than their Munich counterparts, and they don't use space as efficiently either. As a result, the rear seats of ATS Coupe is strictly for two persons no taller than 5ft 10in. Legroom is not a big problem, but headroom is seriously hampered by the sloping rear window. Shoulder room and seat comfort are also below par, as you can see in the picture. Up front, the driver sit slightly lower than in the sedan and faces the same dashboard. Unfortunately, that means the same CUE infotainment system, too.


As expected, there is not much to separate the ATS Coupe and sedan in mechanicals. It is powered by the same 2.0-liter turbo four with 272 hp (though remapped to deliver 35 lbft more peak torque and a slightly smoother power delivery) and 3.6-liter V6 with 321 hp. Both engines are neither as free-revving nor as silky smooth as BMW motors. The four-banger's 6-speed manual gearbox has its gearshifts made slicker but is still not exactly world-class. The V6's compulsory 6-speed auto is no match for ZF 8-speed auto in all aspects. The ATS Coupe is also heavier than equivalent 4-Series, so expect it trails the BMW by about half a second from 0-60 mph.

Handling is better. In fact, it has always been the strength of ATS – probably the only area it beats the 3-Series. Benefited by a slightly lower center of gravity, wider tracks, stiffer suspension setting and weightier tune of ZF power steering, the Coupe steers and corners even better. Ride comfort does suffer a bit, but in case you opt for the Magnetic Ride Control you can still enjoy a smooth ride on Touring mode. However, chassis dynamics aside the ATS Coupe lags behind BMW in almost every way. It isn't as pretty as we had hoped, too, which is probably the biggest problem to a coupe.

Verdict:



| | |
| --- | --- |
| Published on 6 May 2015 | All rights reserved. |
ATS-V


Whenever there is a BMW, there will be an equivalent Cadillac. I suspect this is the strategy taken by the luxury arm of General Motors. Since Cadillac had its offerings realigned to better target at BMW, ATS becomes the counterpart of 3-Series, while ATS Coupe fights against 4-Series coupe. Naturally, the V-badge versions of the ATS sedan and coupe are to take care of M3 and M4 respectively. It sounds a mission impossible, but today GM is better equipped than ever to challenge the mighty BMWs. It has some high-tech engines that you could not imagine 5 years back. It has some excellent engineers and a world-class proofing ground to tune ride and handling. Most important, thanks to a healthy balance sheet now it has the resources and determination to challenge its German rival. It even bought an M3 to work as development benchmark for ATS-V. If you still have doubts, just look at the latest driver's cars developed by these people – Corvette Z06, Camaro ZL1 and Z/28, the new CTS or the regular ATS. All are capable to embarrass BMW in driver appeal.

You might expect the ATS-V to run an American V8 under its bonnet. To our surprise (or disappointment), it is a 3.6-liter twin-turbo V6 adapted from the CTS Vsport and XTS Vsport. Why not V8? There are a number of reasons: 1) the ATS-V is smaller and cheaper than the forthcoming CTS-V, and this shall be reflected on its powertrain; 2) GM does not have a high-tech V8 available at the moment, whereas the pushrod V8 of Corvette is deemed to be unsuitable for the duty of Cadillac; 3) BMW M3/M4 has already reverted to 6-cylinder motor, so Cadillac thinks downsizing is the trend for the class. Unfortunately, the new Mercedes-AMG C63 thinks otherwise…

In order to produce the power ATS-V needs, the twin-turbo V6 is modified in many ways, including different intakes, lightweight titanium connecting rods, forged steel crankshaft and, most important, larger yet lighter turbines made of titanium alloy. The latter enable boost pressure to be raised from 0.8 bar to 1.2 bar without adding turbo lag. The result is 464 horesepower released at 5850 rpm, and 445 pound-foot of torque at 3500 rpm. It is more powerful than BMW, thanks mostly to its extra capacity of 600 c.c., but its output is tuned to deliver linearly across the rev band. While the BMW motor has its peak torque of 406 lbft available from 1850 to 5500 rpm, the torque curve of Cadillac looks more like coming from a normally aspirated engine. Consequently, it doesn't feel as explosive as the BMW, but the power is easier to access and less likely to unsettle the handling.


The power goes through a Tremec 6-speed manual or GM's own 8-speed automatic to the rear wheels. At an estimated 1680 kg, the baby Cadillac is clearly overweight for its size. You can blame its larger engine, bigger Brembo brakes and chassis reinforcement added under the engine bay which lifts its rigidity by 25 percent. The M3/M4 is at least 120 kg lighter, no wonder the first set of road test figures show the Cadillac trailing the BMWs a little. It might be faster than Audi RS5 or Lexus RC F, but AMG C63 S should leave it for dead.

On the road, the V6 powertrain is perhaps the least satisfying element of the mechanical package. Like the new M3/M4, it is to be criticized for lacking aural excitement compared with the 8-cylinder Mercedes, Audi and Lexus, no matter volume or sound quality. Moreover, just like any versions of the GM 3.6-liter V6, it doesn't rev as smoothly as a 6-cylinder should. There is also a touch more turbo lag than the BMW straight-6, despite of the titanium turbines. There is sufficient power to be disposed and the linear power delivery is appreciable, but on the flipside the V6 feels quite ordinary, not like a bespoke performance engine. Both gearboxes are acceptable. The Tremec TR-6060, which comes from the last generation CTS-V, is just as what you would expect from this brand – a bit clunky and notchy. The GM automatic is smooth but doesn't respond as quickly as its dual-clutch rivals or ZF 8-speed automatic. In short, the powertrain lacks polish.

However, you can't rule out the ATS-V from the junior sports sedan battle, because its handling is first class. BMW M3/M4 employs the same ZF variable-ratio electrical power steering, but it never feels as communicative as the Cadillac's. Thanks must go to the stiffened front subframe as well as replacing rubber bushings with rigid ball joints. Like BMW, the Cadillac is very well balanced at 51:49, thanks partly to the carbon-fiber bonnet and optimum location of engine. Compared with lesser ATS models, its suspension employ wider tracks, thicker (hollow) anti-roll bars, 50 percent stiff springs and 40 percent stiffer setting of magnetorheological shock absorbers (i.e. Magentic Ride Control). Traction is taken care by GM's Performance Traction Management system which is found also on Corvette Z06 or Camaro Z/28. It offers as many as 5 levels of setting thus is more usable on track than the 3-settings systems of its German rivals. Moreover, it works together with a standard active differential to make power slide controllable. Driving hard on track, you will find its turn-in, roadholding, body control, balance and braking are all beyond criticism. Its linear power also makes it easier to exploit the chassis. As a result, it feels even more nimble than the BMW.

On public roads, the ATS-V duo is hampered slightly by a stiff low-speed ride and lack of high-speed stability, something the German always does better. In terms of day to day usability, its cramped rear seats and junk-grade CUE infotainment system lose more marks. However, to many buyers the Cadillac's weakest link is desirability – its exterior design looks rough, cheap and dull beside the German cars, especially the Coupe. Its interior isn't as well designed and built either. Among the two, the sedan is worth more consideration thanks to a more balanced proportion and more practicality.

Verdict:
ATS-V Sedan:





ATS-V Coupe:












ATS 2.5



2012

Front-engined, RWD
Steel monocoque
Mainly steel
4643 / 1805 / 1421 mm
2775 mm
Inline-4

2457 cc
DOHC 16 valves, DVVT

-
DI
202 hp

191 lbft

6-speed automatic

F: strut
R: multi-link

-
225/45VR17


1503 kg

135 mph (est)

7.4*

20.0*


ATS 2.0 Turbo



2012

Front-engined, RWD
Steel monocoque
Mainly steel
4643 / 1805 / 1421 mm
2775 mm
Inline-4

1998 cc
DOHC 16 valves, DVVT

Turbo
DI
272 hp

260 lbft

6-speed manual
F: strut
R: multi-link

-
F: 225/40WR18
R: 255/35WR18

1543 kg

149 mph (limited)

6.3* / 6.0**

16.7* / 15.4**


ATS 3.6 V6



2012 (2016)

Front-engined, RWD
Steel monocoque
Mainly steel
4643 / 1805 / 1421 mm
2775 mm
V6, 60-degree

3564 cc
DOHC 24 valves, DVVT

-
DI
321 hp (335 hp)

275 lbft (285 lbft)

6-speed auto (8-speed auto)

F: strut
R: multi-link

Adaptive damping
F: 225/40WR18
R: 255/35WR18

1570 kg

155 mph (limited)

5.4* / 5.4** / 5.5*** (5.6*)

13.3* / 13.5** / 13.4*** (14.2*)










Performance tested by: *C&D, **R&T, ***MT










ATS Coupe 2.0 Turbo



2014

Front-engined, RWD
Steel monocoque
Mainly steel
4663 / 1842 / 1392 mm
2775 mm
Inline-4

1998 cc
DOHC 16 valves, DVVT

Turbo
DI
272 hp / 5500 rpm

295 lbft / 3000-4600 rpm

6-speed manual
F: strut
R: multi-link

-
F: 225/40WR18
R: 255/35WR18

1547 kg

149 mph (limited)

5.7*

13.7*


ATS Coupe 3.6 V6



2014

Front-engined, RWD
Steel monocoque
Mainly steel
4663 / 1842 / 1392 mm
2775 mm
V6, 60-degree

3564 cc
DOHC 24 valves, DVVT

-
DI
321 hp / 6800 rpm

275 lbft / 4800 rpm

6-speed automatic

F: strut
R: multi-link

Adaptive damping
F: 225/40WR18
R: 255/35WR18

1600 kg

155 mph (limited)

5.4* / 5.6*

13.3* / 13.5*










Performance tested by: *C&D










ATS-V Sedan



2015

Front-engined, RWD
Steel monocoque
Mainly steel
4673 / 1811 / 1415 mm
2775 mm
V6, 60-degree

3564 cc
DOHC 24 valves, DVVT

Twin-turbo
DI
464 hp / 5850 rpm

445 lbft / 3500 rpm

8-speed auto (6-spd manual)

F: strut
R: multi-link

Adaptive damping
F: 255/35ZR18
R: 275/35ZR18

1718 kg

185 mph (c)

3.8 (c) / 3.9* / 3.7** (4.2*)

8.8* / 8.8** (9.6*)


ATS-V Coupe



2015

Front-engined, RWD
Steel monocoque
Mainly steel
4691 / 1841 / 1384 mm
2775 mm
V6, 60-degree

3564 cc
DOHC 24 valves, DVVT

Twin-turbo
DI
464 hp / 5850 rpm

445 lbft / 3500 rpm

6-speed manual (8-spd auto)

F: strut
R: multi-link

Adaptive damping
F: 255/35ZR18
R: 275/35ZR18

1705 kg

185 mph (c)

3.8 (c) / 4.2*

9.9*










Performance tested by: *C&D, **MT









ATS Sedan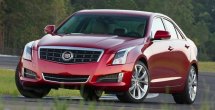 ATS-V Sedan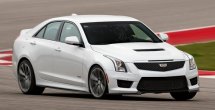 ATS Coupe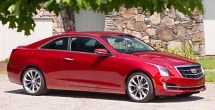 ATS-V Coupe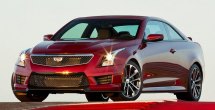 Copyright© 1997-2015 by Mark Wan @ AutoZine