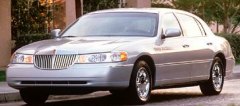 The alarm is ringing: Lincoln Town Car's customers are getting older and fewer. Before the makeover in late 1997, average age of buyers was an alerting 67. This bring a warning: a few years later, how many of them will still be alive ?

The rescue plan was to revamp the Town Car thoroughly, hoping to inject some new-found dynamic while keeping the old customers loyal. There's a fresh styling featuring round surfaces in contrast to the boxy tradition. There's a sohc 4.6-litre V8 in contrast to the traditional pushrod V8. There's improvement to steering and suspension.

But it is still the longest mass production car in the world, with an overall length of 5 and a half meter. Its body is still built on a ladder chassis like many cars showing in your classic car album. Inevitably, it is short of chassis rigidity but rich of squeak under hard cornering. It still rides on non-independent live axle rear suspension, further deteriorate both handling and ride comfort.

Without a decent mechanical configuration, how can the revamped Town Car fulfill its contradicting target ? Soft spring rate was chosen for highway ride comfort, but body control is inevitably neglected. Light steering is what the retired 67-year-old requested, but the 50s would dislike it. After all, even with tauter tuning, I suspect if the 5.5-meter body would have allowed a decent handling.

Matching the low-spec mechanical structure is the packaging. Facing the import luxurious saloons such as Lexus, it is obviously inferior in build quality and details attention. In other words, lack of the sense of prestige at all. Of course Lincoln knew that, otherwise it won't fit the budget 215hp sohc V8 instead of Continental's 32-valve version. In addition to cost saving here and cost saving there, the Town Car is priced considerably lower than import luxurious cars. It is deemed to be in a market segment dominating by itself and Cadillac Deville only. This segment is called "the dying ancient American luxury", with an expire period of just a few years.