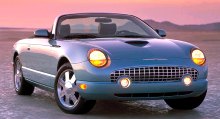 Thunderbird, a smart name, but the car was never smart enough to match it. From the first generation debuted in the 1955, the T-bird (as everybody in the States call it) was already a civilized grand tourer, without any fire-breathing character. This was not changed until the last generation seen in 1989, which was sold as a poor man's BMW 6-series. What really changed were that sales figures, which were dropping year by year until its death in somewhere around 1997. In fact, most of the 1.2 million Thunderbirds built were the early generations.

The bird has come back now, thanks to those brilliant stylists. Seeing its retro shape, I have no doubt that it is one of those cars originated by stylists instead of engineers. A designer penned a concept, brought it to his boss, getting sufficient interest from the top management, then forwarded to the engineering department for feasibility study. This is just like Volkswagen New Beetle and Audi TT. In other words, it was not in Ford's original product plan, so obviously it has to be built on an existing platform in order to save money and, most important, bring it to showrooms before the design get outdated.

Engineering can't be more straightforward: base on the rear-drive platform of Lincoln LS (the sister car of Jaguar S-Type, if you remember), shortened the wheelbase by 184mm and overall length by 192mm, chopped the roof and strengthened the floorpan a bit, you get a what-would-have-been-sporty chassis. Why not it being really sporty? because at 4.73 meters long this is perhaps the world's longest 2-seater (remember, Mercedes SL is just 4.5 meters). But more important is that Ford never tried to give it first class handling like its Lincoln donor, as you can feel from the softer suspension setup (24% and 8% softer front and rear respectively) and the "flexible" (able to flex) chassis. Drive it leisurely it goes well. Push it harder into corners it will understeer, roll, pitch under acceleration and dive under braking. So it must be super comfy ? no, on rough surfaces the soft damping tends to rebound severely.

However, cruise it on motorway is another world. The 252hp 3.9 V8 - again, come from Lincoln LS - provides plenty of punch and smoothness while the compulsory 5-speed automatic also works smoothly. The windscreen is well designed such that up to 70mph wind buffeting is well suppressed enough for normal conversation. The electric roof is well sealed, and it beats Honda S2000's by closing in just 9 seconds.

Greatest of the car is undoubtedly the styling of the composite body, which reminds me the American good old days. While all car makers are employing the same high-tail design (I always believe it was pioneered by Alfa 75), Ford goes backward to the falling-tail styling, making the Thunderbird look longer and lower than it is. The result is a strong feeling of open-air motoring. Besides, round lamps, mesh grilles and chromed windscreen pillar are also my favourite features.

What a pity the cabin employs low-rent materials, basically the same low-quality material and dull-looking dashboard as Lincoln LS. Fit and finish is poor, although the car is really cheap. Most surprising is the so-so space available. No one would have expected a car so big with so ordinary space.

The new Thunderbird represents life style. You buy if for image rather than real enthusiasm about engineering. The problem is that it has quite a lot of flaws. Even if you can accept that it has inferior handling and ride quality than rivals, its build quality and attention to details still leave many things to be desired. For the same money, I would prefer a base Audi TT Roadster quattro although it has just a 4-pot engine with 72 less horses under the bonnet.