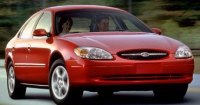 Many American auto journalists are really disgusting. Back in 1996, all of them praised the Taurus as a revolution and predicted its success against the Japanese opponents. Well, patriotism never help an objective review. Sales figures are the strongest evidence - from the No. 1 spot, Taurus gradually slipped to No. 3 in American sales chart, losing to both Camry and Accord.

When the facelifted Taurus launched in 1999, they changed their previous favourable comment and started to criticize the out-going Taurus, criticizing its styling as "too radical", "place styling in prior to function", "limiting the rear passenger room", criticizing its unrefined ride and noise .... they changed their comment as deliberately as wind changing direction. In fact, all these points were already pointed out by AutoZine 2 years ago.

Anyway, Ford eventually fixed the flaws. The first thing to be noticed is a conservative styling in contrast to the outgoing car - oval headlights and smooth nose gave way to a pair of ordinary lamps and a more rectangular front bumper. To me it is a disappointment because it no longer looks distinctive. However, as this is just a low-cost facelift, the overall shape was not altered as far as possible, so the long and smooth profile remains unchanged, only the details deliver a different image and functionality.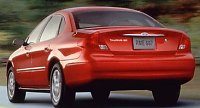 I criticized the previous Taurus as "big outside, small inside". Now the curvy roofline has been reshaped to more rectangular, thus give almost 1 and 2 inches more front and rear head room respectively. Likewise, the swoopy boot lid has also been raised to boost luggage capacity by 1.2 cubic feet. Both the boot lid and rear window has lost interest in oval shape, thus result in easier luggage access and improved rear visibility. Benefited by the revised shape of the roof, side passenger doors are also reshaped to get rid of the "mind you head" notice.
What a lot of improvement ! but it only demonstrated how flaw the Oval Taurus was. Compete with its toughest competitors, again, Accord and Camry, the outcome remains unchanged. Although the heavyweight Taurus is roomier than others, it is rather bulky to handle, thanks to the weight and 5-meter-plus length. It still rolls a lot in tight corners. From the deletion of the SHO model, or the lack of improvement in handling department, or the wrong position of automatic transmission's shifter (at the steering column), you'll know Taurus has gave up the desire to provide driving fun. Instead, it softened the spring and reduced tire pressure in order to provide a more supple ride and less road noise generated.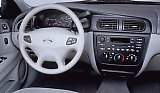 Refiner it may be, but again it couldn't match the Japanese duo's quietness and smoothness, including the Duratec V6. What it leads over others is price and equipment. It is the first car to offer clever air bags (which detect driver's distance and with or without wearing seat belt to determine the pressure of inflation) and power adjustable pedals (for short drivers).
It is sad to find out that the best-selling real American car still rely heavily on price and equipment to attract sales. As two Japanese cars are selling better than it, any excuse like "because the American love this kind of cars" is no longer acceptable. Uncle Sam should try harder to please the public.