Puma Racing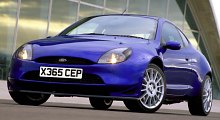 Well, I know the car shown in the picture is a Puma ST160, but it looks exactly the same as the production car called Puma Racing. Why not it retains the ST160 name as the show car? because it didn't meet the target of 160 horsepower. Why is it called "Racing" ? because it is built and tuned like a racing car. One of the evidence is the failure of complying the EU emission regulations. As a result, it is made according to UK�s Single Approval Vehicle regulations, with no more than 1,000 cars built and strictly bounded to UK. Despite of a price tag of 23,000 pounds, all cars were already sold.

The conversion was made by Tickford, the British engineering consultant which created the hottest Ford RS200 and Cosworth RS500. Everything is familiar by racing car standards. Firstly, beef up the 1.7-litre Zetec engine by hotter cams, larger intake manifolds and low back pressure exhaust. This push the peak power to 153 hp at a high 7,000 rpm, that is, an increment of 30 hp. Secondly, to improve handling, front and rear tracks are widened by a massive 70 mm and 90 mm respectively. To cover the wheels, wider aluminium front wings are used while rear quarter panel are extended. Thirdly, also inevitably, Tickford stiffened the suspension springs and dampers, by the way lowered the ride height, enlarged the rubbers to 17-inch 215/40VR17 and upgraded the front brakes with 4-piston aluminium calipers. Then added a fake carbon fiber lip spoiler to improve downforce. Lastly, the cabin is re-trimmed with blue Alcantara steering wheel, supportive sport seats and door inserts.

After the conversion, the car becomes really exciting. The standard Puma is one of the best handling little coupe, but Puma Racing raised the game to another level - only Honda Integra Type R can provide such focused driving experience. The engine roar is as thrilling as the revvy, if peaky, character. It works perfectly with the short-throw, close-ratio 5-speed manual (with revised linkage to shifter) to deliver great driving pleasure, if not Type R-beating performance. 0-60 mph is improved by 1.2 second to 7.4 sec. 0-100 mph is shortened by 3 and a half seconds to 22.1 sec. Admittedly, this is 5 seconds away from a Type R, blame to the gearbox ratio which bias towards low speed and the lack of top end power compare with Type R. However, fooling by the exhaust noise, the driver might believe it were as fast as a Type R !

Every controls feels as focused as racing cars. The ride is stiff by any standards bar racing, so the car corners with virtually no roll. Massive tyres always grip the road hard. Understeer is inevitable for a front-drive coupe having 55% weight bias the front, but the amount is the slightest can imagine. Lift-off oversteer is easily manageable. Steering is well-weighted, direct and as accurate as a swiss watch, thanks to the stiff suspension. As a result, cornering is just a point-and-shoot action. Braking is powerful, with superb brake feel.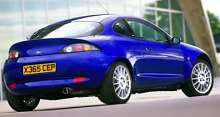 Now comes the drivablity. It must be made clear that Puma Racing is not really harsh and unrefined. Stiff ride it may be, but not unacceptable. Likewise, power delivery is peaky, but in fact it deliver no fewer punch at low rpm than the standard Puma. There are some vibration can be felt via steering wheel when riding on bumps, but not a fundamental fault for a sports car. Driving position is excellent, so is the seats. As in standard Puma, the biggest flaw is the lack of rear passenger room - it's a pure dog seat ... and I mean a puppy.
In many ways, it is more enjoyable to drive than a Type R Integra - engine noise (although not in VTEC-style), steering feel and directness, body control as well as grip. However, handicapped by a 121 mph top speed and a 22.1 sec 0-100 mph, the Puma Racing is not up to the basic requirement for performance. Then, we have to consider the daily usability. Why didn't the Type R or other hot coupes tuned so racy ? Drive the Puma Racing a whole day, then day after day as your daily transport and you'll know why.
If anything justify the price that is higher than the Type R, it must be one word: Exclusivity.