SVT Mustang Cobra R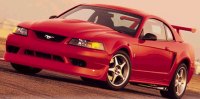 Let's look at the price tag first. At US$ 54K, it's doubled from the standard Mustang Cobra, more than doubled from the Camaro SS (our favourite pony car until now), 30% dearer than a Corvette and 10% more than a Porsche Boxster S. That sounds crazy enough for a Ford.

Even though it is a limited run of 300 cars, I'm still not convinced about the price, especially is that the Cobra R looks more like a tuner's car than a factory one. Basically, the Mustang is never a good basis for high performance sports car, so SVT has to compromise. The biggest compromise is the engine, where the original 4.6-litre 32-valver has little upgradability. Adding supercharger may be too complicated and costly. Increasing displacement is also infeasible, as SVT cannot afford casting a new block. (that's why I said it's more like tuner's work) Instead, they use the bigger iron block from Ford's Triton truck V8, couple to the original dohc cylinder heads with 4 valves per cylinder. The new block displaces 5409 c.c., accompany with improved breathing (that is, higher flow intake manifolds and exhaust ports), new cam profile, higher valve lift, forged aluminium pistons and new crankshaft, maximum power and torque are increased from 320 hp to 385 hp and 317 lbft to 385 lbft respectively.

Nevertheless, the Triton cast iron block is much heavier than the original aluminium block, thus deteriorating front-rear weight distribution from 55:45 to 57:43. Another disadvantage is the height of the engine, despite a lower engine mount, it requires a huge power dome in the bonnet, thus blocking visibility somewhat.

Exhaust is another compromise. Because the self-contained independent rear suspension and fuel tank block the way for a proper rear exhaust, the twin-pipe exhaust is routed to the side, in front of the rear wheel.

Other modifications are predictable: 6-speed manual instead of 5-speed, hydro-mechanical rear LSD, stiffened suspensions, lower ride height, 265/40ZR18 tyres, uprated brakes, racing-style air dam and rear spoiler etc. etc.

The Cobra R is very heavy - 1637 kg, or some 160 kg in-excess of a Corvette. Even so, it has no air-con, no radio, no rear seats and virtually no sound deadening material. However, with the new found power and (especially) torque, it accelerates from rest to 60 mph in 4.8 seconds, to 100 mph in 10.9 seconds, both are marginally quicker than the Vette.

Handling on race track is faultless, thanks to rock-solid suspension and huge grip. In other words, it rides poor on rough surfaces. As its look suggest, Cobra R is a track-biased road car.