Ford Mondeo

Debut: 2007
Maker: Ford
Predecessor: Mondeo Mk2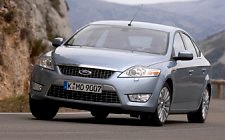 In its hey day, the first generation Mondeo sold more than 600,000 units a year worldwide. Fast forward to 2006, the second generation Mondeo sold only 200,000 units. If we count only the sales in Europe, you will find a similar trend: 376,000 units sold in 1994, 143,000 units in 2006. Why the sales slide ? partly because the car came near the end of its life cycle, but the main reason was a shrinking market segment. Not only Mondeo, other mainstream-brand family saloons are also facing the same problem – their market segment is gradually eaten up by compact premium saloons (e.g. BMW 3-Series and Audi A4), MPVs, MAVs and pseudo offroaders. So how does the third generation Mondeo respond to the challenges?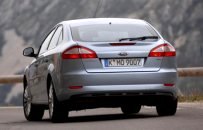 Observing the car from outside, you will notice two things: first, it looks far more interesting than the dull-looking second generation. Martin Smith's "Kinetic Design" language injected a very sporty and aggressive theme to the new Mondeo. The visual effect is quite striking, if not very elegant or time resisting. Hopefully people will not refer Mondeo man to boring man anymore.

Another thing to catch your attention is the sheer size of the car. It looks significantly larger than the old Mondeo yet the visual effect tells only half the story – if not the sporty shape, it could look even larger. In fact, measuring 4844mm long, 1886mm wide, 1500mm tall and 2850mm in wheelbase, the new Mondeo is as large as a Volvo S80. No, it actually exceeds the big Volvo in most dimensions except the overall length. You might think the ghost of Granada Scorpio is reborn in the name of Mondeo. In fact, underneath the Mondeo is the same platform as Volvo S80. Ford utilized the EUCD platform developed by Volvo for use in new Mondeo and its sister car S-Max and Galaxy MPV. The high level of cost sharing allows the bigger Mondeo to be priced at the same level as before. All the three Fords are built in the Genk plant in Belgium sharing production lines and toolings. This strategy allows flexible allocation of production in case of changing demand. For instance, if the market continue to shift towards MPVs, more production capacity could be shifted to build S-Max and Galaxy and reduce the damage to the minimum. Vice versa, if greenhouse gas policy drive more MPVs back to sedans, Mondeo could absorb the excessive capacity of its MPV sisters. Clever.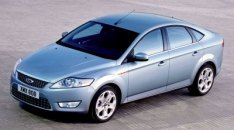 With an exterior size a class larger than its rivals, the new Mondeo easily provides a class-leading cabin space. No one complained the old car for short of rear passenger space, but the new car is even more generous. It is the only car in its class genuinely seat 5 tall guys comfortably. Its rear legroom exceeds that of Volkswagen Passat by 15mm, Opel Vectra by 55mm and European Honda Accord by almost 100mm ! Boot space is equally generous at 535 liters for the 4-door sedan.


The cabin design echoes the exterior – striking, flashy but too busy to me. As you expect for a new sedan developed in Germany, Mondeo's cabin is high quality and solidly assembled. Most surfaces are made of soft-touch plastics, with the exception of the lower half where less noticeable thus money can be saved. Only minor places and switchgears reveal its quality ultimately not as high as Volkswagen Passat. However, the driving position is excellent. The seats are comfortable. The cabin is also full of kits. The most basic trim already includes air-con, power windows, trip computer, cruise control and ESP. Upmarket models get i-Pod / Bluetooth connectivity, touch-screen sat nav, voice-recognition control, radar cruise control and HMI (Human Machine Interface) control. The latter use a steering wheel-mounted control to navigate menus displayed on the color screen at the instrument binnacle. You don't need to turn your attention away from driving, so it is more initiative and ergonomical than i-Drive, MMI or the like. Equipment-wise, the new Mondeo sounds even more premium than BMW and Audi !



The same goes for driving refinement. This is another major improvement of the new Mondeo. Its monocoque chassis is 130% stiffer than the old car. Its MacPherson struts and Control-Blade multi-link suspensions are mounted to the chassis via fluid-filled bushings to suppress NVH. The sound insulation is also thoroughly upgraded. On motorway, no other cars in the class, including the small BMW and Audi, cruises so relaxingly, with so little wind and road noise heard in the cabin. The ride quality is also a triumph. Few cars with passive suspensions can deal with broken back roads and high-speed bumps equally well like this one. Moreover, the new Mondeo offers continuous adaptive damping and 3 driving modes (Normal, Sport and Comfort) as option. But even on the standard suspensions the Mondeo is already a very comfortable yet surefooted ride.

Then what about handling – the traditional strength of Mondeo ? As the car is much wider and heavier, inevitably it becomes less nimble and less agile in tighter roads. Sadly, it has lost a little athletic character of the last two generations. However, the new Mondeo is still a highly inspiring driving machine. Its steering is still well-weighted, precise and feelsome, thanks to the persistence in hydraulic power steering. Its positive gearchange and responsive brakes still encourage you to push it. It still slices accurately into corners. Its body control and high-speed stability are better than ever. In short, it is the most entertaining drive in its class bar Peugeot 407.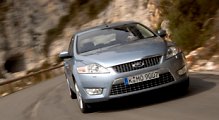 Comparatively, performance is only average. Ford offers 5 petrol engines (1.6 Duratec 110hp, 1.6 Duratec VVT 125hp, 2.0 Duratec HE 145hp, 2.3-liter Duratec HE 161hp and Volvo's 2.5-liter 5-cylinder turbo with 220hp) and 2 diesel engines (1.8TDCi 125hp and 2.0TDCi 140hp). None of them are really new and none of them are world-beating engines. The 145hp 2.0-liter petrol used to be a big seller in the old Mondeo, but unfortunately it is not punchy enough to cope with the heavier new car. To deliver decent performance, you need the 140hp 2.0TDCi with 6-speed gearbox. If budget allow, the best choice is the Volvo 5-pot engine, of course. Its extra performance (152mph top speed and 0-60 mph in 7.1 seconds), smoothness and lovely sound worth the extra money, although higher fuel consumption and emission tax will be harder to swallow.

Theoretically, the new Mondeo can fit Volvo's forthcoming T6 turbocharged straight-6 engine. However, this is unlikely to happen because Ford understands the market positioning of Mondeo. The winning formula of new Mondeo is offering premium car level of space, quality, refinement and high-tech toys at bread-and-butter price. At the same time, it does not sacrifice driving excitement that always associated with the name Mondeo. Ford sets a new standard for mainstream family cars. It deserves every success !


The above report was last updated on 4 May 2007. All Rights Reserved.
Mondeo 2.0SCTi "Ecoboost"

Following the MPV twins Galaxy and S-Max, Mondeo also gets the new 2.0SCTi "Ecoboost" engine. It replaces both the outgoing 161hp 2.3-liter 16V and (Volvo-sourced) 220hp 2.5-liter five-cylinder turbo. It's not as punchy as the latter, but not far behind at 203 horsepower, and it delivers vastly improved fuel economy and emission. The Ecoboost technology consists of a small turbo, direct injection and Ti-VCT (twin-variable valve timing). It also has scavenging technology like FIAT's 1750TBi engine, which utilizes intake and exhaust valve overlapping to draw fresh air directly from intake manifolds to spool up the exhaust turbine more quickly. The result is a flat torque curve, peaking at 221 pound-foot from 1750 to 4500 rpm and with 90 percent of which available from 1400-5500 rpm. CO2 emission is reduced to 179g/km, compare favourably with the old 2.3i (223g/km) and 2.5T (222g/km).

Coming together with the 2.0SCTi engine is new "Powershift" 6-speed twin-clutch gearbox. It is a very matured device, always select the right gear and makes gearshift seamlessly in auto mode.


The above report was last updated on 26 May 2010. All Rights Reserved.
Mondeo 2010 facelift and new engines

The Mondeo Mk3 has always been a good looker, but after 3 and a half years on the market it starts showing its age. It must be said that 90 percent of its design still looks good. The only part needs updating is its nose, which looks a little bit bland. In the facelift, Ford slims up the upper grille and enlarges the lower grille, making the nose more aggressive and 3-dimensional. The latter is also helped by a curvier, more pronounced clamshell bonnet. Above the redesigned fog lamps are LED daytime running lights. These styling tweaks should be enough to carry the Mondeo through its remaining life.

A disadvantage of a larger lower grille is that it generates more drag, so the Mondeo introduces a movable shutter to close the intake partially at high speed. This reduces drag by 6 percent.

Apart from facelift, a couple of new engines has been added to the range. The updated 2.2TDCi turbo diesel now pumps out 200 horsepower thanks to piezo injectors and a larger turbo. 143 mph top speed, 7.6 sec 0-60 and 47 mpg mean it is a fast yet economical large car. Another new engine is 2.0 Ecoboost direct injection turbo petrol, basically the same as the 203hp 2.0SCTi launched earlier this year, but tuned to deliver 240 horsepower. It mates with the excellent "Powershift" 6-speed twin-clutch gearbox to deliver a quick yet refined performance. However, owing to its narrower torque band, it doesn't feel much faster than the lower power engine, despite of a claimed 153 mph top speed.

No matter 2.0 Ecoboost or 2.2TDCi, if you choose the Sport model, you will get an electronic adaptive damping system with 3 levels of stiffness for selection. Comfort mode responds to those criticized the Mondeo Mk3 for riding too hard. Sport mode is probably unnecessary, as Normal is already sporty enough.

In the cabin, Ford has lifted its refinement with better noise insulation and higher quality plastics (e.g. piano-black center console) . There are also more sophisticated safety features on offer. Overall, the facelifted Mondeo is better than ever. Its handling remains top notch and space remains unbeatable, while powertrain and refinement get noticeable improvement. This is still the most convincing non-premium brand large car on the market, and probably the best overall with price taken into account.


The above report was last updated on 8 Oct 2010. All Rights Reserved.
Specifications
General remarks
Layout
Chassis
Body
Length / width / height
Wheelbase
Engine
Capacity
Valve gears
Induction
Other engine features
Max power
Max torque
Transmission
Suspension layout


Suspension features
Tires
Kerb weight
Top speed
0-60 mph (sec)
0-100 mph (sec)

Mondeo 2.0i (2007)

Front-engined, FWD

Steel monocoque
Mainly steel
4778 / 1886 / 1500 mm
2850 mm
Inline-4
1999 cc
DOHC 16 valves
VIM
-
146 hp

136 lbft
5-speed manual

F: strut
R: multi-link

-
205/55R16
1402 kg
130 mph (c)
9.3 (c)

-

Mondeo 2.2TDCi (2007)

Front-engined, FWD

Steel monocoque
Mainly steel
4778 / 1886 / 1500 mm
2850 mm
Inline-4, diesel

2179 cc
DOHC 16 valves
VTG turbo

CDI
175 hp

295 lbft
6-speed manual

F: strut
R: multi-link

-
235/40WR18
1524 kg
139 mph (c)
8.2 (c)

-

Mondeo 2.5T (2007)

Front-engined, FWD

Steel monocoque
Mainly steel
4778 / 1886 / 1500 mm
2850 mm
Inline-5

2521 cc
DOHC 20 valves, VVT

Turbo

-
220 hp

236 lbft
6-speed manual

F: strut
R: multi-link

-
235/40WR18
1492 kg
152 mph (c)
7.1 (c)

-










General remarks
Layout
Chassis
Body
Length / width / height
Wheelbase
Engine
Capacity
Valve gears
Induction
Other engine features
Max power
Max torque
Transmission
Suspension layout


Suspension features
Tires
Kerb weight
Top speed
0-60 mph (sec)
0-100 mph (sec)

Mondeo 2.2TDCi (2010)

Front-engined, FWD

Steel monocoque
Mainly steel
4784 / 1886 / 1500 mm
2850 mm
Inline-4, diesel

2179 cc
DOHC 16 valves
VTG turbo

CDI
200 hp

310 lbft (332 lbft overboost)

6-speed manual

F: strut
R: multi-link

Adaptive damping

235/45WR18
1524 kg

143 mph (c)
7.6 (c)

-

Mondeo 2.0SCTi (2010)

Front-engined, FWD

Steel monocoque
Mainly steel
4784 / 1886 / 1500 mm
2850 mm
Inline-4
1999 cc
DOHC 16 valves, DVVT

Turbo
DI
203 hp

221 lbft
6-speed twin-clutch
F: strut
R: multi-link

-
235/40WR18
1494 kg

144 mph (c)
7.5 (c)

-

Mondeo 2.0 Ecoboost 240hp (2010)

Front-engined, FWD

Steel monocoque
Mainly steel
4784 / 1886 / 1500 mm
2850 mm
Inline-4
1999 cc
DOHC 16 valves, DVVT

Turbo
DI
240 hp

251 lbft (266 lbft overboost)

6-speed twin-clutch
F: strut
R: multi-link

Adaptive damping

235/45WR18
1494 kg

153 mph (c)
7.1 (c)

-
Performance tested by: -
Copyright© 1997-2010 by Mark Wan @
AutoZine