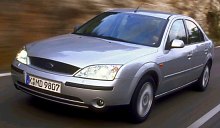 No matter how brilliant the old Mondeo drove, it was not a commercial success anyway. Back in 1993, Ford announced in high profile that it spent some record-breaking 6 billion US dollars in the Mondeo project - a world car that was going to be sold in most places as Mondeo and in the US as Contour or Mercury Mystique. It was dynamically brilliant but cramped for its size and lack of an attractive packaging. When it was replaced in late 2000, most analysts doubt that any profit was generated throughout its life. Ford learned the lesson: driver appeal alone doesn't sell.

Undoubtedly, the new Mondeo has been designed with the lesson learned in mind. No more big spending, especially considering the market for family sedan segment is down-sizing recent years. Technically conservative, using modified versions of the old suspensions, gearboxes and V6 engine. However, extra attention was paid to packaging, from the Passat-size cabin to Passat-like plastic and switch gear. According to those who saw it in real, it even looks very Passat alike. So, although Ford denied, the new Mondeo was designed with the Volkswagen rival used as benchmark.

I don't like the styling, which is as angular as the old car organic. Odd headlamps, odd grille, odd C pillars ... however, chief designer J Mays said it would have been worse if not he and designer Chris Bird joined Ford some 2 years ago to change the final design. By the way, their resumes listed Volkswagen New Beetle and Audi's first A4 respectively, so you can hardly doubt that.

Technical View

Hard to imagine, now the new Mondeo is the biggest in class as it is a lot longer, wider and higher than the car it replaces. The 2754mm wheelbase is 50mm longer than before (which was already class-leading) and out-class everybody else convincingly (Passat is 2703mm while Peugeot 406 is 2700mm. Even the American Honda Accord is just 2715mm, no match with the Mondeo). Moreover, as the body shape is now more rectangular, it doesn't waste a lot of space like its predecessor. You can see its cabin as a Passat with more rear leg room. In other words, half a class larger than competitors bar Passat.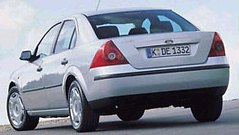 Better still is that the massive increase of size added just 25 kg to the overall weight of the 2.0 Ghia model despite that the chassis is 60% stronger in torsion. Aluminium engine block accounts for 18 kg among all weight control measures taken.
On the other hand, the Zetec engine family has been replaced by a new Duratec HE series which was mainly developed by Mazda (Ford's subsidiary) for the whole group. It features alloy head and block, a powerful 32-bit management system and a two-stage variable length intake manifold to improve torque curve - for example, the 2-litre version delivers 90% of peak torque from 2000 to 6000rpm. And the "peak torque" we say is a high 140 lbft. Peak power of 143 hp is also outstanding compare with most competitors. Although the new Mondeo has not yet employed VVT, it is sufficient to out-accelerate many 2-litre class rivals. 0-60 mph now takes 8.8 sec, an improvement of a full second from the old car, thanks to the new engine, effective weight control and shorter gearing.
The 5-speed manual is still the old MTX-75 except with revised gearing and a cable-operated shift mechanism, the former was made possible because the engine is much quieter at high rev than the old rough Zetec, the latter improves shift quality. 4-speed automatic is unchanged.
Top model still employs the 168 hp 2.5-litre Duratec V6 (also all-alloy) with little revision to make it comply with new emission regulations come effective in 2005.
Suspensions were carried over from the old car. However, the front MacPherson struts are mounted on redesigned sub-frame while the rear multi-link has more travel and new bushing.
On The Road
The new Mondeo really feels a lot more refined, something approaching German premier cars. The engine is quite smooth (if not class-leading) and quiet, torquey from low rev. Acceleration is satisfying, especially gearshift is precise and crisp.
Braking has been improved as well, thanks to larger discs (300mm up front and 280mm at the back) and improved pedal feel which makes light braking smoother.
In terms of handling and ride, the rigid chassis and tuned suspensions deliver a grown-up feel by its fluent control in bends and the way it absorb bumps, although the extra size inevitably make it less flickable on tight B-roads. Like BMW, Mercedes and Audi, the Mondeo's new suspensions are tuned to offer better high-speed damping with a bit trade-off in low-speed bump absorption. This make it less floaty on most roads and very composed at higher speed. You'll feel it rides firmer than before, but overall ride quality is actually improved, partly thanks to the rigid body.
Make it clear, the new Mondeo has beaten our long-time Champion Peugeot 406 in terms of handling. It steers with wonderful precision and feedback, adequate weighting and little kickback. Sharper and more linear than 406 at the limit. Moreover, its cornering limit is higher, that is, resists understeering better. Far better gearshift and sharper throttle response as well.
In The Cabin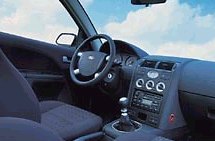 Large and comfortable aside, the new Mondeo shines in visual build quality. Dashboard is made of soft-touch plastic approaching, if not exactly matching, the quality of Volkswagen. In other words, feels more prestige than anyone else. There's also some niche details, such as the chromed rims surrounding gauges and the four spokes of steering wheel in silver color. Many switches and grab handles are made with damped feel.
Look aside, the new Mondeo is extremely desirable. Volkswagen Passat is still the best built, but it can't quite touch Mondeo's dynamic. Peugeot 406, on the other hand, loses in all areas to the Mondeo except styling. So a new Champion has been born.
What a pity the new Mondeo is no longer a world car as its predecessor used to be. It won't be on sale in North America although I do think its big cabin actually favour this market. Ford expect to build 350,000 units annually in the Genk plant of Belgium.