| | |
| --- | --- |
| Published on 17 Jun 2008 | All rights reserved. |
It is always upset to see a prestigious marque falling. Lincoln used to be seen as the American Rolls-Royce. When I started reading car magazines, it was still the best selling luxury marque in the USA together with arch-rival Cadillac. Now it falls behind Lexus, BMW, Mercedes-Benz, Cadillac, Infiniti and Acura in its home soil, and virtually nobody knows it outside the North America.


Evolution of Lincoln concept cars





Mark 9 (2001)
Continental Concept I (2002)
Mark 10 (2004)
MKS (2006)


MKR (2007)



Ford has been trying to revive Lincoln since it formed Premier Automotive Group (PAG) a decade ago. The first act was the 1999 Lincoln LS, a modern mid-size executive car derived from the platform of Jaguar S-Type. Though not a bad car, it wasn't a commercial success as Ford hoped for. Since then the company hesitated on the new direction of Lincoln. It hired ex-Rover design chief Gerry McGovern to search for a new design direction, which resulted in a string of retro yet gorgeous concept cars such as Mark 9 (2001), Continental Concept I (2002) and Mark X (2004). But these big cars were never materialized, as Ford didn't want to invest into a new RWD big car platform. As a result, for nearly 10 years Lincoln had no new product launches (except a few badge-engineered sports utilities) and still relied on the aging Town Car and Continental for the bulk of its sales.

The function of McGovern was substituted by Volvo's Peter Horbury since 2004. Horbury apparently disliked the retro style of his predecessor. He displayed a modern yet down-to-earth concept, MKS, in 2006. It wasn't so darling to most commentators, however, so in the next year he raised the game with a much more stylish concept, MKR, and this time it hit right the target ! Unfortunately, this is too late. The production version based on the earlier MKS concept was already signed off, and this is the car we see today.


| | |
| --- | --- |
| | How can Lincoln took 8 years and 5 concept studies to produce a mediocre design like this ? |

Looking at the production MKS, we can hardly see the elegant lines and sporty proportion of last year's MKR. The waterfall grille and horizontal lower intake are quite old fashioned. The recess on the bonnet looks odd and unnecessary. The gently flowing waist line and kickback C-pillar are not bad, but they can never be signature design elements to Lincoln because we have seen similar things in other cars. The same goes for the ordinary tail design. In short, the MKS' exterior design fails to deliver a classic and luxury feel we had hoped for. How can Lincoln took 8 years and 5 concept studies to produce a mediocre design like this ?

Compare to the exterior, the interior design is much better. Straight lines and flat surfaces are employed as far as possible to interpret a classic Lincoln style, while brushed aluminum decors inject some modern flavours. Materials appear to be good, with plenty of soft paddings, real wood, real aluminum and Scottish soft leather. Plastics are high grade ones, although some switches have a budget feel. Ford and Microsoft's Sync system is standard on this car. It provides wireless communication with your phone and MP3 player and allow you to control these devices through voice recognition, which is very initiative to use.


| | |
| --- | --- |
| | Cabin: classic Lincoln style combines with modern aluminum decors |

The front seats are comfortable yet supportive, plus they have standard heaters and coolers incorporated. The rear can easily accommodate folks of 6 ft 2 in behind another guy of similar size. This is not much of a surprise, because the MKS has a transverse engine and FWD architecture, therefore it can provide more interior space than most European and Japanese executive cars out of a similar wheelbase.

Considering the modest sales projection, Lincoln apparently cannot afford to develop a dedicated rear-drive platform for this car. Neither can it utilize the platform of Jaguar XF, as Ford had long planned to spin off its British unit (although it denied that). As a result, the only possibility was to derive from the FWD platform of Volvo S80. This also makes sense to the economy of scale, as Ford Taurus (previously Five-Hundred) and Taurus X have already localized production of this platform in the USA. The production lines and components supply chain are already there, so adding another model would cost relatively little money.


| | |
| --- | --- |
| | Despite of 4WD, MKS is no where as entertaining to drive as BMW... |

The downside is, of course, front-wheel drive. A compromised solution is to equip the MKS with 4WD option like its Volvo cousin. It uses an electronic-controlled Haldex multi-plate clutch to send power to the rear wheels in case the front wheels slip. This benefits overall traction, reduces understeer and torque steer. However, the steering feel and chassis balance are still no match with a proper RWD car. This mean MKS is no where as entertaining to drive as BMW, Mercedes, Jaguar, Infiniti or Acura RL.

As you would expect for an American luxury car, the suspension tuning is soft to deliver a superb ride comfort. The steering is light to the extent of feeling remote. Old drivers might prefer its relaxing personality, but thread it through the mountains and it will feel ponderous to handle. The 1940kg kerb weight (or 1872kg for FWD model) also puts a lot of strain to the 3.7-liter Duratec V6. This engine is exactly the one serving the American version of Mazda 6. It is neither the most powerful nor the most refined V6 in the class – actually, far from it. 273 horsepower and 270 lb-ft of torque might serve well in a 1600 kg family sedan, but in a near 2-ton luxury car it is often breathless. The 6-speed automatic transmission often needs to drop a gear or two to keep the engine in power band. We estimate 0-60 mph will take around 8 seconds, i.e. the slowest in class.


| | |
| --- | --- |
| | 273 hp V6 in a near 2-ton car means a breathless drive... |

This mean the Lincoln doesn't like to be pushed. It prefers cruising on highway, where wind noise is well insulated by the laminated glass in windscreen and front windows. The supple ride, the quiet cabin and vast interior space actually make it a worthy successor to Town Car, surprise !

Unfortunately, the world no longer needs a Town Car. The MKS is neither exciting nor green enough to lure new generation drivers. It isn't beautiful. It isn't cheap either. In a market crowded with many good luxury cars (even Hyundai builds very decent luxury cars these days), I see no special reasons to choose the Lincoln.


| | |
| --- | --- |
| | Now even Hyundai can build a more decent luxury car, the road to revive Lincoln won't be easy. |
Verdict:


| | |
| --- | --- |
| Published on 3 Apr 2012 | All rights reserved. |
Lincoln MKS facelift 2012


In the sea of executive cars, Lincoln MKS has been largely forgotten. This is not without reasons: the MKS is heavy, slow, bulky to steer and uninspiring to look, to name a few. This year, Ford attempts to correct its faults with a mid-life update. It covers a restyled exterior and interior, more powerful engines, revised steering and brakes, upgraded suspension and more luxury equipment. The modifications are much more extensive than the usual facelift. Let's go into the details.

Outside, the new MKS is distinguished from the outgoing car by mainly a new nose, which features a sleeker waterfall grille, headlamp clusters, lower intake and fog lamp housing. It certainly looks more civilized. Nevertheless, its ill proportion – with a bonnet, waistline and roof way higher than regular cars – remains aesthetically challenging. This should blame to the crossover platform it shares with the defunct Ford Freestyle. Inside, the fundamentals are kept, but the center console and steering wheel get less angular. The main instrument becomes a single speedometer sandwiched by two small LCDs. Besides, new wood and leather trims lift the quality feel. Sound insulation has been enhanced, too. The vast list of equipment now includes Active Noise Cancellation system, which also simulates a sporty engine note through the speakers when you engage Sport mode.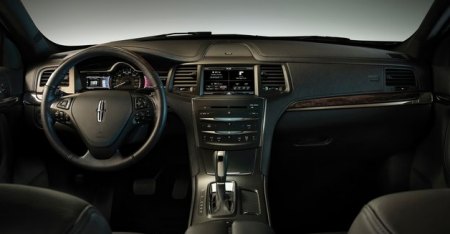 The 3.7 Duratec V6 now produces 304 horsepower and 279 pound-foot of torque, 31 hp and 9 lbft up from last year. This is achieved mainly by the addition of variable cam phasing at the exhaust camshafts and a fine tuning closer to the Ford Mustang V6. A pity direct injection is still omitted. The flagship 3.5 Ecoboost V6 is largely unchanged, though it quotes 10 more horses than before at 365 hp (while max. torque remains the same). Considering the car's immense weight, the supercharged engine is definitely the preferred choice.

In the chassis, the most significant upgrades are the introduction of CCD continuous adaptive damping and a 3-mode (Normal / Sport / Comfort) control system. The latter integrates with power steering, engine, transmission, traction and stability control. It might be normal to expect a German luxury car to feature such a control system, but in a Lincoln that is nothing short of surprise. In reality, the control system does tighten the body motion considerably in Sport mode, but it does this at the price of ride comfort. In Comfort mode, the vice versa happens. The Lincoln therefore fails to match the all-round handling and ride quality of the class leaders.

The weight and high center of gravity also prevent it from feeling agile, although the retuned power steering (with quicker ratio and rigidly mounted rack) feels more natural than before and the larger brakes make stopping more confident. New software quickens the response of the all-wheel-drive system, hence cutting torque steer, but overall the driving character is not to be confused with a proper rear-drive machine. All in all, the Lincoln still fails to shine in the seas of executive cars.

Verdict: