StreetKa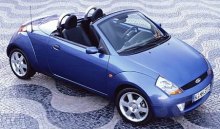 From the back, StreetKa looks very much like a mini version of Audi TT Roadster. So alike that everybody can see this is no coincidence, just like what we have said about Daihatsu Copen. Now we know Japanese car makers are not alone to be copycats. And Turin is probably not as creative as we thought.

Why? because StreetKa was designed by the once-famous Ghia studio in Turin in early 2000, before Ford sacked 95% of its staffs. The design got the approval from Ford thanks to its pretty look and, more important, low cost layout. Obviously, it is built around a Ford Ka. Clever wheelarch panels change the shape of the headlamps and widen tracks (by 22mm front, 35mm rear) to ensure better handling. Lower and more steeply raked windscreen contribute to a coupe feel. New bumpers look more sporty. Swoopy rear end with new rear lights, neat hood cover and chromed rollover bars look just like TT Roadster. Ghia proves that a complete change of visual effect is not necessarily expensive.

The production StreetKa was refined by Pininfarina because it is also manufactured there. Ford's accountant found that projection sales is just 20,000 cars per year, not justify to set up a new production line by itself. At the same time, Pininfarina has a plant with a lot of unused capacity due to the death of Fiat Coupe and Peugeot 306 Cabriolet, thus a deal with Ford was made. Therefore, StreetKa has Latin blood in its body. It is designed by Italian and built in Italy with many components coming from Spain where Ka is made.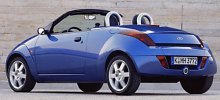 Unfortunately, cost concern limits StreetKa in many ways. Firstly, the interior is virtually unchanged from the cheap Ka - the same early-90's organic design, hard and shinny plastic. Secondly, the roof is a manually-operated fabric soft roof. How can this compete with the popular electric folding hardtop from its rivals, namely Peugeot 206 CC and Daihatsu Copen? even Smart Roadster has the option for electric soft roof, while the little Ford doesn't. Thirdly, the StreetKa is powered by a bigger and more powerful engine in relation to the standard Ka, but it is just a 95hp single-cam 2-valve-per-cylinder 1.6-litre from the South African Ford Ka. Better than the standard car's 1.3 push-rod design, but too outdated compare with the 16-valver from Peugeot. It is noisy at over 4500rpm and lacks punch to cope with the 1061kg kerb weight. 0-60mph takes more than 11 seconds, too slow.
The chassis is better. Basically, Ford Ka is always good at handling. Base on its chassis, StreetKa uses stiffer suspensions - stiffer front springs, rear torsion-beam axle taken from the late Puma - and 195/45 VR16 wheels and tires to improve handling. Bigger brakes come from Focus. Its chassis isn't as strong as the tin-top car, but reinforced rear bulkhead and the rollover bars make it strong enough for a convertible. The result is sure-footed cornering. Steering is faithful, ride is supple, body roll is well checked, grip level is high. However, perhaps the tires are too wide. The power is too weak to overcome the grip limit, thus it is far more difficult to induce lift-off oversteering than the standard Ka. This means StreetKa actually delivers less fun to drive.