Ford GT

Debut: 2003
Maker: Ford
Predecessor: GT40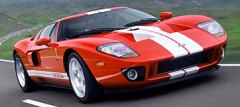 To celebrate its 100-year anniversary, Ford relaunches the legendary GT40 after 40 years! if you remember, the GT40 stunned the world in the '60s by beating Ferrari in the GT racing world and winning 4 Le Mans titles. Since then it is still the only mid-engined supercar Ford ever produced. The 2004 version won't beat Ferrari in motor racing - as it is designed to be a pure road car, but it is no less ambitious. Ford SVT wants it to beat Ferrari 360 Modena to be the best production sports car in the world. The GT is also priced to compete directly with the Ferrari, at US$150,000 in the US or £100,000 in Britain. That means its rivals also include Lamborghini Gallardo (£117,000), Porsche 911 GT2 (£116,000) and the Challenge Stradale version of Ferrari 360 (£133,000). Can Henry Ford's car beat these finest supercars?

In my eyes, the styling of Ford GT is only remarkable for the lack of it. What styling it has? the design team headed by J. Mays put too much emphasis on the so-called "Living Legend" philosophy. They did virtually nothing to alter the look of the 1960s car, resulting in a retro-style sports car, or simply look like a replica of the GT40. The visual flair is not helped by the poor fit and finish of the body panels (e.g. wide and uneven assembly gaps, mal-alignment of body parts) either. The cockpit is a similar story. Retro is again the main theme, as you can see from the 6-gauges instrument panel and big toggle switches. Materials used are poor. The cabin is not trimmed in leather, but hard plastic (e.g. dashboard and door panels) and some switch gears from Ford's parts bin. Some aluminum parts and magnesium transmission tunnel do lift the sense of occasion, but overall speaking this car does not look as expensive as a £100,000 sports car should be.

Being an American car, Ford GT is designed to accommodate big people. 6ft 4in tall people will fit into it nicely. What a pity the carbon-fiber-backed seats are too flat to hold the person tight. Getting in and out is easy, thanks to the doors that cut into the roof. Also, the sills are narrow, because the GT relies on its transmission tunnel to provide strength. More brilliantly, the transmission tunnel is actually not too wide, especially when you know the fuel tank is housed inside it.

The original GT40 was a combination of British (Lola) chassis and Detroit powertrain. The new GT is also a product of international cooperation: the V8 is purely USA - based on Ford's MOD V8 and modified by Roush, the 6-speed transaxle is from Ricardo (UK), the aluminum space-frame chassis is supplied by Metro Technologies (USA), the aluminum body work is by Mayflower (UK), the clutch is AP Racing (UK), the brakes come from Brembo (Italy). However, this time the chassis was designed by American and the whole project was handled by Neil Hannemann, who engineered the Saleen S7 road car. Assembly is also taken place at Saleen. Therefore it is fair to say the Ford GT is an American car in the way like Corvette and Viper.


The heart of the GT is an American V8. Unbelievably, it is based on the one serving Ford SVT Lightning pickup. However, Roush, an expert of modifying the Ford V8, gave it a thorough rework. Without alternating the 5409cc (or 330cu) displacement, Roush gave it a new 4-valve head, a new dry-sump aluminum block, forged aluminum pistons, high-strength con-rods, forged steel crankshaft etc., and then the root-type supercharger was replaced by a more efficient, Lysholm (screw) type supercharger by Eaton. Boost pressure increased to 12.0 psi (0.83 bar). The result is exactly 500 horsepower at 6000rpm and 500 lbft of torque at 4500rpm.

The GT weighs 1542kg, so its power to weight ratio is more or less identical to Dodge Viper and is obviously higher than Ferrari 360. Lamborghini Gallardo has the same power and a slight advantage in kerb weight (just 20kg), but the Ford's supercharger and extra 400cc gave it an overwhelming advantage in torque - 500 lbft versus 376 lbft, so the GT is faster in acceleration.

According to Ford's claim, 0-60mph takes only 3.8 seconds, some 0.3 sec faster than Gallardo and the Challenge Stradale version of Ferrari 360. This claim has been verified by R&T and surpassed by Motor Trend, which took only 3.6 seconds. They also found 0-100mph need 8.8 sec and 8.1 sec respectively. (Forget Car And Driver here. It recorded an unbelievable 3.3 sec for 0-60 and 7.6 sec for 0-100, which doesn't match its power-to-weight ratio at all. Apparently Ford gave it a "specially-prepared" car for test) This means the GT accelerate faster than 360CS, Gallardo, Viper and is about level with 911GT2.

On the road, the storming acceleration is accompanied with thunderous noise from the V8. The screw-type supercharger has its whine well suppressed such that what you hear is a only a true American V8. Because of the tremendous torque, you can rely on the engine to do its work instead of shifting the long-throw and notchy gearbox.

The aluminum space-frame chassis is similar to Ferrari 360 in technology but only stiffer. Torsional rigidity is 29,000Nm per degree, surpassing the Ferrari's 23,000Nm/degree. Unsurprisingly, the suspensions are forged aluminum double-wishbones at all corners. The rear wheels are 1 inch larger in diameter than the front to aid visual appeal. They wear super-wide 315 tires to put down the tremendous torque to the road, but the 40% aspect ratio is not too aggressive.


Thanks to the stiff chassis, the Ford GT can soften its suspensions to provide a supple ride without affecting the accuracy of handling. While Ferrari 360CS is upset by mid-corner bumps, Ford GT just overcome them smoothly. Its handling characteristic is also more forgiving than the Ferrari. Thanks to superior grip and a soft rear end, the GT is not prone to tail slide. The setup is such that it has the right amount of stabilizing understeer when you turn into a corner, and then transit to neutral in mid-corner. This is a safe yet efficient cornering style. It enables the driver to steer smoothly into and out of bend. No wonder Car And Driver magazine compared the GT, 360CS and 911GT3 on a racing track and found the GT achieved higher exit speed in most corners. Of course, once leaving the corner, the GT used its superior power and torque to push even further. The result is a decisively quicker lap time.

Praise must be given to Neil Hannemann and his team for tuning the chassis so well. On the one hand, the GT has all its international ingredients integrated so well to provide a Lamborghini and Ferrari-beating performance, handling and ride quality. That's already amazing. On the other hand, it is simultaneously easy to control, just like a Lamborghini Gallardo with even higher performance and sharper handling. That's another surprise.

Of course, the GT has some flaws. It doesn't look as sexy and expensive as its European rivals. Its tiny front luggage compartment is useless. Its visibility is poor at best and virtually non-existent at the rear. Its supercharged V8 doesn't inspire like a high-revving Ferrari V8 or a Lamborghini V10. Its steering isn't the most communicative, especially beside a Ferrari 360 Challenge Stradale. And to many people it doesn't have enough soul and character.

To American, the GT is a prove that the USA can build the best sports car in the world, even though it took only 22 months from concept to production. Well done, Ford. I hope your next mid-engined supercar won't come as late as 40 years later.
The above report was last updated on 29 Dec 2003. All Rights Reserved.
Ford GT: 550hp and 205 mph

There were speculations that the GT actually produces more than 500 horsepower. In 2004, Ford finally admitted that and re-rated the car at 550 horsepower. This arrives at 6500rpm instead of the original 6000rpm. Maximum torque remains at 500 lbft, but now it occurs at 3750rpm instead of 4500rpm. This explain why the GT is found quicker than Lamborghini Gallardo.

In June 2004, Ford took a production GT to Italy's Nardo test track for top speed measurement. The result is 205mph. Now it is confirmed to be the fastest car in its class.
The above report was last updated on 9 Jun 2004. All Rights Reserved.