Ford Fusion

Debut: 2005
Maker: Ford
Predecessor: no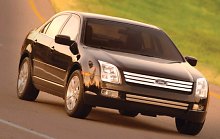 Ford names the American Fusion the same as the European Fusion, but this Fusion is not that Fusion. Any confusion? the European Fusion is a version of Fiesta, two class below the Mondeo-sized American Fusion. The latter, together with the larger Ford Five Hundred, replaces the old and tired Taurus thus it competes head on with Toyota Camry and Honda Accord in North America.

After the disappointing Five Hundred, most car journalists were afraid that Fusion would be another disappointment. A closer look at its spec proves such view is pointless: while the Five Hundred is derived from the dated and unremarkable Volvo S80 platform, the Fusion shares platform with the fun driving Mazda 6. While the Five Hundred's 3-litre V6 lacks power to cope with its heavy weight, the same engine should work much better in the 200 kg lighter Fusion.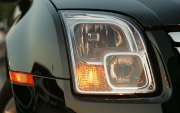 While the Five Hundred looks dull and conservative, the Fusion looks smart and characterful. Its design was inspired by Ford 427, a styling concept in 2003 Detroit motor show. It was originally a big car design, but Ford successfully downsized it to fit the medium size Fusion. Its square profile is unique in the class, but the most beautiful part is the nose with chromed 3-bar grille (which looks classy) and a pair of smooth integrating headlamps (which looks cyber). As a result, the distinctive front end makes the car instantly recognizable from distant.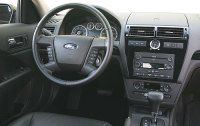 Mazda 6's cabin is quite cramped by class standard, so Ford stretched its wheelbase by 5 cm and extended its width by 5.5 cm. The roof is also raised by nearly 2 cm. This makes the Fusion on a par with Accord and Camry in all dimensions. Inside, cabin space matches its rivals too. What really surprising is the leap it took in quality. Although the Fusion is built in the Mexico plant, its fit and finish is close to the Japanese cars. It employs plenty of soft-touch plastics throughout the cabin. The piano black console panel looks cool. The knobs and switches works smoothly. Remarkable ergonomics is implemented by nice positioning of switches, initiative audio and climate control, excellent driving position and fully adjustable steering wheel. In the top V6 model, it includes comfy and expensive looking stitched leather seats. Everything in the cabin feels up to the Japanese standard. However, the Japanese cars set the standard a few years ago. We know they will naturally raise the standard again soon. That said, Ford Fusion is at least in a favourable position against the newcomer Hyundai Sonata.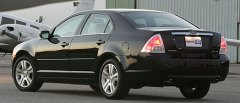 On the road, the cabin is very well insulated from wind and road noise. Ford must have paid a lot of attention to the door and window sealing and sound deadening materials. In fact, they also reinforced the Mazda 6 chassis by 13 percent (torsional stiffness) to improve NVH suppression. As in its cousin, the front double wishbones and multi-link rear suspensions are mounted on rubber-isolated sub-frames to reduce NVH.

Like Mazda 6, the Fusion rides firm yet supple and quiet. Its tight body control and agile handling place it above Honda Accord in driver appeal. Its steering also worth noting: nicely weighted, linear and accurate. It makes a good balance between feel and refinement, filtering the unwanted kickbacks but leaves the road feel you want. Overall, the Fusion handles as well as its platform donor but rides slightly better.

What Fusion can't match its Japanese rivals is the powerplant. The Duratec aluminum 3.0 V6 with intake variable valve timing can trace back its roots from Taurus, so it does not rev as smooth and as quiet as its rivals. With 221 horsepower, it also trails its rivals by 15-20 horsepower. Mated with an Aisin-built 6-speed automatic gearbox, the Fusion takes about 8.0 sec to accelerate to 60 mph, or half a second behind its rivals. The 6-speed gearbox is the first of its class. It offers smooth gearshift and perfectly matched ratios. Unfortunately, not only lacks manual mode, it even discarded the usual 1st, 2nd etc. to cut cost, leaving only D and L to choose from.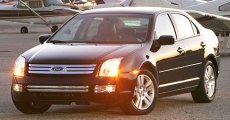 That's why I suspect the base engine could be a more attractive purchase. It employs Mazda's 2.3-litre 16V straight-4 with intake VVT and balance shafts, good for 160 horsepower and 156 lbft of torque. It mates with a regular 5-speed manual or 5-speed auto. Price start from US$18,000 (V6 starts from $21,000), undercutting its Japanese rivals but not Hyundai Sonata of course. The Mazda engine should be refined enough to fight against its rivals.

No matter 2.3 or 3.0, Ford Fusion is already a highly competitive mid-size sedan. Its unique and tasteful design, good comfort, fine quality and sounded refinement enables it to attract the majority buyers while the class-leading handling (together with Mazda 6) could make it a favourite to keen drivers, something Focus did. However, the game is moving on quickly. The Japanese will undoubtedly lift the game when they replace Camry and Accord in the coming 1-2 years. At the lower end, Hyundai is also eating into the market with its bargain Sonata. Good though it is, Ford Fusion might not be good enough to fend off the challenge in the future.
The above report was last updated on 3 Oct 2005. All Rights Reserved.
Mercury Milan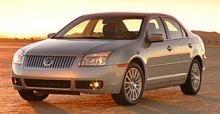 Again, the Mercury version is the same car as Ford Fusion but with a different grille and rear end restyle. The cabin gets slightly different trimming and more standard equipment.

Lincoln Zephyr (Now renamed to MKZ)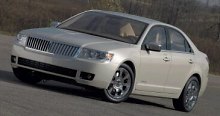 It looks more upmarket than its Ford sister in order to ask for a higher price. While the basic profile is the same, its waterfall grille is more elegant while a different dashboard design reminds you of traditional Lincoln. Underneath is the same mechanicals, although it will get a more powerful 3.5 V6 alongside the 3.0 V6 while the inline-4 engine is discarded. 4-wheel-drive will be available.
The above report was last updated on 3 Oct 2005. All Rights Reserved.
Fusion facelift 2009 and Fusion
Hybrid
| | |
| --- | --- |
| | Viewing from the front, the facelifted Fusion looks really refreshing... you might mistake it with a new car from European Ford... |

More than 3 years have passed since Ford Fusion went on sale. As predicted in my original report, it aged quickly. A mid-life refresh is desperately needed. Fortunately, Ford still has money to do that despite of credit crunch. Modifications to the 2010 Fusion concentrate on 3 areas: 1) Facelift, 2) More powerful engines and 3) Lower fuel consumption. They address the weaknesses of the current car.

Viewing from the front, the facelifted Fusion looks really refreshing. If not the rest of the car retains that boxy profile, you might think it is an all-new car from European Ford. Peter Horbury's design team finally mastered the technique to design beautiful cars for North America. They injected what they learned from Ford Europe, such as a 3-dimensional nose and sporty bumper intakes, and merged with the American-originated 3-bar grille. The latter is now even more prominent and tasteful than ever. This, in addition to the thinner new headlamps and pronounced bonnet, completed a successful facelift. Inside, the cabin also gets some upgraded materials and equipments, but overall speaking the interior of Fusion is still an unattractive place - boring, inexpensive and a bit small by class standard.

In a bid to stop people criticizing its modest performance, Ford improved all its engines. The base Mazda 2.3-liter 4-pot engine has been upgraded to 2.5 liters like what has happened to Mazda 6. Horsepower increased by 15 hp to 175 hp. The long-serving uratec 3.0 V6 received new intake manifolds and a new "Cam Torque Actuated" intake VVT to boost power from 221 to 240 hp. Nevertheless, both Fusions weigh dozens of kilograms more than their predecessors, so performance gain is modest. Fortunately, Ford finally introduces its 3.5-liter Duratec V6 into the top Fusion. With 263 horsepower on tap, it has a better chance to compete with the powerful Japanese rivals.

As for fuel consumption, the four-cylinder Fusion achieves a 10 percent improvement, thanks partly to the upgrade from 5-speed to 6-speed manual or automatic gearbox, partly to the switch from hydraulic to electrical power steering. The latter is also compulsory on the 3.0 V6 model, which achieves a fuel saving of 4-6 percent. Only the 3.5 Sport continues to employ hydraulic steering.


| | |
| --- | --- |
| | With the excellent hybrid, Ford proves that economy and driver appeal are not mutually exclusive... |



Fusion Hybrid



However, by far the most interesting member of the 2010 Fusion is the new Hybrid version. Its powertrain combines the base 2.5-liter four-cylinder engine, a pair of AC electric motors and a CVT transmission. The motors are supplied by a NiMH battery, which is recharged by regenerative braking or the gasoline engine. To enable the car to run purely on electric mode, Ford changed most engine-driven systems to electric powered, such as the air-con, power steering and brake servo. New instrument panel displays status of the hybrid power system.

In order to optimize fuel savings, the engine is configured to run at Atkinson cycle*, therefore power and torque are down to 156 hp and 136 lb-ft respectively. The electric motors produce another 106 horsepower and 166 lb-ft, with the latter available right from the bottom end. Combined output is 191 hp, enough for the 1725 kilograms car to do 0-60 mph in 8.5 seconds. It might be slower than a Toyota Camry Hybrid, but it achieves considerably higher fuel efficiency. EPA rated it at 41 mpg for city and 36 mpg for highway, which is far better than Camry Hybrid (33/34 mpg), Altima Hybrid (35/33 mpg) and the mild hybrid Chevrolet Malibu / Saturn Aura (26/34 mpg). How can it beat the Japanese in their own game ? The answer is by using more powerful electric motors. This enables Fusion to run up to 47 mph purely in electric mode (versus 25 mph in Camry), which means in normal driving 60 percent of the time the gasoline engine can be switched off.


| | |
| --- | --- |
| | How can it beat the Japanese in their own game ? The answer is more powerful electric motors... |

As in most other hybrids, the transition between gasoline and electric power is so seamless that you are difficult to detect. The powertrain refinement is excellent. The electric power steering and drive-by-wire brake pedal are also well weighted, unlike most hybrids. Moreover, like the rest of the Fusion range, it is fun to drive in challenging roads. The suspension is supple yet maintain good control. The chassis is nimble. The steering is accurate and consistent. Ford proves that economy and driver appeal are not mutually exclusive.

Any down side ? High price, boxy appearance, cheap interior and smaller than rivals.



* Atkinson cycle: conventional engines run at Otto cycle, in which intake valves close when the piston reaches the lowest position. In contrast, an engine operating at Atkinson cycle do not close its intake valves until the piston has well entered compression stroke. As some fresh air is pumped back into intake manifolds before the intake valves closed, the effective displacement is reduced. For example, a 2.5-liter Atkinson engine may be actually equivalent to a 2.3-liter Otto engine. As a result, it also produces less power and torque. However, in expansion cycle the 2.5-liter Atkinson engine works exactly the same as a 2.5-liter Otto engine, i.e. with the same length of expansion stroke. This makes better use of the thermal energy in the heated gas, thus it delivers higher fuel efficiency.
The above report was last updated on 27 Dec 2008. All Rights Reserved.
General remarks


Fusion 2.3 (2005)

Fusion 3.0 (2005)

Lincoln MKZ 3.5 AWD (2005)

Layout

Front-engined, FWD

Front-engined, FWD

Front-engined, 4WD
Chassis

Steel monocoque

Steel monocoque
Steel monocoque
Body

Mainly steel

Mainly steel
Mainly steel
Length / width / height
4830 / 1835 / 1453 mm
4830 / 1835 / 1453 mm
4840 / 1835 / 1453 mm

Wheelbase
2728 mm
2728 mm
2728 mm

Engine

Inline-4

V6, 60-degree

V6, 60-degree
Capacity

2261 cc

2967 cc
3496 cc

Valve gears

DOHC 16 valves, VVT

DOHC 24 valves, VVT
DOHC 24 valves, VVT
Induction

-

-
VIM

Other engine features

-

-

-

Max power

160 hp
221 hp
263 hp

Max torque

156 lbft
205 lbft
249 lbft

Transmission

5-speed automatic

6-speed automatic

6-speed automatic

Suspension layout

F: double-wishbone
R: multi-link

F: double-wishbone
R: multi-link
F: double-wishbone
R: multi-link
Suspension features

-

-
-
Tyres front/rear

205/60R16

225/50R17

225/50R17

Kerb weight

1432 kg

1488 kg

1730 kg

Top speed

-

-

127 mph (limited)

0-60 mph (sec)

9.5*

7.4*

7.3*

0-100 mph (sec)

32.9*

19.7*

19.2*

Performance tested by:
*C&D


Fusion 2.5 (2009)

Fusion 3.0 (2009)

Fusion 3.5 AWD (2009)

Layout

Front-engined, FWD

Front-engined, FWD

Front-engined, 4WD
Chassis

Steel monocoque

Steel monocoque
Steel monocoque
Body

Mainly steel

Mainly steel
Mainly steel
Length / width / height
4841 / 1834 / 1445 mm
4841 / 1834 / 1445 mm
4841 / 1834 / 1445 mm

Wheelbase
2728 mm
2728 mm
2728 mm

Engine

Inline-4

V6, 60-degree

V6, 60-degree
Capacity

2488 cc

2967 cc
3496 cc

Valve gears

DOHC 16 valves, VVT

DOHC 24 valves, VVT
DOHC 24 valves, VVT
Induction

-

-
VIM

Other engine features

-

-

-

Max power

175 hp / 6000 rpm

240 hp / 6500 rpm

263 hp / 6250 rpm

Max torque

172 lbft / 4500 rpm

223 lbft / 4300 rpm

249 lbft / 4500 rpm

Transmission

6-speed manual

6-speed automatic

6-speed automatic

Suspension layout

F: double-wishbone
R: multi-link

F: double-wishbone
R: multi-link
F: double-wishbone
R: multi-link
Suspension features

-

-
-
Tyres front/rear

205/60R16

225/50R17

225/45R18

Kerb weight

1490 kg

1563 kg

1725 kg

Top speed

-

-

127 mph (limited)

0-60 mph (sec)

8.0*

7.1*

6.7*

0-100 mph (sec)

21.1*

20.0*

17.6*

Performance tested by:
*C&D


Fusion Hybrid





Layout

Front-engined, FWD





Chassis

Steel monocoque





Body

Mainly steel





Length / width / height
4841 / 1834 / 1445 mm




Wheelbase
2728 mm




Engine

Inline-4, Atkinson cycle, AC motor





Capacity

2488 cc





Valve gears

DOHC 16 valves, VVT





Induction

-





Other engine features

-





Max power

156 hp / 6000 rpm (engine)
106 hp / 6500 rpm (motor)
191 hp (combined)





Max torque

136 lbft / 2250 rpm (engine)
166 lbft / 0-3000 rpm (motor)





Transmission

CVT





Suspension layout

F: double-wishbone
R: multi-link





Suspension features

-





Tyres front/rear

225/50VR17





Kerb weight

1725 kg





Top speed

108 mph (limited)





0-60 mph (sec)

8.5*





0-100 mph (sec)

21.5*





Performance tested by:
*C&D