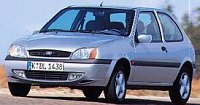 The old Fiesta is again getting a facelift. The basic chassis could be dated back to the early 90s. The major revamp in late 1995 vastly improved its handling while added the Yamaha-developed Zetec-SE engines. This time Ford didn't give it too much fresh items. Most changes are in the restyled nose and retrimmed interior.

The new face mirrors that of the Focus. Trapezoid headlamps and mesh grille do not coincide with the rest of the aging profile very much. Inside, the biggest change is the front seats, whose thinner back rest improves a little bit rear leg room. Yet the unchanged structure still limit the interior space, making it easily the tightest supermini.

Due to the lack of changes in chassis and suspensions, the class-leading handling remains unchanged. However, those interested in hotter performance can choose the new Zetec-S model, which is powered by Focus' 1.6-litre 16-valve four with 103hp. It is not really a hot hatch, otherwise the "XR2" name will be used instead. Zetec-S also gets stiffer suspension and wider tyres than other versions.

In this competitive segment, the facelifted Fiesta can hardly hide its age, no matter in interior space, packaging or styling. It still has the best dynamic ability, but people concern most is not that. Moreover, those really pursue hot hatches would find Ford has ignored this segment at all. You can't compare the Zetec-S with Peugeot 206GTi, can you ? An all-new Fiesta is badly needed.