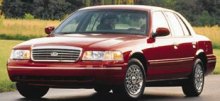 Nowhere else can see this kind of monster. Crown Victoria and its sister car Mercury Grand Marquis are the last breed of American big cars. Not just we outsiders call them "big cars", but American also call them "big cars", so you can see how large they are. Measuring at nearly 5.4 meters, Crown Victoria is one of the longest mass production cars. However, the kerb weight of "just" 1787kg make us wondering if its chassis is made of Aluminium Space Frame like Audi A8 .... just kidding. In fact, this kind of traditional big cars is used as everyday bread and butter transport, taxis, or police cars instead of luxurious cars. Therefore it does not have a lot of sophisticated components or equipment to burden it.

Its philosophy can be summarized into 4 words : roomy, durable, V8 and cheap. Who buys it ? mostly retired old men, taxi drivers or 85% of America's police stations. Those insist to have a V8 saloon with 6-passenger accommodation at the same price of a V6 Japanese car should seriously consider it. Who won't buy it ? you and me. Who loves it but won't buy it ? American steel industry !

Crown Victoria could be seen as a living history. Its body-on-frame separate chassis, instead of monocoque, came from Jurassic era. Not much newer is the live axle rear suspension, in other words, non-independent. Since first appeared in 1978, the platform was changed little. The result is the lack of rigidity to meet today's requirement for handling, not even the lowest requirement. In terms of refinement, the separate chassis and live axle suspension also performs not very well on bumpy road or fast drive. Chassis noise and bump absorption are not as impressive as the weight of the car suggest. It's better to drive leisurely.

The Mustang's sohc V8, detuned to 215hp, performs much better than the chassis. It output a useful 285 lbft of torque and runs quite quiet.

Inside, there is a hall for six adults sitting comfortably. The dash board is ugly and built of very poor material, once again remind us its price tag. Police officers will be impressed by its passive safety (really, few cars have so large crumple zones front and rear) so that they don't afraid of highway tracing.

In Hollywood's films, police always crash their cars but never get hurt. This inspire me 3 things : firstly, they always crash because they drive the Crown Victoria like a sports car. Secondly, they dare to drive so dangerously because they know Crown Victoria is safe. Lastly but not least, the American police offers them the Crown Victoria to crash because it is really cheap.

It seems the old breed of big car will disappear from the planet soon. Ford is unlikely to renew it. GM already terminated its Caprice a few years ago. Chrysler not even offer such car.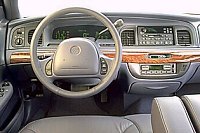 Interior of Mercury Grand Marquis