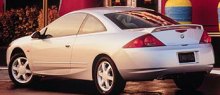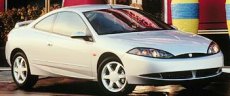 Don't fooled by its name, this coupe is actually developed in Ford's Germany development center, derived directly from Mondeo's platform. Its intention is to replace the Mazda MX-6-derived Probe in both shores of the Atlantic, not the already died Mercury Cougar (which was a rebadged Thunderbird) because they are so different in size and dynamic.
In Europe, its most obvious target is Peugeot 406 Coupe. While the Pininfarina-stylied French car is praised as the most beautiful car in the world, Ford has to apply its so-called "New Edge" design philosophy, which has been successfully applied to Ka and Puma. New Edge combines curvy surfaces and sharp edges so to deliver a sense of dynamic and aggression simultaneously. Compare with Peugeot 406 Coupe, the Cougar seems to be more aggressive, but less spiritual.
The Mondeo donated a very exceptional chassis to Cougar. Even in Europe, Mondeo is regarded as the best handling mid-size sedan ( excluding the BMW 3 Series and Alfa 156 ). Its rigid chassis and carefully tuned suspensions offers handling second to none and ride just behind the Peugeot rival. In two-doors form, torsional rigidity is increased by 20 %, springs and dampers are also stiffened to bias towards handling. As a result, no matter steering response, precision, feel, body control and grip are improved. Autocar's tester described it as more driver-biased than the 406 Coupe. Its driving position is lower and surrounded with a stylish (if not well-built) facia, giving it more sporty feeling. It handles slightly sharper than the Peugeot, while rides nearly as good. R&T also praised its handling, although made no secret that it is no match with the even more driver-biased Acura Integra. After all, the tiny Honda is not supposed to be its direct competitor. (Prelude is.)
According to Autocar, where the Cougar scores lowest is the engine - the 2.5-litre Duratec V6, which serves the Mondeo well, does not offer enough power to match the 406 Coupe's V6 (168hp versus 194hp). This shows in the 0-60mph of 8.3sec they recorded, compare to Peugeot's 7.4sec. The same also reflects in every in-gear acceleration. Why didn't Ford adopt Contour SVT's 195hp unit ?
Cougar lost another battle to the French beauty in rear seats. In 406, 2 adults of 6 ft height sit comfortably during long journey. In contrast, Cougar just like the majority competitors in this class - they are strictly 2+2.
So, before a stronger engine is available in Cougar, Peugeot 406 Coupe remains to be my choice.