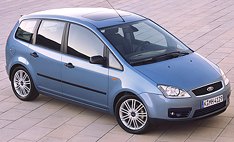 In 2003, Ford has lost its second place in worldwide sales chart to Toyota and it is facing increasing financial troubles. In my view, the fall of the Ford empire is mostly due to its short-sighted product strategy and messy management. I take this one as an example. In 1997, Renault created a new compact MPV segment by launching Scenic. Many rival car makers followed immediately. But not Ford. When Ford started realizing the potential of this segment, it greenlighted a project developing a Scenic-rival base on the existing Focus platform. Normally, a program like this takes around 2 years, which means the Focus MPV should make its debut in 2000.

However, in the middle of the development, Ford saw Opel launched Zafira with an innovative "Flexi-7" seats. Ford was afraid that the 5-seat Focus MPV could not compete with the new rival's 7-seat design, thus eventually cancelled the project. Instead, it decided to build the MPV base on the next generation Focus platform because it would be flexible enough to accept a longer body for 7 seats. In this way, the launch date was delayed by 3 years and Ford lost hundreds of thousand units of sales.

More ridiculously is, when the Focus MPV finally launched in late 2003, it was actually a 5-seater. It won't be available as a 7-seater in the future, said Ford, because only 8% customers have more than 2 kids. This seems interesting when most of the strongest rivals bet on the 7-seat trend, such as Opel Zafira, Volkswagen Touran, Renault Grand Scenic, Honda Stream and Toyota Avensis Verso. The truth is: Ford met some technical difficulties in enlarging the new platform. Opting not to spend extra investment and time to solve the problem, it can only satisfy with a 5-seater.

So, that was how C-Max born. The C-Max doesn't break any rules of compact MPV, but it sets standard in driver appeal, thanks to the new-Focus platform underneath. For a starter, the platform rides on the famous control-blade multi-link rear suspensions, offering superb absorption and tight body control simultaneously. Refinement is further improved by a sub-frame mounting the front struts suspensions. This reduces noise and harshness transmitted to the steering column as well. The steering of the top 2.0TDCi model is assisted by electro-hydraulic system. It is light, precise and refined. Although not as communicative as the hydraulic system of cheaper models, it feels more natural than the pure electric system used by many rivals.

The suspension setting is typical European Ford - initially, the ride feels firm, but it damps beautifully on bumpy surfaces. Compare with the current Focus, the C-Max rides even smoother and quieter. Compare with rival MPVs, the C-Max is more agile, more resistant to body roll and understeer. It should please keen drivers.


The choice of engine reflects European's love affair of diesel - 2 diesels and 1 petrol are offered. The highest performance engine is also a diesel. Thanks to a joint-venture agreement, PSA group supplies the C-Max with its second-generation (1600 bar injection pressure) common-rail direct-injection variable-geometry turbocharged 16V 2.0-litre diesel. This is undoubtedly a good news, as PSA's diesel engines are always refined. Its 136 horsepower and 236 lbft of torque also enable sparkling performance for a MPV. A slick 6-speed manual gearbox from Mondeo ST220 is mated with this engine. The other engines are a 120hp 1.8-litre petrol and a 110hp 1.6TDCi turbo diesel.

The C-Max rides on the same wheelbase as its platform sharing sisters - Focus, Mazda 3 and Volvo S40. However, it is much wider and taller to give its occupants noticeably more space inside. Enter the cabin, you will be impressed by its elegant design and high-quality finish, and then the clever design of rear seats. Because of the lack of extra seats, the C-Max can make better use of the space to serve the rear passengers. Its rear seats are split into 2 proper-sized outer seats and a narrower middle seat. Backrest of the middle seat can fold down to form a table. Like the recently-launched Opel Meriva and Signum, when the C-Max sits only 4 people, the middle rear seat can fold up and back, allowing the outer seats to slide inwardly and diagonally backward, liberating 100mm more legroom and 60mm more shoulder room. Whether Ford copied this idea from Opel or created by itself is unknown.

With all seats in place, the C-Max holds up to 550 litres of luggage. To place larger goods, you can lift the rear seats. However, if you want to put a mountain bike into it, the rear seats will need to be detached from the cabin, which is not an easy process. In contrast, Opel Zafira and Meriva offer a cleverer solution: their rear seats fold onto the floor and become part of a flat loading area.

Ford C-Max is currently the most car-like compact MPV. It goes rapidly, it handles brilliantly and rides well. On the negative side, it offers little versatility and accommodation over new generation hatchbacks. Inevitably, the border between cars and MPVs will get fuzzier in the future. C-Max will not be alone crossing this border. One day this kind of car/MPVs might outsell conventional hatchbacks, who knows?