You might remember, in the past few years I criticized Ford's product planning in the USA many times. They concentrated all their development resources into trucks and Sport Utilities, simply gave up developing new cars, handed the car market to the Japanese. Poor old Taurus soldiered on for 8 years without a replacement. How can it strike back Toyota Camry and Honda Accord? moreover, there is a big gap between Focus and Taurus, so is between Taurus and the outdated Crown Victoria. Ford seemed to be committing suicide.

When Bill Ford Junior took over Jac Nasser to head the company bearing his family name, he decided to concentrate back to cars. Unfortunately, time and money was in scarce. Ford therefore decided to adopt the platforms donated by its Japanese subsidiary (Mazda) and Swedish arm (Volvo). While the Taurus will soldier on for another couple of years to fulfil fleet sales, Ford splits the segment into 2 cars - the smaller car called "Fusion" (don't confuse with the European Ford Fusion) is to be derived from Mazda 6 platform, the larger car called "Five Hundred" is based on Volvo's P2 platform, the one that gave birth to S80, V70, S60 and XC90. This allows Ford to have 2 important new cars out of relatively little cost and development time.

Unsurprisingly, the 500 is positioned half a segment higher than Taurus. Being larger and more expensive, it competes with the high-end Camry / Accord / Altima, VW Passat, Nissan Maxima and even Acura TL and Lexus ES300. Measuring in excess of 5 meters long, weighing in excess of 1700 kg, it is easily the heavyweight member of the P2 platform. This platform uses MacPherson struts front and multi-link rear suspensions. Front-wheel-drive is the norm, but like the Volvo applications, 4-wheel-drive is available as option. The 4WD system is a sophisticated one, using Haldex electromagnetic clutch to distribute up to 50% torque to the rear axle in case of need. That means in normal driving it is pure front-drive. Unlike Volvo S80, Ford 500 is unusually tall, standing at a MPV-rivaling 1527mm. This is because Ford wants its occupants to sit as high as in a SUV to give them a commanding view and a sense of security. Such sense is usually deceiving, because the sitting position has nothing to do with the crash-worthiness of the chassis. What we are sure is that the resulting higher center of gravity must deteriorate handling.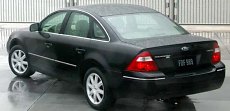 The exterior look of Five Hundred is disgusting - not ugly, but because it is clearly a copycat to Volkswagen Passat. I used to think only Japanese like to copy European cars, now I know I was wrong. Someday Ford must fire the guy sitting on the top level of its design studio. His name is J. Mays. Despite of the carbon copy, the 500 looks nothing near the perfection of Passat, because the details are poorly executed, lacking a high-quality feel. Its over-pronounced bumpers, dull grille and headlamps are at odds to the smooth Passat profile.
The interior is better. Neat design combines with decent leather and plastics delivers a quality feel never found in Ford's sedans in the USA. It is not as well built as Japanese or German rivals, but by American standard it is only second to Chrysler Pacifica (which borrows parts from Mercedes). The cabin can sit five adults in comfort, although the amount of space is not as abundance as the exterior dimensions suggest. In contrast, the boot is surprisingly huge, measuring a class-leading 600 litres ! furthermore, the rear seat is 60/40-slit while the front passenger seat can fold flat, therefore allows to place items up to 9 feet long.
Engine is perhaps its biggest weakness. It employs the same 3.0 Duratec V6 as Taurus. Back in 1996 this engine might be fine, but by nowadays' standard it is seen as unrefined, underpowered and inflexible. With an output of 203 horsepower and 207 lbft of torque, how can it cope with the 1700-plus kilogram body? obviously, a bigger V6 is desperately needed.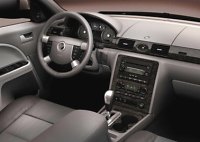 Five-Hundred has 2 choices of transmission - one from ZF and one from Aisin; one is 6-speed automatic and one is CVT. Surprisingly, the one ZF supplies is not the 6-speed auto, but the new CVT; the one made by Japanese is not the CVT, but the 6-speed auto. The Aisin gearbox is the world's only 6-speed automatic designed for transverse engine and front-drive applications. It is miles better than the 4-speed automatic of Taurus, although downshift is slow. The CVT is even smoother, and when it is made by ZF you won't doubt its reliability and durability. However, neither transmissions could be called as world-class.
On the road, the 500 is slow, safe and uninspiring to drive. Its soft suspensions and higher center of gravity tend to produce more understeer than Volvos. In return, you get a smoother ride. What a pity this is not matched by the engine (which lacks smoothness and quietness) and tires (which produces a lot of road noise). It is therefore not as refined as its Japanese rivals. On the plus side, the handling is predictable, braking is confidence-inspiring and the steering delivers decent feel and weight.
More power, more mechanical refinement and more driving fun are what Ford Five Hundred needs. Without these things it cannot compete with the well-established Japanese rivals and even the rising Chryslers - 300 and Pacifica. To Ford, recovery is still a long way to go.