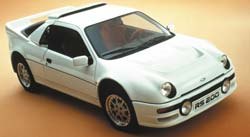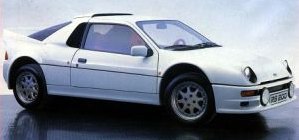 The establishment of Group B by FIA in 1982 created some of the world's greatest road-going rally cars ever made, such as Audi Sport Quattro, Lancia Delta S4 and Peugeot 205T16. As manufacturers were requested to build only 200 cars for homologation, they could apply exotic materials and the most state of the art technology without worrying the price too high. However, for promotion purpose, most manufacturers clothed their purpose-built rally cars like their bread-and-butter mass production models, which were hardly beautiful. This was definitely a pity from car lovers point of view. The only exception in the Group B era was Ford RS200, which was marketed as an independent model. Designed by Ford's Ghia studio in Turin, it was probably the best looking rally car since Lancia Stratos.

Mechanically, RS200 was also state of the art. Its mid-engined chassis was purpose built for rallying (believe or not, it was only the second mid-engined car produced by Ford - the first being GT40). Its survival cell consisted of a lightweight aluminum honeycomb floorpan and steel roll cage. Front and rear steel subframes connected to the survival cell to support the engine and suspensions. All four corners rode on double-wishbones suspensions with twin-shock absorbers each wheel. The bodywork was made of glass-fiber (in road car) or Kelvar (in race car). The rear bodywork hinged up in hatchback style so to reveal the whole engine for easy replacement. A 1.8-liter DOHC 16V Turbo engine sat longitudinally in front of the rear axle. The all-alloy unit with Nikasil cylinder liner was boosted by a big Garrett turbocharger to produce 250 horsepower at 6500 rpm and 215 lbft of torque at 4500 rpm in road trim, or 450 horsepower-plus in race trim.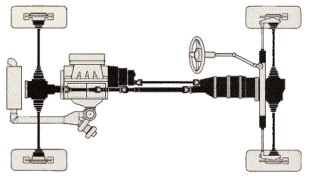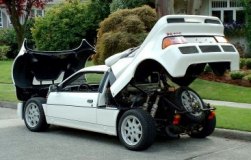 The car achieved a front-rear balance close to 50:50, thanks to a very special drivetrain layout developed by FF Developments, which was renowned for the 4WD Cooper F1 car and Jensen FF in the 1960s. Power from the engine was channeled forward to the 5-speed transmission, which was mounted near the front axle to improve balance, then transferred to a center differential which offered 3 choices of front-to-rear torque split – 37:63, 50:50 or pure rear drive – to suit different surfaces. The center differential divided the power to 2 paths, one sent to the front differential, another ran backward to the rear differential. All three differentials employed viscous coupling lock to anti-slip.

The perfect weight distribution meant RS200 handled superbly. Its 4-wheel traction and nimbleness shamed contemporary supercars. Nevertheless, its performance fell short of its high price - at £50,000, it was more expensive than a Ferrari 328GTB at £41,000. While the Ferrari could do 0-60 mph in 5.5 seconds and 0-100 mph in 14.2 seconds, a well ran-in RS200 recorded 6.1 seconds and 17.0 seconds respectively by Autocar. It didn't seem to possess 250 horsepower as claimed. In fact, a Sierra RS Cosworth with 204 horsepower and a £16,000 price tag was just as fast.

Road testers also found the RS200 very difficult to live with. Its engine had strong turbo lag so that performance was difficult to access. The cabin was cramped, hot and very noisy. The ride harsh. The gearshift clonky. The steering and clutch heavy. If it was stuck in traffic jam, its engine could be easily overheated. Build quality was appalling as it was rushed to production. Ford used many cheap parts from its parts pool, e.g. windscreen and taillights from Sierra, switch gears from Fiesta... and assembly was taken place at the factory of Reliant (the maker of Robin 3-wheeler and Scimitar) to take advantage of its glass-fiber facility. No wonder the build quality was so poor. Admittedly, many Group B road cars shared the same problem.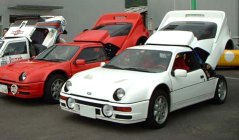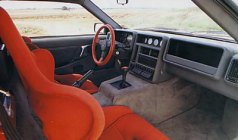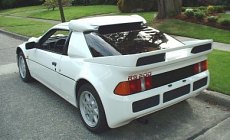 RS200 did not have a very successful racing career because it came too late to the party. By the time it finished the 200th production car in Jan 1986, Audi, Peugeot and Lancia had already been dominating Word Rally Championship for 3 years. It did win some insignificant non-WRC races, but it was never developed into a competitive WRC contender during its first year. More unfortunately, following a series of fatal accidents, FIA cancelled Group B in the end of 1986.

The demise of Group B meant RS200 would be difficult to find 200 buyers. As a result, some of the cars were disassembled to provide spare parts. Around 20 cars were converted into "RS200 Evo", whose engine was boosted to 2.1 liters and up to 650 horsepower. It had some success in Rallycross events, but that was another matter. Eventually, some 144 units of RS200 left the Reliant factory, only 90 of them were the 250hp road cars. The last car had not found buyer until 1990.