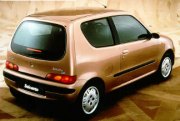 Seicento, or "600" in other words, was launched in Jan 1998 as a face-lifted Cinquecento (which means "500"). The Cinequecento had a successful life in Europe, because it offers satisfying practicality, performance and quality at a lowest ever price. In order to remain undercutting Ford Ka and Seat Arosa, Fiat decided to leave the mechanical parts unchanged, while hoping new exterior and interior packaging could inject new image.

Undoubtedly, this disappointed car enthusiasts. However, Seicento is still a better overall car than Cinequecento, at least in the user point of view. The new exterior looks stylish, even more is the cabin - better plastic, better assemble, better controls, and even fake carbon-fiber centre control decoration show Fiat's effort in improving quality. Without altering the mechanical "hard points", the new packaging creates slightly more room.

But the quality is achieved in the price of weight - he fastest version, Seicento Sport, gains 73 kg over its predecessor. This result in smoother ride but worse performance ( 0-60 mph takes 13.8sec compare with Cinequecento's 13.5 sec ). Handling agility and steering response is also deteriorated. The 1.1 litres Fire engine is still unchanged at 54 horsepower and 63 lbft, still sufficient for such a small car but no longer deliver the excitement as Cinequecento Sporting because of the extra burden.