FIAT Grande Punto






Debut: 2005


Maker: FIAT
Predecessor: Punto II





| | |
| --- | --- |
| Published on 27 Oct 2005 | All rights reserved. |
Looking back to the history of Fiat Punto, we can see how quickly the automotive world changes. The original Punto was launched in 1994. Its pretty Giugiaro design, space-efficient cabin and fine engines (the Super FIRE family) won it the title European Car of the Year. It became the best selling mini car in Europe and even once topped the overall European sales chart by beating the mighty Volkswagen Golf !

When Fiat updated the Punto to Mk 2 in 1999, it made three fatal mistakes: 1) It forwent Giugiaro and designed the car by itself. The result was an unattractive shape. That was made even uglier by the "facelift" in 2003, again penned by Centro Stile Fiat. 2) The Mk2 was derived from the Mk1 platform with all hardpoints unchanged. When its new Japanese and European rivals introduced better packaging with roomier cabin and flexible cargo space, the Punto suddenly became outdated. 3) believe or not, I suspect the gone of the 4-stripe lucky logo could be a reason for its fall. That logo was used in Panda Mk1, Uno and Punto Mk1 - all are the most successful Fiats in modern time. Since returning to the traditional circular logo, Fiat's fate has been worsening…


The decline of Punto hit Fiat badly. It dragged the Italian giant into deep financial trouble. Obviously, to save Fiat, the Mk3 Punto should be successful. But Fiat did not have too much cash reserve to develop the car. Also, it lost a lot of time due to frequent change of management. Eventually, it decided to cooperate with GM - which was still its partner then - and develop the Punto Mk3 and Opel Corsa based on the same platform. This help reducing development time and cost. It also saves purchasing cost because the two cars have 30 percent components in common. This means Fiat can buy C-segment quality components at B-segment price.

The Mk3 Punto has added a first name "Grande", indicating its bigger size. Compare with the Mk2, the Grande Punto is really grande, being 165 mm longer, 27 mm wider, 10 mm taller and runs a 50 mm longer wheelbase. It is the only car in the segment that can compare with the new Renault Clio in size. Interestingly, its wheelbase is 65 mm shorter than the Clio but the overall length is 44 mm longer.


See the pictures and you will understand why. The Grande Punto's front overhang is unusually long for a mini car. The intention is to take it out of the bulky shape of other mini cars. Together with a fast windscreen angle and a pair of Maserati Coupe-like headlamps, the Grande Punto looks really fresh and attractive. Who did the design? of course not Centro Style Fiat ! officially speaking it is Giorgetto Giugiaro, but in fact most of the car were penned by Bertone before Fiat handed the design to Giugiaro, who reshaped the nose and transplanted the headlamps from his own Maserati Coupe. At the rear, the elegant tailgate is purely the work of Bertone. Interestingly, in one car you can see the work of the two greatest Italian design houses.

If the attractive exterior design is the first sign of revival, then the cabin is the second. The previous Punto was hampered by an unattractive dashboard, a strange, Italian-style driving position and relative lack of space and flexibility. The new Punto has corrected these faults. Its steering wheel and driver's seat are multi-adjustable so that finding a comfortable driving position is easy. Its enlarged body accommodates four 6-footers easily. The 275 litres of luggage space is also decent, and underneath it hides a useful storage tray for tools and trivial. There are still no MPV-like flexible seating arrangement - that should be fulfilled by Fiat Idea instead - but once the 60/40 rear seat drops down the loading area is quite flat.


The dashboard design avoids the funky / overstyled shape of many Japanese and French rivals. Instead, it employs a more conventional but driver pleasing arrangement. The Italian mini car also questions why all other cars have their cabin in either grey or black. Instead, it uses a body-colored decorative stripe running across the dashboard and surrounding the center console to brighten the ambience and smarten the design. You might remember the late Fiat Coupe also did that.

There are some places lack quality touches, most notably the door panels and grab handles, thus it won't threaten Renault Clio in terms of quality feel. However, the fact that Fiat can build a larger and higher quality Punto without asking a price hike like Renault Clio is already an achievement.

On the road, the big Punto feels robust, refined and quiet. Its stiff structure - with a class-leading torsional rigidity of 19,700 Nm/degree for the 3-door and 16,500 Nm/degree for the 5-door - plays an important role here, as is the improved suspensions. The Grande Punto uses the same suspensions as the next generation Opel Corsa. All four corners employ thicker rubber bushings to insulate NVH from the bodyshell. The front MacPherson struts suspensions employ dual-link strut mounts to reduce NVH. The lower wishbones are made of pressed steel sheets instead of cast iron to reduce unsprung weight. At the rear, the torsion beam is now made of different thickness depending on models, thus saving the need for anti-roll bars for the more powerful models - a technique learned from Opel Astra. This save weight of course. Besides, the dampers are mounted vertically in order to absorb NVH better. When driving the Grande Punto, most journalists were impressed by its good bump absorption, even on broken surfaces, and the quietness of its ride. In this way, the Grande Punto has the same sweet driving manner as Panda.


The Grande Punto also feels light and agile on the road. Despite of its bigger size, it is not overweight. A 1.4-litre petrol Grande Punto undercuts the similarly sized Renault Clio 1.4 by 105 kilograms. This allows the Fiat continue to rely on some fuel-efficient and cost-effective 8-valve engines.

Our focus is the 1.4-litre sohc 8-valve petrol. It is one of the two petrol engines offered at launch (another is the entry-level 65hp 1.2-litre 8-valve). Compare with the various diesel engines, it puts less weight at the nose of the Grande Punto and therefore has the most faithful handling. The long-stroke engine produces only 77 horsepower, but a relatively strong torque curve is useful in everyday driving. Plus, the engine is smooth and quiet, well match with the smooth 5-speed gearbox and the refined ride quality.

Is it fun to drive? yes, for it is agile, smooth and easy to drive. Sporty? never. It takes more than 12 seconds to accelerate from 0 to 60 mph, it rolls a lot in corners and its electric power steering (succeeded from the previous Punto) delivers little feel.

However, Fiat could change that in the near future. It said a new electric steering system will arrive next year. It will have a motor mounted at the rack instead of steering column in order to improve steering feel. Moreover, a 16-valve version of the 1.4 engine with 95 horsepower will be added next year. Then several really powerful turbocharged engines will join the range: 1.4 turbo 120 hp, 1.4 turbo 160 hp and 1.6 turbo 180 hp. And rumor has that a 220 hp 1.6 turbo Abarth model is also on the pipeline. It will use a two-stage twin-turbo system like BMW 535d… The Grande Punto's chassis is undoubtedly capable of handling more power, and the more powerful engines will mate with sportier suspension setup, so the future is promising....

To save Fiat, engineers rushed to put the new Punto into market in a record-breaking 22 months. Luckily, they did the fundamentals right – attractive styling, good packaging and capable chassis (also thanks to Opel). They focused resources to the bread-and-butter models first, most notably the 1.4 petrol and 1.3 Multijet, and successfully made them lovely cars. The next step will be to plug in the remaining puzzles, putting excitement back into the map. If they succeed, Punto will be the class leader again while Fiat will be back to prosperity.
Verdict:





| | |
| --- | --- |
| Published on 27 Oct 2005 | All rights reserved. |
Diesel engines dominate

In the launch of Fiat Grande Punto, we can see the European small car market has shifted towards diesel engines. This is especially true to Fiat, which is the pioneer of common-rail injection technology. The Grande Punto offers 4 diesel engines, in contrast to only 2 petrol engines.

There is a pair of 1.3-litre Multijet 16V engines, rated at 75 hp (with fixed turbo) and 90 hp (with VTG turbo) respectively. Fiat's Multijet technology can inject up to 5 times during a combustion cycle, including pre- and post-injections, to cut emission, noise and fuel consumption. Both engines return over 60 mpg. They are also very compact (Fiat claims they are the world's smallest diesel engines) and relatively lightweight, at 130 kg including accessory.

The lower power engine has been used in the previous generation Punto since 2003. By then it was praised for refinement, useful torque and frugality. In the 110 kg heavier Grande Punto, it copes less well, sometimes feeling breathless.

Some journalists regard the 90 hp 1.3 Multijet 16V as pick of the bunch. Although its power deliver is not as smooth and linear as the 1.4 petrol, and somewhat laggy at low rev, its 147 lbft of mid-range torque delivers remarkable real world performance, certainly faster than the 0-60 mph figure (11.2 sec) suggest.

The other 2 engines are the long-serving 1.9 JTD with only 8 valves. They are an outdated design, generating more noise and vibration than the newer Multijet engines. They are also very heavy, burdening the nose of the Grande Punto, hampering handling and ride quality noticeably. In the absence of a fast petrol engine, Fiat wants the 120hp and 130hp 1.9 JTD to be the performance powerplant of Grande Punto. Is it a wise decision? those tested it said the performance gain over the 90 hp 1.3 Multijet 16V is slim in real world driving, not enough to justify the price it paid in handling and the extra price customer pay.

| | |
| --- | --- |
| Published on 13 Jun 2006 | All rights reserved. |
1.4-liter 16V engine

With the introduction of the new 1.4-litre 16V petrol engine, the missing link in Grande Punto's engine range is finally fulfilled. Based on the refined and eager but underpowered 1.4-litre 8V, the new engine not only added a 16-valve head but also a continuous variable valve timing and a port deactivation system. It produces 95 horsepower (versus 77hp) and 92 lbft of torque (versus 85 lbft), improves top speed to 111 mph and 0-60 mph to 10.7 seconds. The engine is an all-round performer: sweet, brisk and punchy enough. It could be the best mass production engine of the 1.4-litre class.

Surprisingly, at a combined cycle 46.3 mpg, the 16V drinks no more fuel than its 8V sister. This is not without reasons – at light engine load, the exhaust variable valve timing enables large overlapping between intake and exhaust valve opening, thus introduces EGR (exhaust gas recirculation) to reduce fuel consumption. Besides, the "port deactivation" also plays an important role to frugality as well as low speed torque. At low rev, one of the two intake ports for each cylinder will be shut down, accelerating the intake air and create swirl, which help mixing fuel and air.

| | |
| --- | --- |
| Published on 11 May 2007 | All rights reserved. |
Linea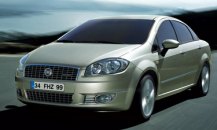 If a line is an extension of a point, then Linea (Italian for line) must be an extended and booted version of Punto (Italian for point). Fiat designed the Linea mainly for developing countries, where 3-box compact sedans are far more popular than in Europe. It will be produced in Turkey, China, Brazil, India, Russia and eventually become the company's second best selling car, just behind Punto.

Developing countries have different requirements from Western Europe. First of all, the Linea must be cheap and economical to run. Secondly, it should be able to carry a lot of luggage and goods. Thirdly, it should look graceful because, while Punto is just a basic car in Europe, Linea is a rather upmarket thing in developing countries. For the same reason, it should offer greater space and comfort to please those can afford it.

To satisfy these requirements, Fiat stretched the Punto's wheelbase by 93mm and installed a very long boot. The conversion from hatchback to 3-box is quite successful: the car remains handsome, the cabin space greatly improved and luggage capacity increased to 500 liters. A pair of new eyes distinguish it from Punto, but their same genes are easily visible from the grille. Inside, a more conservative dashboard is constructed base on the existing architecture and parts. Hard plastics remain, but people in developing countries care little about that. Instead, they will appreciate the abundance of legroom at the rear seats which actually puts Linea into C-segment.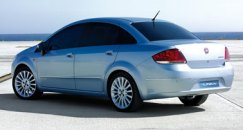 To lower running cost, Linea is offered with the smaller engines from Punto. At launch there will be only the 77hp 1.4-liter 8V petrol and 90hp 1.3 Multijet turbo diesel. With 4 people on board and the boot filled up, even the torquey diesel engine could feel breathless. 0-60 mph takes nearly 13 painful seconds, and the stressed engine sounds coarser than in Punto. If you want more punch, you'll have to wait for Bravo's 120hp 1.4-liter 16V Turbo to join the range later on. However, Linea is clearly not designed for great handling. Its softer suspension setup is tuned to take on the poor roads commonly found in developing countries. As a result, the ride is very supple and quiet, but the car rolls more in corners than its hatchback sibling. The dull steering doesn't promote driving pleasure either.

Unlike Fiat's previous "World Car", Palio, the Linea doesn't feel second class next to Punto. It just has a different character. Being stylish, comfortable and cheap, it should be highly attractive to developing countries. I suddenly realize that Fiat's next profit steam engine is not Bravo, but this low-profile "line".
Verdict:



| | |
| --- | --- |
| Published on 10 Oct 2007 | All rights reserved. |
Grande Punto Abarth

| | |
| --- | --- |
| | The Abarth Punto is what a Mini Cooper S should have been... |

2 years ago Grande Punto rushed out to the market in the attempt to save Fiat from bankruptcy. To speed up its development, Fiat decided to introduce the mass-selling bread-and-butter models first. They successfully attracted customers back to Fiat and put it back to the track of prosperity. Having done that, now Fiat finally get some time to think about niche models. The first act is the new Fiat 500, which should be another great success based on our recent findings. The next step will be to relaunch Abarth as its performance brand.

Every big car maker has to have a performance brand. For example, Renault has Renault Sport, Opel has OPC, Honda has Type R, Toyota has TRD, Mazda has Mazdaspeed… But Fiat's Abarth is somewhat different: it is a separate marque in its own right. Go back to history book, you will find Abarth was founded by Carlo Abarth in 1949 as a racing car maker. It designed racing cars based on mass production models, mostly Fiats, and won hundreds of rallying and touring car races. Provided you are old enough, you may remember its Fiat 600-based 850TC and 1000TC, or after it was acquired by Fiat in 1971, the world championship-winning Fiat 124 Abarth and 131 Abarth rally cars. Unfortunately, entering 1980s Fiat withdrew from motor racing and disbanded the Abarth team. Since then Abarth became no more than a marketing symbol.

Now Fiat CEO Sergio Marchionne wants to revive Abarth as its performance division. He gave it dedicated engineers and its own head office in Turin. On the one hand it runs the company's racing program with Grande Punto Super 2000 rally car, on the other hand it will produce performance road cars, starting from the Grande Punto Abarth (and soon to be joined with 500 Abarth). Furthermore, it will also make money by selling performance kits for customers to upgrade their Fiats.

Now come back to Grande Punto Abarth. It will compete with Renault Sport Clio, Opel Corsa OPC, Peugeot 207RC and Mini Cooper S in the junior hot hatch segment. All these are strong rivals, but the Abarth has an advantage: it looks more beautiful. Unquestionably, the Grande Punto has always been a beautiful car. With some sporting flavours injected, it looks even better. Up front, there are a pair of enlarged intakes and black lip spoiler. The sides are decorated with red door mirrors and Abarth red racing stripes graphics, which add to the special feeling. Equally influential is a set of tastefully-designed 17-inch alloy wheels and black wheelarch extensions. At the back, there are twin-exhaust and a black tailgate spoiler to complete the modifications. One may wonder how these subtle changes deliver such a great visual impact. The Italian knows very well that a tasteful design is neither an overstatement like Opel Corsa OPC nor an understatement like Peugeot 207RC. Instead, it is all about proportion, balance and inspiration.


| | |
| --- | --- |
| | Tasteful styling puts it ahead of other hot hatches, and then the driving experience and the exclusive feel... this car has Abarth's scorpion badge instead of Fiat's logo. |

The standard Grande Punto Abarth is powered by a tuned version of Bravo's 1.4-liter T-Jet 16-valve turbo engine good for 155 horsepower and 152 lb-ft of torque. This engine is smaller than Opel's and BMW-PSA's 1.6-liter turbo, so it is not as powerful. However, like other modern turbocharged engines, it is frugal, lag-free and provides plenty of low down torque. Push the "Sport Boost" button on the dashboard will quicken its throttle response and release another 18 lb-ft of torque at 3000 rpm, so overtaking is easy. We expect the car to top 129 mph and accelerate from 0-60 mph in 7.7 seconds. It won't match its pricier rivals, but the performance is satisfying and easily accessible, thanks to the rounded engine and the close-ratio, slick-shifting 6-speed gearbox.

For the chassis, the standard Abarth gets 10 mm lower ride height, 20% stiffer suspension springs, stiffer shock absorbers, grippy 215/45R17 rubbers and Brembo disc brakes. The "Sport Boost" button also weighs up the electrical power steering. On the road, the car displays excellent body control, grip and braking, while the steering is quick, precise and reasonably communicative. For around £13,500, it is undoubtedly a tempting purchase.

However, what really lifts the Abarth above its rivals is the Esseesse (Super Sport) version. This is a £3,500 upgrade kit installed at Abarth dealers. It boosts the engine to 180 horsepower and 201 lb-ft of torque by means of increased turbo boost pressure and higher flow intake and exhaust. Its 0-60 time of 7.2 seconds still fails to match Mini, Corsa and Clio (they take between 6.2-6.9 seconds), but what matters is not absolute speed but how the driver feels. In the Abarth Esseesse, you will feel more exciting than any other junior hot hatches on the market. This comes from its race-car-like exhaust roar, its sweet gearchange, its ability to sharpen throttle response and steering by the "Sport Boost" button and the noticeable power kick once its turbo get into full charge. Yes, Abarth trades some refinement for raw excitement, which is a good thing when Corsa OPC and Mini Cooper S are being criticized for too dull.

Apart from engine, the Esseesse upgrade kit also drops the ride height by another 20 mm (which means an astonishing 30 mm lower than the regular Grande Punto) and stiffens the suspensions further. Larger 18-inch OZ wheels, drilled disc brakes, better brake pads and lower profile tires are employed. On the road, the car feels tight and sharp, more hardcore driver-oriented than any other rivals. Its stiff ride does not suit B-roads, but its tight body control and sharp handling is confidence inspiring. The increased negative camber resulting from dropping the ride height gives it excellent front end grip in corners so that there is hardly any trace of understeer. The sharpened steering lets the driver to guide it accurately through S-bends at amazing speed. Besides, there is no torque steer at all. In addition to the excellent brakes, engine and gearbox plus the tasteful styling, Grande Punto Abarth Esseesse has a package that keen drivers cannot resist ! From this point of view, Fiat's sales forecast of 5,000 Abarths and 2,000 Esseesse kits per year seemed to be too conservative.
Verdict:





| | |
| --- | --- |
| Published on 29 Oct 2009 | All rights reserved. |
Punto Evo and Multiair engines

4 years on the market, FIAT Grande Punto has received a refresh as well as a new name – Punto Evo. Gone is the word "Grande", which was originally adopted to distinguish the Mk3 from the Mk2 that was still in production then. Following the retirement of the old car, its name is finally reverted to normal. Regarding "Evo", it implies the car is an evolution of the outgoing car rather than just a simple facelift. In fact, it covers extensive improvements in packaging, engines and chassis.

Externally, you can easily distinguish the Evo from the outgoing car by its new nose. The prominent front grille of the Grande Punto used to be its highlight and trademark. Somehow, the Giugiaro design delivers less visual impact after four years, especially when Mitsubishi copies this feature to every Colt and Lancer. This time the in-house design team of FIAT adopted a slimmer, more sophisticated nose with a black central bumper between the upper and lower intake. A similar design is echoed at the rear bumper. Together they increase the overall length by 35 mm. Is the new design more beautiful than before ? I am not sure, but it does look faster and sportier.


| | |
| --- | --- |
| | Multiair engines and other improvements makes Punto competitive again... |

Inside the cabin, the biggest change is the quality of materials – now the dashboard is topped with softer plastics, the center console is treated in high-gloss piano black, the door panels have more fabric and less hard plastic… it feels far more expensive than before. Build quality matches that of its key rivals bar Volkswagen Polo. Besides, the evolution got upgraded equipments such as Bluetooth / MP3 connectivity and new infotainment system. As expected, cabin room is unaltered. This mean spacious front seats and average space at the back.

In the chassis, the most obvious improvement is running refinement. Thanks to extra sound deadening and retuned suspensions, the ride is more refined and quieter. Wind and road noise is significantly reduced in the cabin. However, the Punto is still less engaging to drive than Ford Fiesta, or to lesser extent Volkswagen Polo. Its handling still lacks the sharpness and playfulness of Fiesta, and its electrical power steering is still too light and numb to delight keen drivers.

Nevertheless, the Evolution brings it the strongest engine range of the class. In the diesel side, the second generation 1.3 Multijet engine can make up to 8 injections per combustion cycle. This not only lifts its output to a useful 95 hp, but also improves its smoothness and quietness considerably. Rivals should envy that FIAT has such a superb entry-level engine on offer.


| | |
| --- | --- |
| | In the cabin, the biggest change is the quality of materials... |

In the petrol side, FIAT's new Multiair technology brings a new lease of life into the long-serving 1368 cc Super Fire engine. As we have studied in Technical School, Multiair utilizes electrohydraulic parts to liberate the possibility of valve operation. It can alter the timing and lift of intake valves, open or close the intake valves suddenly or even enable multiple openings within one cycle. This allows FIAT's powertrain engineers to tailor the valve strategy to optimize mixing and combustion. As a result, it improves power by 10%, low-down torque by 15% and reduces fuel consumption by 10%. In the Punto Evo, the naturally aspirated 1.4 Multiair engine produces a remarkable 105 horsepower, an increase of 10 hp compared with the last 1.4 16V engine. Maximum torque increases from 92 to 96 pound-foot, but the gain at low rpm is far more apparent. Even as low as 1000 rpm you can feel its gusty delivery.

The last new engine is the light turbocharged version of the 1.4 Multiair. It produces 135 horsepower and as much as 152 lb-ft of torque. 0-60 mph of 8 seconds is right in the league of warm hatches, yet it achieves 50 mpg economy. Cool. Like most other engines in the Punto Evo range, it has automatic start-stop function to help saving fuel.

With these strong engines, Punto is once again a competitive choice in the supermini segment. Although Ford Fiesta is still more fun to drive and Volkswagen Polo is more solidly built, the FIAT best seller has greatly narrowed the gap, and should continue to lure a lot of customers with its lower asking prices.
Verdict:




| | |
| --- | --- |
| Published on 2 July 2012 | All rights reserved. |
Punto 2012 and TwinAir


Time did no favour to aging cars. 7 years ago FIAT Grande Punto was a star in the supermini class. Today, it is well overshadowed by countless of rivals. By industrial practice, FIAT should have already renewed it by this time, but in Italian fashion it is not going to replace the car until it gets old, outdated, outclassed and cannot soldier on anymore. Moreover, in the view of market recession in Europe, Sergio Marchionne ordered a freeze of product development this year, therefore the next generation Punto will not arrive until 2014 the latest. That means the current car has to station for at least two more years! To prevent it from sounding too outdated, a facelift is introduced this year. It also has its name reverted to simply Punto.

Calling the Punto a facelift from Punto Evo is probably overstated. Basically, it changed only the front bumper (from black to body-colored) and discarded the chromed stripe above the nose. These make it looks like the original Grande Punto again. Inside, we fail to find any differences save some extra equipment. The so-called facelift must be done with a tight budget. In the mechanical side, the Punto is still offered with the same engines – 1.2-liter 8V 69hp, 1.4-liter 8V 77hp, 1.4-liter Multiair 105hp and 1.3 Multijet 75 or 95hp. The only change is the drop of 1.4 Multiair turbo 135hp, as its demand has been weak, and the addition of 875cc TwinAir turbo with 85hp.

The twin-cylinder engine has been using on 500 and Panda. Using it on the heavier Punto puts some more strain on it, so you need to rev it beyond 2300 rpm to get decent performance. Should you manage to do that, you will find a lively character. Drop below 2000 rpm and it becomes sleepy and unresponsive. Refinement is improved a little over its smaller siblings thanks to the addition of balancer shaft and the use of 6-speed manual gearbox (instead of 5-speeder). Still, the TwinAir is not a choice for refinement. It vibrates heavily at both idle and high rev. The loud, off-beat exhaust note is also intrusive to ears if you are not in a mood to praise its special character. Furthermore, the narrow power band means in the real world you are difficult to keep it at the most efficient rpm, so its fuel consumption falls short of its claims by a large margin. All these findings mean the TwinAir is not as sweet as the 1.2-liter 69hp.

Verdict:












Grande Punto 1.2



2005

Front-engined, FWD
Steel monocoque
Mainly steel
4030 / 1687 / 1490 mm
2510 mm
Inline-4

1242 cc
SOHC 8 valves

-
-
65 hp
75 lbft
5-speed manual
F: strut
R: torsion-beam

-
175/60R15
1015 kg

96 mph (c)
13.6 (est)

-

Grande Punto 1.4 16V



2006

Front-engined, FWD
Steel monocoque
Mainly steel
4030 / 1687 / 1490 mm
2510 mm
Inline-4

1368 cc
DOHC 16 valves, VVT

-
Port deactivation

95 hp
92 lbft
5-speed manual
F: strut
R: torsion-beam

-
185/55R15
1060 kg

111 mph (c)
10.7 (est)

-

Grande Punto 1.3 Multijet



2005

Front-engined, FWD
Steel monocoque
Mainly steel
4030 / 1687 / 1490 mm
2510 mm
Inline-4, diesel

1248 cc
DOHC 16 valves

VTG turbo

CDI

90 hp
147 lbft
6-speed manual
F: strut
R: torsion-beam

-
195/55R16
1130 kg

109 mph (c)
11.2 (est)

-









Performance tested by: -










Grande Punto Abarth



2007

Front-engined, FWD
Steel monocoque
Mainly steel
4030 / 1687 / 1480 mm
2510 mm
Inline-4

1368 cc
DOHC 16 valves

Turbo
-

155 hp
152 lbft (170 lbft overboost)

6-speed manual
F: strut
R: torsion-beam

-
215/45R17
1180 kg

129 mph (c)
7.8*

23.0*

Grande Punto Abarth SS



2007

Front-engined, FWD
Steel monocoque
Mainly steel
4030 / 1687 / 1460 mm
2510 mm
Inline-4

1368 cc
DOHC 16 valves

Turbo
-

180 hp
201 lbft

6-speed manual
F: strut
R: torsion-beam

-
215/40R18
1180 kg

134 mph (c)
7.2 (est)

-

Linea 1.3 Multijet



2007

Front-engined, FWD
Steel monocoque
Mainly steel
4560 / 1730 / 1494 mm
2603 mm
Inline-4, diesel

1248 cc
DOHC 16 valves

VTG turbo

CDI

90 hp
147 lbft
5-speed manual
F: strut
R: torsion-beam

-
195/60R15
1185 kg

106 mph (c)
12.8 (est)

-









Performance tested by: *Autocar









Punto Evo 1.4 Multiair



2009

Front-engined, FWD
Steel monocoque
Mainly steel
4065 / 1687 / 1490 mm
2510 mm
Inline-4

1368 cc
SOHC 16 valves, VVT+VVL

-
-

105 hp
96 lbft
6-speed manual
F: strut
R: torsion-beam

-
185/55R15
1075 kg

115 mph (c)
10.2 (c)

-

Punto Evo 1.4 Multiair Turbo



2009

Front-engined, FWD
Steel monocoque
Mainly steel
4065 / 1687 / 1490 mm
2510 mm
Inline-4

1368 cc
SOHC 16 valves, VVT+VVL

Turbo
-

135 hp
152 lbft
5-speed manual
F: strut
R: torsion-beam

-
185/55R15
1170 kg

124 mph (c)
8.0 (c)

-

Punto TwinAir



2012

Front-engined, FWD
Steel monocoque
Mainly steel
4065 / 1687 / 1490 mm
2510 mm
Inline-2

875 cc
SOHC 8 valves, VVT+VVL

Turbo
-

85 hp
107 lbft
6-speed manual
F: strut
R: torsion-beam

-
185/65R15
1090 kg

107 mph (c)
12.0 (est)

-









Performance tested by: -









General models

Copyright© 1997-2012 by Mark Wan @ AutoZine