Fiat Panda (1980)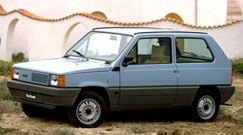 In my memory Fiat Panda was a cheap little car with nasty build quality and limited driver appeal. Occupying the bottom end of Fiat's product range, it was the cheapest of the cheapest, basic of the basic kind of vehicle. So what made it qualified for our Classic Car Archives ? With 4.5 million units sold in a very long life span of 23 years, it certainly worth consideration. Another key reason was its trend-setting "tall-body" design by Giorgetto Giugiaro.

To maximize interior space, Giugiaro designed the Panda to be boxy and unusually tall – its height matched its width, a profile unbeneficial to handling but gave it so much advantage in space efficiency. This enabled not only a lot of headroom but also a higher seating position, which allowed the passengers to sit more upright thus freed up leg room and foot room. The tall-body design would influence many mini cars from rival manufacturers as well as Fiat's own Uno and Lancia Y10.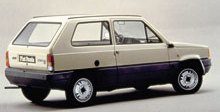 As the Panda was the cheapest car in Europe, everything was designed to save money. Its folding-paper-like bodyshell was easy to produce. Its flat windscreen and windows were cheap to source and replace. Its cabin was spartan. It offered only one body style – 3-door hatchback – and very limited choices of equipment. It employed non-independent rigid axle suspension with leaf springs at the rear like commercial vehicles, so handling and ride was forgettable (even though the leaf springs were replaced by coil springs from 1986). As cheap cars don't care about performance, it employed the small push-rod engines from the outgoing Fiat 126 and 127, i.e., an air-cooled 652cc twin-cylinder engine with merely 30 hp and a water-cooled 903cc four-cylinder with 45 hp. The major facelift in 1986 brought a much better new generation FIRE engines (34hp 0.75 liter and a torquey 45hp 1.0 liter), but still no one would get excited with its performance and handling.

However, that didn't matter to the Panda. In many ways, it was a modern Citroen 2CV – designed for the poor and especially those lived in rural area. It was cheap to buy and to maintain. It was economical to run. It offered a folding rear seat which could turn to a large cargo area. Its removable fabrics enabled the cabin to be cleaned easily. It even offered a 4x4 version to deal with country roads. Cheap cars had never been so versatile and clever.

Specification
Model

Panda 45 (1980)


Panda 750 (1986)

Panda 1000 (1986)


Year of production

All: 1980-2003

All: 1980-2003
All: 1980-2003
No. produced

All: 4.5 million units

All: 4.5 million units
All: 4.5 million units
Size (L / W / H / WB) mm

3380 / 1460 / 1440 / 2160

3380 / 1460 / 1440 / 2160
3380 / 1460 / 1440 / 2160

Layout, Gearbox

Front-

engined, Fwd, 5M

Front-engined, 4wd, 5M
Front-engined, Fwd, 5M

Engine

Inline-4, ohv, 2v/cyl

Inline-4, sohc, 2v/cyl

Inline-4, sohc, 2v/cyl


Engine capacity

903 cc

769 cc

999 cc


Power

45 hp

34 hp

45 hp


Torque

49 lbft


42 lbft

59 lbft


Weight

680 kg


652 kg

700 kg


Top speed

86 mph*

79 mph*

88 mph*


0-60 mph

18.2 sec*


20.6 sec*

16.0 sec*


* Tested by Autocar


---
Copyright© 1997-2009 by Mark Wan @
AutoZine