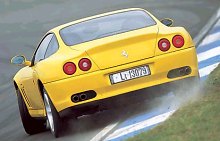 550 Maranello
A bit history first: in 1968, Ferrari launched one of its greatest GTs ever made - Daytona. The car established a format that still characterizes today's 550M Maranello - front-engined, a big V12 and a rear-axle-mounted gearbox. This layout, though looks conservative, actually enables better chassis balance than earlier mid-engined supercars such as the BB series and the Testarossa series.
The 550 Maranello was launched in 1996 and is now 6 years old. Time did not change my view that it is one of the ugliest designs by Pininfarina for Ferrari. I love its shark-like, long engine compartment, its low waistline and wide body. It does look like a supercar on road, especially in red. However, some details are still hardly acceptable even after 6 years, such as the "big nose" air scoop on bonnet, the characterless rear quarter windows and thin C-pillars, the odd tail which look far less satisfying than sister car 456GT...
Yes, let me remind you that the 550 Maranello was derived from 456GT, a fact most people forgot after so many years. By shortening wheelbase for 100mm, deleting the rear seats, modifying the 5.5-litre V12 (e.g. introducing variable intake and exhaust) to generate another 40 horsepower, sharpening steering and suspensions etc., Ferrari got a more focused 2-seater GT at a relatively low development budget.
The 550 was never considered as one of the fastest supercars. It did 0-60 acceleration in 4.6 seconds and 0-100 in 10.1 seconds, even slower than some TVR. Blame to the kerb weight of 1.7 ton. Even its claimed top speed (199mph) fails to break the 200mph barrier. As a result, the fastest production Ferrari never really challenged Lamborghini Diablo to be the world's fastest production car, let alone those limited production supercars.
However, the best thing of the Maranello was how good it behaved in real world - its performance was so easy to access. Gifted by great chassis balance, neutral attitude, accurate steering, light controls, superb V12 and positive gearshift, the 550 was perhaps the first supercar suitable for daily use. For this reason, it was beloved by millionaires, movie stars, wealthy soccer stars etc. and enjoyed overwhelming commercial success compare with Lamborghini Diablo.
575M Maranello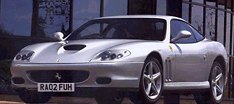 After 6 long years of monopolying the global super GT market, Maranello suddenly finds it is facing many tough new rivals, from old arch-rival Lamborghini (now with the more user-friendly Murcielago) to the latest entries by Aston (Vanquish) and even Mercedes AMG (SL55). Everybody wants to share a slice of the market. Therefore Ferrari has updated the 550 Maranello to 575M Maranello.
The M in its new name, like that found in the 456M GT, stands for "Modificata" in Italian or "Modified" in English. This is quite true, as you will find soon that the new car is not a big deal different from the old one. On the other hand, the number 575 implies an engine upgrade from 5.5 litres to 5.75 litres.
Basically, the 65° V12 is still that unit with 4 cams, 48 valves, variable resonance intake manifolds and variable back-pressure exhaust. Ferrari did not introduce any new technologies such as VVT - that will require a major redesign and Ferrari would like to wait for the next generation V12 based on the one to be used by F60. Therefore, the easiest method to increase output is to add engine capacity, by 274c.c. to 5748c.c. This is achieved by adding 1mm to bore and 2mm to stroke. Besides, by employing a new Bosch management system with better knock control, Ferrari can raise compression ratio from 10.8:1 to 11.0:1. As a result, maximum power has been increased from 485hp to 515hp (up 30hp) while torque has risen from 419lbft to 434lbft (up 15lbft).
On road, the modified V12 really feels more powerful. It is still too quiet, especially when not being pushed. Vanquish will have it beaten in noise quality while Murcielago will win for punch, but the Ferrari V12 is actually smoother and more eager to rev. It can spin to 7700rpm, even higher than the old engine. No wonder Ferrari redesigned the dashboard to feature a big revcounter in the middle, amplifying the joy of winding the V12 to sky-high rpm!
A weight increment of 40kg means the slim additional horsepower and torque are unlikely to improve performance a lot. Ferrari claims 202mph and 0-62mph taking 4.2 seconds. It is still not one of the fastest supercars - Zonda C12S and Murcielago will beat it easily, while the cheaper 911GT2 will out-accelerate it. However, do Maranello's lovers really care about absolute performance?
The 6-speed manual gearbox is unchanged, but biggest news is the optional F1 gearbox which has been used in V8 models since 1997 but - strangely - was never used in V12 models. Unfortunately, Ferrari's reluctance to apply it to V12 models gave Aston Martin Vanquish the chance to steal the title as the world's first V12 road car equipped with sequential gearbox. The F1 gearbox is based on the manual gearbox, just added an electro-hydraulic clutch and gear-changing actuators developed by Magneti Marelli - the same supplier to its Formula One gearbox. As in 360F1, you upshift and downshift by pressing the left and right paddles fixed at steering column. Not as playful as BMW's SMGII, it has only 2 sequential manual modes to select from - Sport and Normal - plus a full automatic mode. Needless to explain, the Sport mode shifts quicker while Normal mode shifts smoother.

This version of F1 transmission bias towards refinement rather than outright response. In Sport mode, gearchanges take a minimum 220ms, much slower than the 80ms of BMW SMGII and the sister system used by Maserati 4200GT / Spyder. Ferrari's own 360F1, at 150ms, is also considerably quicker. However, it is also undeniable that 575M's system is the smoothest among them and suits the character of the refined V12. However, compare with the manual gearbox it is still far from perfect - shifts become jerky in traffic; throttle blips are inconsistent during downshifts. As far as shift quality is concerned, the F1 system still fails to replicate the heel-and-toe action of a good driver.
What it does exceed human is speed. Ferrari said even racing drivers cannot shift as quick as it does, therefore the manual gearbox car takes 4.25 instead of 4.2 seconds for 0-62mph.
Changes to the chassis are modest. The chassis structure is unchanged, so are suspension setup. Ferrari just tweaked a little bit aerodynamics (new nose, lip spoiler etc.) to reduce lift, improved cooling to brakes, employs new brake pads to improve fade resistance and brake feel, uses lighter wheels and tyres to cut unsprung weight by a little more than 1kg each corner, employs a quieter new tyre, new iteration of ASR traction control... aren't these too minor? come on, we enthusiasts of Ferrari expect more after waiting for 6 years!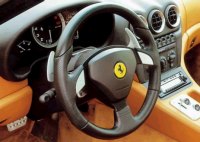 The only major improvement to the chassis is the use of new adaptive damping. Drivers can also select Sport (i.e., stiffer setup) or Normal (i.e., comfort) mode by using the same buttons for the F1 gearbox. It also changes stiffness according to road conditions. Sensors at the front wheels detect the road surface conditions and signals the rear wheel dampers to react immediately. As the driver sit close to rear axle, this simple system is quite effective.
On road, the differences between new and old Maranello are not so big. Its essential handling character remains unchanged, just improves a little bit in most departments. It still has the best front-engined GT chassis in the world, which balance so well in corners. Thanks to adaptive damping, body control has improved a bit, thus corners flatter and displays less pitch and dive under throttle or braking. Although steering is still relatively lightweight by supercar standard, turn-in becomes crisper and more eager, perhaps due to the tighter body control. Braking are stronger while feeling more progressive.
The Maranello chassis remains highly neutral, if not as responsive to steer as the mid-engined Modena. Bigger size, more weight and higher polar moment of inertia means it won't have the instantaneous response matching the Modena, but its chassis still balances beautifully and corners tidily even under abuse. In the same extreme condition, the Modena will probably slide its tail. No wonder some engineers believe FR is actually the better configuration, especially with a transaxle transmission like the Maranello. It is undoubtedly a better car for cross-country blast as well as everyday driving, thanks to its extra sense of security.
This sounds like German machines, but 575M is every bit a real Ferrari. Real V12 fun. Real eagerness to be pushed into corners. Real emotional expression. The changes may be small, but the completeness of Maranello is yet to be matched by the oppositions.