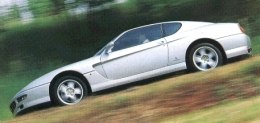 I loved this car very much. First of all, it is very stylish. Pininfarina said it is inspired by the Daytona, one of the best looking front engine sports car of all time, but in my opinion 456GT is cleverer because it combines curve surfaces and sharp edges in the most perfect way. It is best to view from the rear, but in front or side it is still beautiful enough to beat other front-engined GTs.

Secondly, I love its quality and luxurious cabin. Even the best British craftsmen can hardly made better leather seats and trim, in style. Moreover, spacious cabin can seat 4 adults without difficulty. Ferrari has improved its build quality a lot in recent years. It even introduced robotics to upgrade the build quality, not productivity. Among its model line-up, 456GT is unquestionably the best built.

Thirdly, 456GT has a wonderful power train - its 5.5 litres V12 is so powerful (442hp) and smooth that no other competitors can match with. Compare with Aston Martin's supercharged V8, the Maranello tradition V12 is overwhelming smoother and sound a lot more beautiful. Compare with BMW 850CSi's sohc motor, 456GT's is a lot stronger and sporty, with similar refinement. The engine is mated to a close-ratio 6 speed manual transmission through a long linkage, since the gearbox is located near the rear axle ( so-called "Transaxle" ) in order to provide a 50 : 50 weight distribution. Although the linkage is long, gearchange is precise. A light clutch and an optional automatic gearbox would satisfy those demand more driving ease, especially American.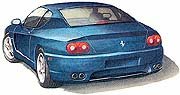 Fourthly, its handling is very nimble, if not as involving as other lighter and sportier Ferrari models. Considering its size and weight, 456GT's handling is nothing other than remarkable, beating all other heavy-weight GTs convincingly. Ride is one of its strongest points, which is very important in this class. It has an electronic damping system with 6 different settings. Computer chooses the best setting according to the steering angle, speed of steering inputs, brakes and road speed. It really works.