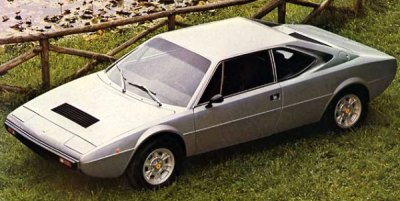 308GT4 was Ferrari's first mid-engined 2+2. It was not the world's first though – Lamborghini Urraco took that title a couple of years earlier. Both cars were designed to take on wider audience, or the same crowd as Porsche 911.

Few people liked the styling of 308GT4. Unusual to the practice of Ferrari, its design contract was not given to Pininfarina but Bertone. No wonder it looked completely different from other Ferraris, including its sister car 308GTB. Bertone did very good jobs for Lamborghini, but its signature wedge and angular shape did not suit the character of Ferrari. It wrongly thought that a refined version Lamborghini shape would suit Ferrari. As a result, the car looked neither as sexy as other Ferraris nor as spectacular as Lamborghinis. Some people said it was not an easy task to design a mid-engined 2+2 because of the packaging constraints, but if you look at Urraco or Maserati Merak, or in particular its successor Mondial (which offered more rear passenger room than all of them), you will find mid-engined 2+2 is not an excuse for poor styling.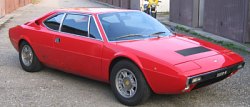 The wrong styling direction did the car no justice, because mechanically it was superb. 308GT4, together with its short-wheelbase, 2-seater, Pininfarina-bodied coupe version 308GTB, succeeded Dino 246GT as Ferrari's entry-level mass production models. Its central monocoque and tubular frame chassis provided high rigidity without weighing too much. Low center of gravity and classic A-arms suspensions delivered very good handling and surprisingly supple ride.

The engine was mid-mounted transversely just in front of the rear axle. It was Ferrari's new generation V8 – a big advancement from the V6 of 246GT. With quad-cam 2 valves per cylinder and a displacement close to 3 liters, it was claimed to produce 255 horsepower at 7700 rpm. That was probably a little overrated, as subsequent iterations reduced the quote to 230hp. Anyway, Autocar magazine measured the car a genuine 154 mph top speed and 0-60 mph in a remarkable 6.9 seconds.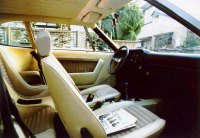 Putting 4 seats in a mid-engined sports car has never been easy. Ferrari's solution was to stretch the wheelbase to 2550mm (210mm longer than 308GTB), and then shift the windscreen and front seats forward, that is, "cab-forward design" as we call today. There were some compromises though – the driver's legs were seriously offset by the wheelwell, and the rear seats were only suitable to small children. Most people would rather used it as a secondary luggage room, in addition to the 188-litre boot located right behind the engine compartment.

In many ways the GT4 was overshadowed by its successor Mondial, especially styling and rear passenger comfort. It was one of the unsung hero in Ferrari's history, but its classic status was guaranteed by the fact that it was a rare mid-engined 2+2, especially it combined good dynamics and everyday usability.