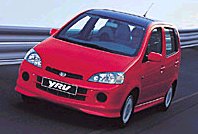 Toyota Yaris / Vitz / Echo has set a very high standard for supermini. Now we shall see whether its sister car Daihatsu YRV deliver the same level of completeness.

From the look, you'll never know the YRV was derived from Yaris. It's funny proportion (tall and narrow) has strong trace of Japanese K-cars yet the aggressive aerodynamic kits and so-called "twin-V" side windows suggest an uncompromising character. Underneath, however, the floorpan was derived from the baby Toyota, with the same suspension combination of front strut / rear torsion beam and even the same 2370 mm wheelbase. It only differs from Yaris by being longer (155mm), narrower (35mm) and taller (65mm). But that is sufficient for Daihatsu to denie any platform sharing, according to its own interpretation.

Undoubtedly, the normally aspirated 1.3-litre engine is a version of the Yaris' unit (Daihatsu men said the Toyota engine is actually built by themselves), with different state of tune to pump out 90 hp. It also features VVT-i continuous variable valve timing although Daihatsu called it "DVVT" instead (D for Daihatsu?). Nevertheless, Daihatsu has taken one step further, adding an intercooled turbocharger to the engine and created one of the most fearsome superminis - the YRV turbo. Boosting a full 140 horsepower and 130 lbft of torque, you need a Renault Sport Clio 172 to beat it ...

That's for straight line only. In corners, you'll find YRV turbo lacks a chassis to cope with its fire-breathing power. Firstly, its narrow track / tall body proportion is not ideal for hot hatches, especially the chassis seems not as rigid as the more compact Yaris. Secondly, the suspensions are set too soft, failing to resist strong lateral force and leads to excessive body roll that ruins your confidence. On bumpy surfaces, the soft-yet-long-travel suspensions tend to jump up and down, discomfort the occupants while generating a lot of noise. Thirdly, although the engine can run cleanly towards 6800 rpm, there's turbo lag at low rev and more noise at high rev. Lastly, accelerate in corner at mid-rev always result in torque steer, sometimes even wheelspin (there's no traction control), a sign that the chassis cannot cope with such a powerful engine.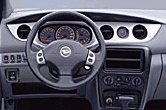 Lacking handling goodness as well as refinement, the turbo version reminds me the late Fiat Punto GT turbo, which was fun in straight line but too flawed in elsewhere. The normally aspirated engine works much better with its chassis, but you still cannot say it as brilliant. A Yaris is much much better.
Less disappointed is the cockpit. Good space for 4 passengers. Good size of boot, even with a storage tray under floor. Similar to Yaris, the rear seats are mounted higher than the front and it can slide back and forth for 150mm depends on your priority on passenger space or luggage space. Not so brilliant is the poor grade of plastic used and the cheap-feeling silver plastic panel that covers the dashboard. For the optional 4-speed Tiptronic-style semi-automatic transmission, the + and - control buttons locate at the 8 o'clock and 4 o'clock position of the steering wheel, which is obviously not ergonomical. They should have been placed in the 9 o'clock and 3 o'clock points.
With so many fundamental problems as well as lack of attention to details, YRV is quite disappointing, especially it was derived from a car so outstanding. The Turbo is particularly flawed, hardly a successor to the Charade GTti which thrilled us in the late 80s.