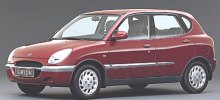 After unveiled as NC-X show car in this year's Toyko Motor Show, Daihatsu quickly put this car into production under the name Sirion, or Storia in Japan. The first thing to catch my eyes is the unique styling - to be honest, I didn't feel very comfortable with it, but I'm now getting more and more like it, especially is the chromed waist line. The overall shape, the elliptic head lamps accompany with the chromed waist line represents the strongest ever self-confidence that today's Daihatsu has. Bye Bye the old "Charade Days"....

In technical view, there is no much worth our interest - conventional MacPherson Strut / Torsion beam suspensions, one litres 12 valves three cylinders engine with 54hp, 5 speed manual.... It is not special to hear Autocar's tester saying this japanese engine is the smoother than any european rivals in this class, nor suprising to know its superior fuel economy and slick gearbox. What suprise us is the comment saying its steering is very European - precise and communicative.

Another suprise is not so good - the rear seats are said to be cramper than even the Ford Ka. The plastic trimming looks cheap. The dashboard / center console lack the styling matching the exterior. However, you will get the answer when you look at the price tag - a bargain price considering its high level of equipment and safety features. 4 air bags, ABS and CD player are all standard equipments. In addition, you get 3 years warranty.

In dimension and price, Sirion is between Move and Grand Move (or Charade). When you know how fun the Move is, you must question why Daihatsu must slot another small cars into its already crowdy small cars line up. Perhaps, I guess, Sirion's extra dimension over Move can easier deal with the forthcoming crash protection regulation. One of its selling points is the TAF system which allows the engine to slide under crash in order to absorb impact energy. If it is intended to export to Europe, this consideration is inevitable.