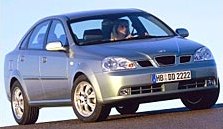 Called Lacetti in Korea, the Nubira is the product of United Nation, like its predecessor. If you remember, the last generation was styled by Italy's IDEA, employed Australia Holden's engines and was helped engineered by Germany's Porsche using Opel Vectra's suspensions. The new Nubira is a similar story. The styling comes again from Italian - this time the more famous Pininfarina studio. The engines are again bought from Holden. The chassis was tuned in UK by an anonymous consultant company (believed to be Lotus). It was developed during the hard time Daewoo went into receivership and was finished by new owner General Motors.

Thanks to GM's quality control procedure, the new Nubira feels well built and robust. Durability tests carried out on the hot and rough-surfaced Australian roads should result in pretty good reliability, showing the company's intention to revert the poor image of Korean cars. However, Daewoo has not learned how to lift its image to match European and Japanese cars yet, as you can see from its tasteless interior styling, coarse plastic dashboard, cheap switch gears, fake wooden or fake aluminum panels. This is actually a solidly-built car, but sadly, it does not deliver the same kind of visual build quality.

Exterior styling is better. Pininfarina obviously saved its best for Ferrari and other clients, but the Nubira still looks prettier than a Corolla. At least its styling won't be a factor discouraging people from purchasing it.

Enter the cabin, you will find plenty of space. Look at the dimension data - the wheelbase is 2600mm, same as a Corolla and shorter than many new rivals. However, it actually offers near class-leading space. Rear seats have excellent legroom and headroom. Luggage space is also class-leading, because this Asian car is a sedan while its European rivals are hatchbacks.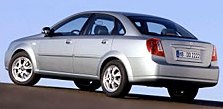 Ride and handling is average - neither outstanding nor bad. At first, you may be surprised by the solidity of the chassis and the resultant refinement - suspension noise is muted, road and wind noise are well suppressed. But then you start pushing and the old Holden engine (its origin traces back to early 80s) is noisy and reluctant to rev beyond 6,000rpm. There are 2 choices of engines - 109hp 1.6-litre 16V and 122hp 1.8-litre 16V - none of them can excite its driver. The 1.8 is of course stronger, but refinement is particularly poor.
Daewoo calls the rear suspension as multi-link, but it is actually a kind of MacPherson strut. Although it differs very much from the popular torsion-beam axle, the Nubira handles and rides just like most rivals. It rolls in corners, it understeers at the limit. It steers accurately, with good weighting but not feel. It is stable, predictable and have pretty good bump absorption. It deals happily with your daily driving route.... until you push it and determine to have fun. No Daewoo is designed to be an exciting driver's car. This one is no exception.