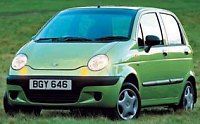 What makes a small car successful ? Pretty look, bargain price, practical and economical to run, sufficient space. Matiz has all these elements. The pretty look is styled by Italdesign, which originally designed it for the Fiat Seicento. However, Fiat rather chose its in-house studio's design so that Daewoo was benefited. It conforms to Giorgario's favourite "one-box" design, not only look smart but also provides more space than the dimensions suggest. So Matiz is roomy.

The Tickford-developed engine has 3 cylinders, 796 c.c. only, still 2 valves per cylinder for cost and fuel economy reasons. 50 horsepower and 52 pound-feet are just enough for European-style cross country, but they are more than enough for city drive, which is what this car intends to. For the same reason, it does not provide the same level of body control as the best of the European.

Yes, it has all the successful elements, but I maintain that it fails to catch enthusiasts' heart. We expect high-quality trimming as the Volkswagen or colourful interior design as Renault Twingo. Unluckily, Matiz's interior looks very boring. We understand that it should keep cost down, but we'd rather like it to be priced 200 pounds more while having a classy interior to match its pretty exterior styling. I think this is not very greedy, right ?