At the same time the two Korean car makers launched their European-targeted supermini. We have already reported about Hyundai Getz, which still trails the European rivals in interior quality and refinement. What about Daewoo Kalos? we didn't have too much expectation on it, blame to the bankruptcy of Daewoo during the last 2 years. But in the end it surprises us by beating the Hyundai arch-rival.

These days there are few differences between any superminis. Predictably, Kalos is shaped like a monospace, having long wheelbase, tall roof and short overhangs to maximize interior space. Both exterior and interior dimensions are close to Hyundai Getz thus matches the biggest European and Japanese superminis. 6-footers will find plenty of headroom and reasonable amount of legroom at the rear.

The Italdesign exterior looks quite pretty, although I don't find it any more attractive than Getz or Honda Fit (Jazz). If I were picky, I could have criticized that Giugiaro (or maybe his boys) copied the rear styling of the baby Honda, because they are nearly identical even down to the tailgate, bumper, rear lights and even rear quarter windows. By the way, it is no longer a secret that Italdesign has lost its magic long ago. In contrast, the front end styling is original, and this seems strengthening my thought because the grille is both characterless and unattractive.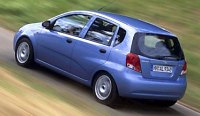 Interior is where Kalos beats Getz. You won't name it as the best-built or best-looking interior, but the plastics is decent while every piece of them is solidly built in place. Quality is high enough to shame most French superminis. This must thanks to new parent company GM which sets higher quality standard for the Korean maker. Roomy aside, the cabin is rich of storage spaces, cup-holders, fold-tables etc. Seating plan is conventional rather than MPV-style.

Driving character is similar to Getz. It is easy to drive, with smooth and accurate steering, fine body control and plenty of grip. The downside is the ride gets bouncy on rough roads.

Engine is another weak area. There are a 1.4-litre 8V, 1.4-litre 16V and 1.6-litre 16V on offer, depending on market. However, all are based on the rather outdated GME design thus revvability and refinement suffer. They get coarse and noisy at high rev, while pulling power isn't strong. Worse still, the engines are mated with a bad manual gearbox which is heavy and obstructive to shift.

Overall speaking, the Kalos is a little better than Getz, but it lacks the completeness and innovation of Japanese and European competitors.