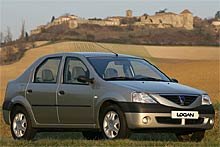 100 years since the birth of mass production cars, car sales is almost saturated in North America, Western Europe, Japan and other developed countries. However, 80% of the world's population located in developing countries where cars are still too expensive to afford. Therefore 7 years ago Fiat developed a world car called Palio to target at developing countries. Although it eventually failed to sell 1 million cars per year as planned, Fiat has paved the way for Renault.

Cars targeting at The Third World must be cheap to buy, cheap to run and highly practical to use. Therefore luxury and advanced technology are out of the question. Instead, cost reduction is the first priority. Renault has an advantage in this respect, because it acquired Romanian car maker Dacia in 1999. Romania is one of the poorest Eastern Europe countries. It provides cheap labour power that is essential to the production of Dacia Logan. The Romanian-built Logan supplies mainly Eastern and Western Europe. On the other hand, to break into the protected market of other developing countries, Renault is also going to produce the Logan locally in Russia, Iran, Colombia and Morocco. Its production base spans across Europe, Asia, South America and Africa.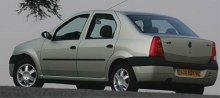 Renault said cheap is not necessarily low quality. If so, why did it badge the Logan as "Dacia" instead of "Renault" ? Obviously the car is not built at the same quality level as you expect for a Western car maker. Look at the outdated, no-nonsense exterior styling and you will know. The old-fashion shape delivers an outdated drag coefficient of 0.36. It looks like a mid-80s Fiat, with angular body panels that are easy to be pressed by cheap stamping machines. Of course, don't expect tight fit panel gaps. There are a lot of cost saving designs, such as a single windscreen wiper and a one-piece rear side window.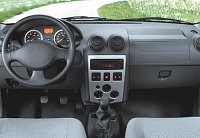 If you compare with Western cars, you can hardly classify the Logan. Renault sells it for as low as 7500 Euro, making it the cheapest car you can buy in Western Europe. Nevertheless, in terms of size the Logan is as big as Volkswagen Golf – with an even longer wheelbase ! No wonder it has a very spacious cabin. With generous legroom and headroom, the Logan is a genuine 5-seater. Besides, its boot provides an astonishing 510 litres of luggage space. So practical for so little money.

Predictably, the cabin is very bare. The whole dashboard is a single piece of shinny hard plastic. Air-con and air bags are optional, windows are manually wind, but this is nothing wrong considering its intention.

To save money, Renault designed the Logan using many existing components – the 75hp 1.4 and 90hp 1.6-litre 8-valve engines are going to phase out in Renault's own cars, but they are perfectly suitable to power the Logan. The 5-speed manual gearbox comes from Megane but with revised ratios to compensate the smaller engine. The front MacPherson struts comes from Clio, while the torsion-beam axle shares with Nissan Micra / Renault Modus / the next Clio. The rear dampers are mounted vertically in order to provide better durability on rough roads normally encountered in the developing countries.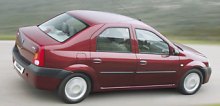 On the road, the long suspension travel (also designed for rough roads) provides good bump absorption. Ride quality and quietness is better than you might imagine, as is the eager manner of the 1.4 engine. The long stroke 1.6 is a rougher at high rev, so it is better to buy the entry-level 1.4 and save the extra money. Handling is not as competent as Western cars of course, but at least its steering is honest.

In a world pursuing soft-touch plastics, muted interior and electronic blah blah blah, Logan lets us rethink what automobiles are intended to be. Keep it simple and honest, you can have a practical transport for very little money. To me, manually winding windows work just as fine as electric ones. I have no idea why people always pursue for never-ending complexity.