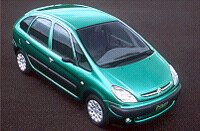 The most dramatic looking mini MPV must be Fiat Multipla, but the most beautiful is likely to be Citroen Xsara Picasso. The pure monospace is uniquely identifiable as a Citroen - not the recent Citroen we know, but the traditional futuristic and innovative Citroen from 1930s to the late 70s - it has the sleekest shape among all MPVs and a unique 5-pillars design that characterised many Citroens. If you think more pillars must lead to worse visibility, you're wrong. In fact, the pillars are narrow and window area is larger than all rivals but Multipla, so the occupants always feel airy in the cabin.

Not only feels airy, but the spacious cabin really offers more room than standard. By the way, you must know the standard is set by the great inventor Renault Scenic. It's not quite matching the 6-seat Fiat, but comfort for each passenger must be greater than the 3-row Opel Zafira. However, what makes the Citroen outstanding is the look and feel of cabin - stylish dashboard and console, superb fit and finish ever appear for a MPV, nice-touching plastic, tasteful two-tone color trimming, beautiful texture for seat material. Getting out from the poor squad Zafira and jumping into the Picasso, you'll feel like travelling in 1st class flight or Eastern Express. Another feature is the curvy center console which holds the shifter - a feature that shares with Fiat Multipla because it was pioneered by PSA and Fiat's joint venture of bigger MPVs (Peugeot 806 etc.) - thus eliminate the transmission tunnel and provide "walk-through" capability from front row to rear seats. Unlike Fiat, the center console is smooth, stylish and without looking strange.

In terms of practicality, as long as you require 5 passengers carrying capability, Picasso will never let you down. You want storage spaces ? it has more than you can remember: drawer under front passenger seat, storage compartment under rear footwells, jumbo-size door cubbyholes which can accommodate a 1.5-litre bottle water. Even the glove box has a 15-litre capacity .... for baseball glove ? However, to most people the most important is perhaps a big boot, and it got. Loading area is long, wide and flat, thanks to the wheelbase of 2760 mm (Scenic is only 2580, no wonder the Citroen is decisively roomier for both cabin and boot).

You want versatility ? Picasso rivals well with others. All rear seats are detachable independently for the benefit of cargo room. Back of front seats have fold tables with cup holders for rear passengers. If they are not large enough or not positioned appropriate for writing, the center rear seat can be folded down and slided forward to become a larger table, on which there is a paper clip so that your documents won't be blown away by wind. Lastly, a foldable trolley is provided and stored in the boot without taking much space. It can load up to 18 kg.

Now come the mechanical aspect. As indicated by its name, Xsara Picasso is derived from the Xsara hatchback. Although the wheelbase has been extended by a massive 220 mm, many main components are carried over, such as suspensions, engines and drivetrains. That saved a lot of money and shortened the development time to just 3 years.

There is no much surprise about performance, handling and ride. As experienced by Scenic, most customers of mini MPV purchase the smaller engines, say, 1.6-litre, and diesel. Therefore Citroen just offers 3 modest engines: 8-valve 1.6-litre with 90 hp, 16-valve 1.8-litre with 117 hp and 2-litre HDi turbo diesel with 90 hp. It is believed that the common-rail diesel will be the biggest seller, thanks to its superior fuel economy quoted as 51.4 mpg for EU combined cycle. None of them provide sparkling performance, not even the boomy 16V. Myself also believe the famous HDi is the choice of the range, although it needs 15 seconds to reach 60 mph. Actually drivability is far better than that, because it is very toquey and refined. No wonder Ford is also buying HDi engines from PSA.

Picasso handles and rides like normal cars rather than minivans, but like other competitors, it is not designed to be handled like a hot hatch. Ride comfort is still more important to family men and women, so suspension setting is biased towards soft. However, no matter agility or body control, it is still considerably superior to big MPVs and is at least as good as Scenic or Multipla.

The bottom line is: Picasso is nearly my favourite MPV up to this moment. Anyway, to topple Fiat Multipla, it still needs two more elements - fun and the 6th seat.