The successor to Xantia has little family resemblance. It doesn't look like the Bertone Citroens - BX, AX, ZX, XM and Xantia, neither does it look like the golden age Citroens - DS, GS and CX. The cab-forward design looks somewhat like Picasso, but less handsome, while you can also find similar profile in any Chrysler. Anyway, compare with Xsara this new car is still more distinctive. If it doesn't look as futuristic as the company used to be, at least it does look fresh. The same thing can't be said to Xsara.

As usual, we are going to start our examination from tape measure. This car is rather big by class standard. It is some 184 mm longer and 100 mm higher than Xantia, although wheelbase has grown just 10 mm from the already outstanding 2740 mm. Therefore you can expect similar interior room as the new Mondeo. Sit inside and you might be fooled by its cab-forward windscreen, very high roof and airy ambience thanks to large glass area. However, in fact the rear legroom is just average, especially front seat backs are very thick. That's good to the front occupants, because the French-style front seats provide the right balance between comfort and support.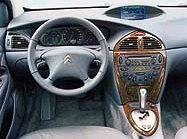 Now comes the dashboard and interior packaging, which scores average marks in style as well as plastic quality. Again, you have seen similar things in some big Chryslers. That said, the Passat, Mondeo and even Laguna seems better packaged. Nevertheless, from practicality point of view the Citroen rates high - lots of storage space, big boot (you won't notice that it is actually a hatchback, just like Xantia or many Citroen sedans), folding rear seats, wide range of adjustment to driving position, steering-column-mounted stereo and cruise control.
It is unsurprising that the car is derived from a platform shared with various PSA models, including Peugeot 607, the forthcoming 407 and Citroen C6. No wonder the car is substantially bigger than before. Unlike Volkswagen and GM, PSA's platform sharing strategy is looser, that means many equipment and powertrains are shared but not necessarily including suspensions and the exact floorpan. In fact, the continuing adoption of Hydropneumatic suspension instead of conventional coil springs and dampers is very crucial to retain Citroen's traditional ride character. Moreover, the company won't let its years of investment in Hydractive system wasted. Now the latest Hydractive 3 has made its debut in C5.
Hydractive 3

Remember Hydractive ? the first generation was introduced by XM in 1989. The second generation used by Xantia Activa added hydraulic active anti-roll bar which received mixed impression. Now the anti-roll bar thing has gone, leaving the system more faithful to the first generation but the hydraulic system is more durable (5 years or 125,000 miles maintenance-free) and electronics reacts quicker to changes. Most important new feature is adaptive ride height - admittedly, Porsche 959, Range Rover, Audi Allroad etc. also employed that - which drops the body at high speed to reduce drag while increase stability. Moreover, the front end drops more than the rear so that more aerodynamic downforce will be generated. At low speed the ride height will be raised. Off road, ground clearance will be further increased to maximum. Otherwise the Hydractive 3 functions similar to the 1 and 2. It adapts damping rate according to driving style (the computer knows that by reading data from speed, g-force, throttle, steering wheel sensors) as well as road conditions (smooth or rough).
In reality, the new system works much better than before. The softness of Xantia or XM has been replaced by a firmer setting. It adapts itself to absorb bumps very well, providing a flying carpet-like ride especially at high speed. Most of the time this is the most comfortable ride in class, although it is still not perfect - sharp and high frequency bumps may fool its electronics, generating unwanted reactions. Perhaps it is still not reacting quick enough.
Handling
One of the tradition failure of Citroen is lack of steering feel, perhaps due to Hydropneumatic as well. In C5 this is still unsolved. Although it is actually pretty accurate and well weighted, it feels vague. The Hydractive 3 cannot help involvement as well. Perhaps it works too well, it isolates the car from any intrusion on the road thus let the driver feels remote. Objectively, however, the car handles quite competent. It just provides little feedback so that you have to try its limit and build confidence on experience. If so, it can be pushed pretty hard in corners, especially the Hydactive firms up to aid attacking corners.
Engine and performance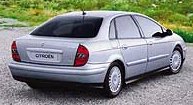 As the car is big and heavy, performance is limited for all versions. There are many engines to choose from - 117 hp 1.8-litre, 138 hp 2.0-litre, 143 hp 2.0HPi direct-injection petrol, 210 hp 3.0 V6, 110 hp 2.0HDi and 136 hp 2.2HDi (with VTG turbine and PSA's unique particle filter), the last two are both common-rail diesel. The 2.2-litre HDi is especially star of the range, providing flexible acceleration and first class refinement. Plenty of torque means it usually run at low rpm thus generates less noise than petrol engines. Compare with class rivals it is also the quietest diesel today.
2.0HPi is similar to Mitsubishi's GDI, neither as refined nor as flexible as the 2.2HDi but its nose carries a massive 130 kg less burden thus is more willing to change direction. In contrast, top-of-the-range V6 is front heavy while performance is not as spirited as expected, somewhat blunted by the ZF 4-speed Tiptronic automatic. Its speed-sensitive power steering is also too light and provide even less feel.
Overall speaking, both 2.2HDi and 2.0HPi are good cars for family buyers, if not keen drivers. In this diesel age, the 2.2HDi is especially attractive. I am sure the C5 will be another commercially successful car made by the company. However, it will not be a Citroen you'll remember 20 years later. In contrast, I still remember BX.