Citroen C4

Debut: 2005
Maker: Citroen
Predecessor: Xsara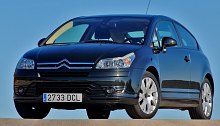 I

don't know if I am right, but I always believe Citroen's double chevron logo represents "forward thinking". Since the 30s, Citroen has been a forward thinking company. It introduced cars light years ahead of their time - Traction Avant, 2CV, DS, SM, GS, CX, BX and XM - either in terms of advanced technology, innovative packaging concept or futuristic styling, or usually all of them simultaneously. Owners of Citroen cars were proud of being different. No other mainstream car makers ever achieved this unique status.



But the legend passed away since the late 80s, when Citroen's design and engineering were fully integrated with Peugeot. Strict platform sharing resulted in down-to-earth cars like AX, ZX, Saxo and Xsara. They did cure the financial problem of Citroen, but also ruined the forward-thinking image it established for half a century. Luckily, in the new millennium PSA's financial condition got better and it could start differentiating the character of Citroen and Peugeot. Citroen is to return to forward thinking again.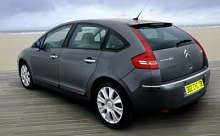 From the look, you can easily tell this is the Citroen we have been waiting for years. The C4 looks fresh and futuristic. It breaks the mold of the usual family hatch shape (i.e., Golf, Focus and 307) without looking strange (e.g. Megane). Its streamline profile results in a drag coefficient of 0.29 (0.28 for the 3-door version), excellent for a hatchback. Up front, the double chevron logo is cleverly integrated with the bonnet; at the rear, the swoopy roofline runs smoothly towards the tail so that there is no cumbersome C-pillars. The 3-door Coupe shares the same roofline but has a more striking, vertical tailgate. The rear window consists of 2 pieces, one located on the swoopy roof and one at the vertical tailgate, the same way as the 1987 Honda CRX. It might not be original, but it does bring surprises to family car segment.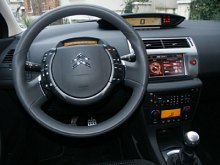 The cabin is equally unconventional. It has a LCD digital speedometer mounted centrally over the console. The rev counter is a LCD bar chart. The steering wheel has a fixed center hub, on which mounted the most frequently used or the most timing-consuming controls, such as audio, navigation and telephone. This is extremely user friendly, as you don't need to distract attention from the view forward. Moreover, it looks cool - you turn the steering wheel, seeing its rim moves around but the center hub remains stationary. This feature requires no rocket science, but it does look cool and make the car different. It adds to the showroom appeal of C4.



Surprisingly, the C4 cabin is very well made, without the nasty feel of other recent Citroens. Its dashboard has more soft-touch plastic than Focus and Golf.

The occupants sit low in the cabin, much lower than Peugeot 307 with which it shares platform. This partly compensate the lower roofline (5cm lower than 307), but the swoopy roof does not provide as much headroom at the rear. Sharing the same wheelbase as 307, it provides marginally more rear legroom but no match with Ford Focus and Volkswagen Golf. However, thanks to the low waistline and high percentage of glass area, the cabin delivers a light and airy ambience that led you believe it were bigger than rivals.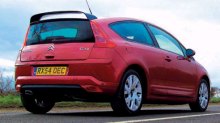 Citroen C4 is so successful to hide its origin. No matter inside or out, you won't realize it is built on the same platform as Peugeot 307. Underneath the packaging is the same engines (1.4 16V 90hp, 1.6 16V 110hp, 2.0 16V 138hp, 2.0 16V VVT 180hp, 1.4HDi 92hp, 1.6HDi 110hp and 2.0HDi 136hp), the same transmission and the same MacPherson strut and torsion-beam suspensions. The Hydractive suspension of C5 is not applied here because it is too costly for the C-segment. Citroen has finally learned the lesson from its bankruptcy in the 70s. Instead of investing heavily into costly technologies, it would rather stick to conventional mechanicals and seek low-cost innovation at where customers see, like the fixed-hub steering wheel. The money saved can apply to upgrade interior quality and equipment.

On the road, the C4 breaks no new ground. Compare with Peugeot 307, its suspension setting biased more towards comfort. It rides supplely and quietly, without the occasional fidgety of its platform donor. It is a real French car - relaxed and comfortable. The steering is light, the power delivery of the turbo diesel engines are smooth and refined.


Its handling is not bad too. Despite of the soft suspensions, there is good resistance to roll. Predictably, its lightweight steering does not feel as sharp and communicative as Ford Focus, or to lesser extent Volkswagen Golf. Ditto the body control. But the C4 chassis feels agile and surefooted. Fast into corners, it turns gently into understeer. Ease off throttle, it tightens its line gently, without turning into frightening oversteer. Overall speaking, C4 is pleasurable to drive, if not exciting enough to challenge the class leaders.

PSA's petrol engines are quite old now. Though powerful enough, they are neither very eager nor refined. C4 VTS is equipped with the Lotus-engineered 180hp 2.0-litre VVT engine like Peugeot 206 GTi 180. While the power figure seems remarkable, it takes 7000 rpm to realize and in real world feels not particularly punchy, obviously less so than Renault's 182hp 2.0 engine. In addition to a 5-speed gearbox, VTS takes almost 8 seconds to sprint to 60 mph. That's not what we expect from a range-topping hot hatch.

Perhaps this is the only missing link the C4 has. Otherwise, the C4 family is an all-round car - striking look, interesting cabin, comfortable and fine to drive. Most important, it speaks different language from the usual family hatches. It signals the comeback of the great Citreon era.
The above report was last updated on 19 Feb 2005. All Rights Reserved.
C4 2008 facelift

Although the current C4 still looks good today, a mid-life facelift can make it even more desirable. Citroen refined where the old design wasn't so elegant, such as the front air intake and bumper, so that it looks almost perfect now. A comparison with sister car Peugeot 308 will find the Citroen so much more stylish and elegant. It also has strong resemblance with the recent C5, which reads upmarket.


In contrast, the cabin is almost untouched. You might not notice the previous LCD bar-chart rev counter has been moved from the straight-ahead position to the center console display. Is it really an advancement ? I'm not quite sure. Other changes include a few new trimmings for selection and the addition of Bluetooth, USB connection etc. They are inevitable in every new car, so I won't consider them as improvement either.


In the mechanical aspect, the biggest change is found under the bonnet. In response to environmental and economy concern, the long-serving PSA petrol engines - the 110 hp 1.6-liter 16V and 140 hp 2.0-liter 16V - are finally replaced with the BMW-developed 1.6-liter VVT engines - in naturally aspirated form produces 120 hp and in turbocharged form plus direct injection produces 150 hp. Both offer higher max torque and broader torque curve. Performance, fuel consumption, emission and refinement are all improved. The inhouse-built diesel engines (90hp and 110hp 1.6HDI and 140hp 2.0HDI) are mostly unchanged, although now they are Euro 5 complaint. The range-topping VTS model is not announced yet, but I expect its 2-liter engine will be replaced with the 175hp version of the 1.6 turbo engine just like Peugeot 308 GT.

With a more stylish clothes and better powerplants, the C4 remains highly competitive in the C-segment.
The above report was last updated on 8 Jul 2008. All Rights Reserved.