Citroen C3

Debut: 2002
Maker: Citroen
Predecessor: no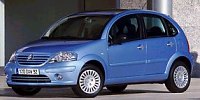 In the era of rationalization, we are pleased to see the introduction of Citroen C3 - a car that really breaks the mold. No other mini cars have such a strong visual impact to the passers-by. The C3 looks like a modern interpretation of 2CV, thanks to its arc-shaped roofline. This profile signals a change of design theme for the French company - from the boxy shape of BX / AX / ZX / XM / Xsara back to the round shape of 2CV / DS / GS / CX. Undoubtedly, the latter was the golden era of Citroen.

The C3 looks like a modern classic rather than a cheap mini car as it is. It has real presence on road, giving observers an impression that bigger than it is. Ridiculously, it even looks classier than the C5, thanks to the attention to details at the grille, headlamps and front bumper.

However, unlike other reborn classics such as New Mini and Beetle, the C3 did not sacrifice practicality for niche looks. In fact, it is one of the roomiest mini cars today, just shy of Honda Fit. Thanks to long wheelbase, high roof and cab-forward windscreen, the C3 offers generous space for all passengers, especially headroom. Theatre-style seating (front occupants sit high but rear passengers higher still) plus huge windows give the cabin an airy feel. Front legroom is first class, while rear legroom is sufficient, if not remarkable. The luggage compartment carries a class-leading 305 litres of luggage and have a flexible parcel shelf called "Moduboard", but I think AutoZine's readers will not be too interested in how it works.

The unconventional design also spreads to the dashboard. Facing the driver is a LCD digital speedometer and an arc-shaped analogue rev counter. Silver eyeball ventilation is another nice detail. Two-tone curvy dashboard with a simple center console enhance the pleasing ambience. The downside is cheap plastic used. PSA group seems not really care about this. As you can see, cheap plastics do not prevent Peugeot 206 from being the best seller in class.

In various road tests, faulty build quality was found in the cabin thus gave testers bad impression. However, as the car is built in the same plants as Peugeot 206, I am optimistic that the problem will be solved once entering production.

It is amazing that such a special car is actually built on the mechanicals of Peugeot 206, well, maybe loosely based on. PSA's platform sharing strategy is not as strict as Volkswagen. It allows cars to have different floorpan and chassis, but major systems - suspensions, engines, transmissions, brakes, electronics and equipment - which contribute to large portion of production cost are shared. Therefore the C3 gets different chassis, exterior and interior packaging to make it unlike Peugeot 206. However, as the Citroen is younger than the Peugeot by 3 and a half years, it gets some systems newer than that being used by the 206. For example, an electric power steering (lighter and eats less power than hydraulic one), multiplex wiring (saves a lot of signal wires and connections and up reliability) and a new generation 1.4-litre common-rail turbo diesel engine. These things will eventually be used in the next Peugeot 207, so maybe we can see the C3's underpinnings as equivalent to 206.5.

But 206.5 is not necessarily better than 206, because the Citroen has higher center of gravity and carry 30kg more than a 206 with the same engine. These are what you pay for "modern" super minis - every generation gets taller and heavier, hence poorer handling, and you might be well prepared to accept that.

We talk about performance first. Powering the C3 is either the existing 110hp 1.6-litre 16V, 75hp 1.4-litre 8V or the aforementioned 70hp 1.4-litre 8V turbo diesel. The first one still provide respectable performance (0-60 in around 10 seconds), although not as hot as Peugeot 206XSi which uses the same engine. This is a torquey engine, but running at above 5000rpm will sound coarse. Both 1.4-litre petrol and diesel are too slow (0-60 take more than 13 and 14 seconds respectively), however, at least the diesel has a useful 111 lbft of torque for good tractability. Refinement and quietness of the common-rail diesel are also remarkable, not to mention its 67.2mpg combined consumption. Moreover, by employing aluminium head and block it actually lightens the nose. If not so slow, it would have been the best of the bunch.

The best will come later this summer: a beefed up version of the 1.4 diesel. With VTG turbo, intercooler and a 16V head, this version will generate 92 horsepower and 147 lbft. This can be easily the best diesel engine for the class.

Concerning chassis, you might notice that since Picasso and C5 the company biases towards the comfort side, leaving the excitement side to Peugeot. This somewhat conflicts with Citroen's rally car program. Anyway, most customers will be satisfied with the safe and easy handling of C3. Slick gearchange, light steering, supple ride, good noise insulation and quiet cruising all contribute to its comfortable and easy-going character. The downside is that its lifeless steering and excessive body roll prevent the driver from pushing it to the limit. In other words, C3 is by no means a driver's car.

So what ? remember, the double-arrow badge has never meant to be sporty (forget the Saxo, a rebadged Peugeot 106). Since 2CV, Citroen's core value was always comfort, practicality and character. The C3 fulfills these 3 requirements. It is a worthy successor to 2CV.
The above report was last updated on 22 Mar 2002. All Rights Reserved.
C3 Pluriel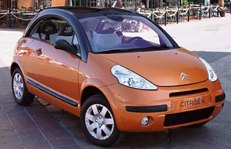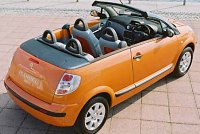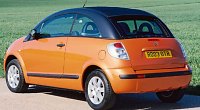 See the pictures, this is probably the most versatile car ever appeared! the name "Pluriel" means "several", implying its multi-configurations - conventional hatchback, panoramic hatch, cabriolet, spider and pick-up. Let's see how it works:

The Pluriel is normally a conventional hatchback with a 2CV-style canvas roof. By pressing a button, the full-length electric soft roof slides back in 10 seconds to reveal a panoramic view. If you want more fresh air and freer ambience, you can drop the frameless and pillarless side windows, flip and store the fabric roof and rear window manually into a storage space under the luggage floor. Now what you get is a cabriolet, albeit the thick roof rails. Next stage is more complex. To convert it into a spider (or roadster), you must unlatch and detach the roof rails, each weighing 12kg. Unfortunately, you must leave them at home and, once they are detached, you cannot close the roof again. That means in spider mode you get zero weather protection. To attach the roof rails back to the car takes some work, because the latches are difficult to locate and seem quite fragile. Finally, the Pluriel can be converted into a little pick-up if you need to carry long luggage, such as surf boards and mountain bikes. This can be done by dropping down the bottom-hinged tailgate and folding down the rear seats.


| | | |
| --- | --- | --- |
| | | |
| Panoramic hatch | Cabriolet | Pick-up |

To compensate the loss of chassis rigidity, Pluriel has its sills and windscreen pillars strengthened. Roll-over bars are incorporated in the rear seats as a safety measure. The interior is purely C3, with funky design and good space for the front occupants. Rear passengers are offered with limited legroom but the Pluriel is still a decent 4-seater compare with Peugeot 206CC.

Apart from the roof and storage architecture, Pluriel differs from the regular C3 by its cute styling. More so than a Volkswagen new Beetle, it is deliberately designed to deliver a fun, colorful and youthful image. People who drive the Pluriel will appreciate its easy-to-drive manner - supple ride, light steering, torquey engine and smooth-shifting Sensodrive semi-automatic gearbox. They are unlikely to criticize its lack of steering feel (again, blame the electric power steering), the unremarkable performance (Pluriel is about 120-150kg heavier than the C3 with equivalent engines) and the lack of chassis stiffness. On bumpy surfaces chassis flexing and shake is obvious, steering wheel vibrates in the driver's hands and the roof structure makes creaks and rattles. But that is tolerable to those who love to drive it slowly to enjoy fresh air and sunshine. Those who buy Pluriel are likely to be attracted by its funky image, flexibility and open air motoring. At this moment, nothing else can offer these elements, no matter at what price. Citroen hopes to find 75,000 customers annually, which is unusually ambitious for a niche model.
The above report was last updated on 25 Jun 2003. All Rights Reserved.