Citroen C2

Debut: 2003
Maker: Citroen
Predecessor: Saxo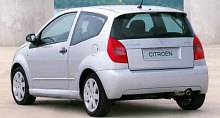 C2 replaces Saxo (which was a rebadged Peugeot 106) as the smallest model in Citroen's family chart. Basically, it is a shortened, 3-door version of the C3, targeting at young people as personal transport.

The C2 is built on the C3 platform but with wheelbase shortened by 15cm in the expense of rear passenger room. That means, while the driver enjoys almost as much room as in C3, the rear is limited to a couple of small independent seats with very limited legroom and average headroom. Regular size adults won't fit into it unless for short journey.

Predictably, bounded by the limited length the boot is small. However, access to the boot is easy, thanks to a two-piece tailgate. The upper tailgate can be opened in limited space. The lower tailgate hinge at the bottom - the same as C3 Pluriel - and can therefore load longer items or can sit people up to 100kg.

60% components are shared with C3, including suspensions (front strut, rear torsion-beam), engines, gearbox, steering (electric assistance), dashboard.... but Citroen is quite successful to distinguish both cars in looks. The C2 has a sharper, cleaner and sportier design than the roundy C3. It is also cute enough to attract young buyers.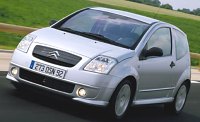 With shorter length and fewer doors, the C2 is slightly lighter than the equivalent C3, hence boosting brisker performance. The hottest version VTR employs the company's popular 1.6-litre 16V engine with 110 horsepower and a "Sensodrive" clutchless 5-speed manual gearbox. 0-60mph can be done in an estimated 10.3 seconds. That said, it is no where near the outgoing Saxo VTS (120hp 8.0 sec), blame to the slow gearbox and the ever increasing weight required by today's safety, comfort and refinement concern. To put the C2 into hot hatch segment, Citroen will need to equip it with the 2.0-litre 16V engine and manual gearbox from Peugeot 206S16.

Apart from lifeless electric power steering, C2 VTR is actually quite satisfying to drive. Its handling is easy and predictable. With enough lift-off oversteer, it is never boring to drive. 195mm tires provide abundance of grip. Suspension setup is particularly successful, keeping body roll in check while bringing good ride quality.

That said, C2 didn't bring us any surprise. You may remember Fiat Uno broke new ground in packaging, Volkswagen Polo set new standards for quality and Ford Ka lifted the game of handling. These cars have their places in automotive history. In contrast, Citroen C2 will be remembered for nothing. It does most things well, but not special enough.
The above report was last updated on 24 Sep 2003. All Rights Reserved.
C2 VTS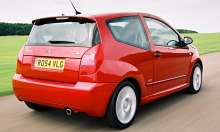 Cars do not need to be sophisticated to be fun. The best hot hatches in history - Peugeot 205GTi, 106GTi and Golf GTi Mk1 etc. - were all very simple cars. The key to success is a compact size, lightweight body and a chassis tune to respond keenly to the driver. These qualities gave the outgoing Citroen Saxo VTS a good reputation in enthusiasts circle.

Now Saxo is succeeded by C2, thus Saxo VTS also gave way to C2 VTS. The latter is derived from the C2 VTR, with tuned engine, steering, suspension and gearbox to deliver more driver appeal that VTR really lacking. The result is a welcomed improvement, but still fail to come close to Saxo VTS in terms of driving fun. You know, the C2 platform is not a good starting point to build a hot hatch. Despite of modern level of chassis stiffness, grip and refinement, it has a couple of drawbacks compare with its predecessor. Firstly, its higher center of gravity deteriorates either body control or, if compensated by stiffer suspension setup, ride quality. Secondly, its money and fuel-saving electric power steering filters all information coming from the front wheels, making the steering wheel as lifeless as playing video games. Without a complete redesign, these problems are carried over to the VTS.

So, how does it corner? with 10mm lower ride height, stiff springs, dampers and anti-roll bars than VTR, it corners stable and responsive enough, while the ride is firm but not unacceptable. The 195/45 VR16 tires, same as VTR, continues to deliver abundance of grip. The quickened steering rack (shortened from 2.8 to 2.6 turns lock to lock) allows really sharp turn-in. So the early impression is a revelation, much sportier than the VTR. Dig deeper, however, and you will find its talent is no where near Saxo. The lifeless steering is certainly the biggest flaw for a hot hatch, but other controls are not much better - brake travel too long, gearshift imprecise, poor steering wheel and pedals position.... the C2 has too many flaws to involve its driver.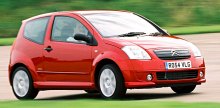 VTS employs a tuned version of VTR's 1.6-litre 16V engine. By improving breathing to intake and exhaust, revised cam timing, stiffer valve springs and revised fuel injection, it liberates another 500 rpm at the top end. That means the engine can now rev to 7000 rpm consistently and even 7200 rpm in a short period. At 6500 rpm, it generates the maximum power 123 hp, 13hp up from VTR. Torque is reduced slightly to 105 lbft, but it arrives at only 3750 rpm, so tractability is not a problem. A close-ratio 5-speed manual gearbox replaces the VTR's clutchless manual.

Looking the engine in isolation, perhaps it is stronger than the one used by Saxo VTS. Unfortunately, the new generation car also carries 100 more kilograms than its lean-constructed predecessor, no wonder Autocar found 0-60 mph slipped by almost a second !

However, speed is not the biggest problem here, but driver involvement is. Before Citroen sort it out (unlikely during the life of C2), this car is not going to be popular in the enthusiasts circle.
The above report was last updated on 2 Oct 2004. All Rights Reserved.