Dodge Viper

Debut: 2002
Maker: Chrysler
Predecessor: Viper Mk1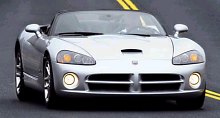 Visually, the second generation Viper is quite disappointing compare with its predecessor (especially the 1995 Viper GTS). The original Viper delivered a wild and uncompromising feel through its radical curvy surfaces and muscular profile. It was also a little retro, so from the first sight you would know, "Wow! this is an American muscle car". The second generation Viper has changed its design philosophy - curvy surfaces were straightened, muscles disappeared as a result. Now it just look low, wide and long. No wildness, no imagination, no American spirit anymore. The reason behind this change is: Chrysler's design guru Tom Gale retired in year 2000, thus the design work of Viper was shifted to Osamu Shikado, who used to design Toyota Camry. No joking.


The development direction of the new Viper is to make it more civilized and easier to drive. However, this is just relative to the old Viper. Talking about refinement is nonsense in any Viper review. This car is still very rough, very unrefined and uncomfortable. Its suspension is still tuned very stiff, just like without any suspension travel. Its steering still generates bump steer and kickback on any roads other than race tracks, so the driver must keep his hand firmly on steering wheel. Its heavy-duty Tremec T56 gearbox shifts like a truck's. Its truck-derived V10 engine (with unbalanced 90° V-angle) cannot compete with rivals for smoothness and willingness. Its cockpit is full of cheap plastics, cheap switch gears and poor taste.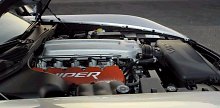 But you won't buy Viper for its refinement. Wild performance is still its selling point, and the new Viper has enhanced its already remarkable performance further. The mega aluminum V10 has gained 300 more c.c. to an astonishing 8277c.c. (or 505 cubic inches), making it once again the biggest road car engine in the world. With so big capacity, you won't mind it still relies on push-rods to activate its 2 valves per cylinder, you won't mind it fails to spin over 6,000rpm, because it pumps out a full 500 horsepower at 5600rpm, 50hp more than before. Yes, five hundred horsepower! you need some Italian V12s to outpower it.

However, even the Italian can't compete with the tremendous torque generated by the 8.3-litre American V10 - at 4,200rpm, there is an astonishing 525lbft available. In the whole automotive world, only 3 engines are more torquey: Pagani's AMG 7.3-litre V12 (553 lbft), Mercedes' 5.5-litre twin-turbo V12 (590-664lbft depends on tuning) and Bentley's 6.75-litre twin-turbo V8 (645 lbft).



Inevitably, there is concern whether the mega V10 will make the chassis unbalanced. In fact, Viper achieved better balance than even Ferrari 575 Maranello - some 52% of the kerb weight is acted on the rear wheels, perfect! this must thanks to the "cab-backward" design that put the whole engine completely behind the front axle. Also, the V10 is cast from aluminum to cut weight, unlike its truck origin. Besides, the new Viper also positions its engine some 2.5 cm lower than before in order to lower center of gravity.

As before, Viper uses a tubular steel backbone chassis (like TVR). Bodyshell is low-cost plastic composite molding (again, like TVR). There are some new materials however, such as the cast magnesium under-dash cross member and roof frames, and carbon fiber inner supports for fenders. Compare with the old Viper GTS, the new car is marginally shorter but wheelbase is 6cm longer. Overall weight is reduced by 36kg, making it levels with Porsche 911 Turbo. Suspensions are classic double-wishbones all round, made of aluminum. Attached to them are wide tyres and huge Brembo brakes, whose discs are 355mm large.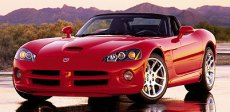 Driving the Viper is a sensation. The torque and acceleration force is astonishing - Motor Trend found it takes 4.1 seconds from 0-60mph and 9.5 seconds to 100mph. Car And Driver timed even quicker. It is therefore sufficiently quicker than the next fastest American sports car, Chevrolet Corvette Z06. Undoubtedly, Viper is one of the few supercars in the world - the others are Ferrari Enzo, Pagani Zonda C12S, Lamborghini Murcielago, Ferrari 575M, Porsche 911 GT2 and Turbo, TVR Tuscan S and Cerbera 4.5. However, following the tradition of American cars, Viper is the cheapest among its rivals bar the TVRs.

Nevertheless, like TVRs again, the Viper does not handle and ride like supercars. Yes, its firm suspension results in rock-steady cornering. Its heavy steering is race-car-quick and transmit good road feel. Its huge rubber generates massive grip. However, given a twisty road, the Viper suddenly feels too wide to be enjoyable. Its harsh ride and bump steer discourage you to push harder, unlike other good supercars. A Corvette Z06 is easier to drive faster, and more enjoyable to do so. The Viper, on the other hand, remains very much a muscle car in its blood.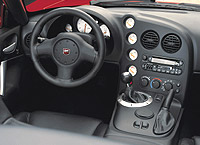 The above report was last updated on 22 Dec 2002. All Rights Reserved.
Viper SRT-10 Coupe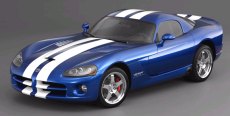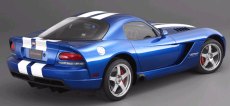 The Viper Coupe tries to replicate the first generation Viper GTS, but the result is not as successful. From design point of view, its double-bubble roof does not gel with the sleeker, straighter shape of the Viper Mk2, failing to deliver the "flowing muscle" feel of the Mk1 Viper GTS. Interestingly, the car looks rather like Bristol Fighter, which is derived from the Viper powertrain.


From engineering point of view, the Viper Coupe did not improve from the roadster as much as the legendary GTS did. You might remember the old car was launch as a mid-life update of the Viper, thus it brought a lot of chassis improvement and significant increase of horsepower. In contrast, the Viper Coupe has its entire powertrain untouched. The only thing it improved is a slightly stiffer chassis (thanks to the fixed roof) and slight reduction of aerodynamic drag, from 0.40 to 0.39, though that figure is nothing to be proud of. More welcome is a bigger rear spoiler, which generates 45 kg of downforce at 150 mph. Well, that's not a big number, but at least better than none.

The roof should raise top speed to 190 mph, but the basic nature of Viper is unchanged. It is still an old-school American muscle car. Now facing the new Chevrolet Corvette Z06, the Viper Coupe suddenly seems outdated. It is rougher, more difficult and more tiresome to drive. You need to show respect by controlling the throttle pedal carefully, otherwise will result in wheelspin and oversteer. Sadly, the Viper Coupe is no longer the fastest American car. Now both Z06 and Ford GT have surpassed it.
The above report was last updated on 21 Oct 2005. All Rights Reserved.
Viper 8.4-liter 600 hp

The 2008 Viper has a number of improvements, but at the center stage is unquestionably the new 8.4-liter, 600-horsepower engine. That is 90 horsepower higher than last year's car.

When the first Viper was born 15 years ago, its 8.0-liter V10 engine produced 400 horsepower, or barely 50 horses per liter. Detroit's outdated OHV design, with only 2 valves per cylinder operated by high-inertia push rods, limited the breathing and revvability of the engine. However, also because of the laughably low efficiency, the Viper engine had plenty of space for improvement. 10 years after its birth, the second generation Viper came with a 8.3-liter V10 boosting a full 500 horsepower. If it were a modern multi-valve engine, it would have been difficult to achieve the same amount of improvement.

Nevertheless, from 500 to 600 horsepower requires far more works. Chrysler hired British specialists McLaren and Ricardo Engineering to help improving the engine – not a surprise if you remember the original V10 was developed by Lamborghini. They developed new cylinder heads with larger valves, new intake manifolds with dual throttle bodies and new exhaust to increase breathing by 20 percent. They also increased compression ratio from 9.6:1 to 10.2:1. To cope with the increased internal stress, the cylinder block is strengthened, the cooling system is upgraded and a set of stronger pistons and metal powder forged con-rods come straight from Chrysler's 6.1-liter HEMI V8 (see 300C SRT-8). To fit these larger pistons, the bore has to be enlarged by 1mm, thus resulting in 8382 cc.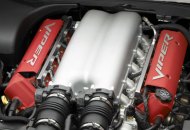 The most surprising addition is variable exhaust valve timing. This is not the first time VVT is used on an OHV engine – General Motor's 3.9-liter OHV V6, for example, uses variable cam phasing on its single camshaft. At high rpm it advances the intake valve opening, but because the same camshaft also acts on the exhaust push rods, the timing of exhaust valve opening is also brought forward. This mean the GM engine enjoys very limited benefits from the variable valve timing. In contrast, Chrysler's design uses a so-called "cam-in-cam" construction, that is, a solid intake camshaft located within a hollow exhaust camshaft (note: most magazines said vice-versa, but my info comes from SAE's journal "Automotive Engineering International" which is more trustable). The hollow exhaust camshaft can rotate for a range of 36 degrees in relation to the inner intake camshaft. This allows the use of very aggressive intake cam lobes without hurting low-speed combustion quality and emission. The "cam-in-cam" mechanism is a clever design, as it is reasonably effective, cheap to produce (only one cam-phaser is required) and easily compatible with existing OHV engines.

Overall, the new V10 produces 600 horsepower at 6100 rpm and 560 lb-ft of torque at 5600 rpm, some 90 hp and 35 lb-ft more than previously. Max rev is lifted by 250 rpm to 6250 rpm. The Viper is capable of accelerating from rest to 60 mph in merely 3.7 seconds, 0.4 seconds ahead of the old car. The ton is reached in 7.9 seconds, a full second quicker. These figures match supercars like Lamborghini Murcielago LP640, Gallardo Superleggera and Ferrari F430, if not Ferrari 599 GTB. However, the most important to the fans of Mopar is that it regains the title "The Fastest American Car" from arch-rival Chevrolet Corvette Z06. The new Viper is also the first American production car to enter the 200MPH Club, thanks to a top speed of 202 mph.


Performance is one matter. How to put the performance down the road is another matter. Viper used to be praised for muscle car performance but also criticized for muscle car handling. Therefore Chrysler also took this opportunity to improve its chassis. Firstly, the Tremec T56 6-speed gearbox is not only strengthened to handle the extra power, but also gets modified synchromesh and reduced shift travel. Now it requires far less effort to operate, although you still won't describe it as "butter slick". Secondly, the previous heavyweight clutch has been replaced by a low-inertia twin-plate clutch, which lightens the pedal a lot. These two changes made the new Viper more friendly to its driver. Thirdly, a new GKN speed-sensing limited-slip differential has been adopted to improve traction through corners. Fourthly, the suspensions get slightly stiffer springs, dampers and anti-roll bars. Negative cambers and front caster angle increased. These changes increase roll resistance and cornering grip. To compensate for the negative effect on ride comfort, it replaces the previous Michelin run-flat tires (whose stiff sidewalls hamper ride quality) with new Pilot Sport 2 tires. Finally, the bodyshell of Viper gets reshaped spoilers and additional ventilation louvers on the bonnet to increase high-speed downforce.

So now the question is, how does it handle on the road ?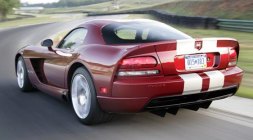 The biggest sensation of the Viper is still its power and speed. However, now the handling has become a supporting role to them rather than working against them. You will find the ride a little smoother, the brakes a little stronger and the aforementioned gearshift and clutch make it easier to drive fast and slow. But the biggest difference is the chassis dynamics – the new Viper is more eager to steer into corners because there is less understeer built into the chassis. This is made possible by the improved poise, grip and cornering traction, so Chrysler no longer needs excessive understeer to tame the beast. At the limit, the Viper is also less easier to oversteer.

Nevertheless, never underestimate the tremendous power and torque of its mega V10. Viper is not the kind of European sports cars we used to. Its surefootedness and user-friendliness serve only up to a certain level. Exceed that level and you will end up in scary oversteer or even total loss, especially on bumpy roads where its steering could get nervous. This mean while it is faster in race courses, it won't match a 911 Turbo in the real world.
The above report was last updated on 7 Sep 2007. All Rights Reserved.