| | |
| --- | --- |
| Published on 6 Oct 2006 | All rights reserved. |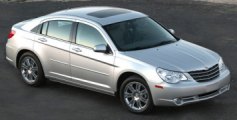 It looks like a Crossfire coupe converted to a 4-door sedan. This impression mainly comes from the grooved bonnet and the familiar grille and headlights, but unfortunately, elsewhere of the car looks nothing like a coupe. In fact, it looks quite bulky and conservative, blame to the tall profile, long roofline and slow-angle windshield / rear window. Few people will buy this car for look.

Well, we don't have any expectation for the new Sebring. Remember the last generation Sebring? it sold 1.3 million copies from 2001 to 2006, but the only thing its owners would remember is its very low price. The new car is likely to fall into a similar position. Look at its cabin and you will understand: today, even GM and Ford have ceased producing a dashboard so cheap. It is said to be a big improvement from the old Sebring, but that only reflects how bad the old car was. When compare with its key rival, Toyota Camry, the Chrysler mid-size family car is at least 3 classes lower in material quality and assembly tolerance. Besides, I suppose no one will like the design of the dashboard. Now I understand why Chrysler is negotiating with China's Chery to jointly develop and build their next small cars, because the Chinese just might build better interior than Chrysler itself !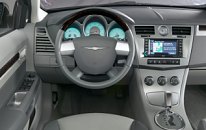 At least there are enough space in the cabin, if no more than rivals. With 2765mm wheelbase, there is good legroom for all passengers. Although the occupants sit 65mm higher than the old car to give a "commanding view" like SUVs do, headroom is compensated by the 1499mm height. Nevertheless, the back seat is difficult to squeeze in 3 average-size adults because the cabin is a little narrow - a reflection that it is derived from a small car platform (we shall talk about that later). The short boot swallows only 385 liters of luggage, well below class standard.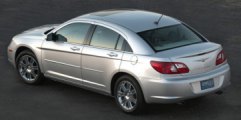 What the Chrysler better than rivals are some gadgets (though many are pay options), such as a 20GB harddisk for storing MP3 songs, an AUX input for i-Pod, Bluetooth connectivity, a voice-activated audio system, a heating / cooling cup holder and a folding front passenger seat. Rivals can easily get similar equipment from the same suppliers, so these gadgets are not actually an advantage to the Chrysler. What I concern most is the fundamental of the car - the chassis, the powertrain etc. These are the elements that characterize the car and won't be copied easily by others.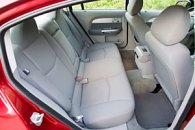 The Sebring is built on a platform jointly developed with Mitsubishi. It was primarily designed for Mitsubishi Lancer and Dodge Caliber but there is no reason why it cannot work well in the mid-size Sebring. Volkswagen also developed Passat from the Golf platform, so successful or not depends on the components it uses and the tuning it gets. Scanning the spec sheet, there is nothing wrong with the Sebring. It gets struts and multi-link suspensions. Its chassis rigidity is 170 percent higher than its predecessor's. On the road, the stiffness and NVH suppression is competitive. Thanks to a comfort-biased suspension setup, the standard Sebring rides quite smoothly on regular roads. However, this soft setting plus the high center of gravity result in poor handling. In tight corners the Sebring rolls a lot and feels clumsy to handle. The top model with 3.5-liter V6 is better, thanks to a stiffer suspension setup. However, no Sebring is going to delight keen drivers. Its power steering lacks both weighting and feel. Its braking - standard car employs a laughable drum brakes at rear wheels - is simply poor.

Base engine is the 2.4-liter 16V "World Engine" jointly developed with Mitsubishi and Hyundai. But don't confuse "World Engine" with "world-class engine". Despite of the twin-balancer shafts, it sounds coarse at high rev and never runs as smoothly as Japanese's offerings. Despite of the sophisticated dual continuous VVT and two-stage intake manifolds, it doesn't feel as powerful as the output figures 173hp and 166lbft suggested. Part of this sluggish response is due to the use of a 4-speed automatic. There is no 5-speed auto or manual gearbox on offer.



Above the four-cylinder engine is Chrysler's long-serving 2.7-liter DOHC 24-valve V6 and 3.5-liter SOHC 24-valve V6. Frankly speaking, they have passed their time and should have been retired. Power output are unremarkable 189hp and 235hp respectively, way below the Japanese and Korean's 260-plus level. The 2.7 V6 again comes with the old-fashion 4-speed automatic gearbox as the only choice. The 3.5 V6 mates with a better, if slightly unresponsive, 6-speed automatic. Predictably, all Sebrings are slow.

The new Sebring lacks both driver appeal and refinement to compete with Japanese mid-size sedans and Ford Fusion. It even lacks a good look - the traditional strength of Chrysler since the days its design department led by Tom Gale. After Caliber, this is another disappointing product from the American company.
Verdict:


| | |
| --- | --- |
| Published on 14 Feb 2007 | All rights reserved. |
Dodge Avenger

When you redress a poor car with ugly clothes, it will only become a poorer car. This is the case for Dodge Avenger. Chrysler's management childishly believed that American patriots will buy the idea of a "mini-Dodge Charger", so they restyled the Sebring's C-pillar and pumped up the muscles over its rear wheelarches. At the front, the nose is squared up and incorporates a big cross grille like any Dodge trucks and SUVs. The result is the ugliest new car we saw in 2006. Poor taste.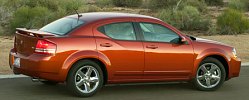 Underneath the clothes is the same car as Sebring, which scored only 2 stars in our AutoZine rating last year. It still comes with a cheap interior, numb steering, mediocre four and six cylinder engines and a handling handicapped by the tall body. In the Dodge Avenger, however, there is a sportier model called "R/T" on offer. It gets stiffer suspension setup to claw back some scores in handling without hurting ride quality much, but the overall handling is still poorer than the inherently better engineered Ford Fusion, Saturn Aura, Volkswagen Passat, Honda Accord, Nissan Altima etc. The R/T has no upgrade in power though – still the 235hp 3.5 V6 and 6-speed auto like the top Sebring. Performance does not live up to the expectation for its "Road / Track" badge.

Ridiculously, Chrysler group wants to sell this car in Europe. It will need some luck, or rather miracles, to attract sufficient sales.

Verdict:


| | |
| --- | --- |
| Published on 24 Apr 2007 | All rights reserved. |
Sebring Convertible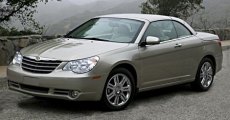 Handsome, roomy and very cheap were the three reasons that made the last generation Chrysler Sebring Convertible the best selling convertible in America for many years. Chrysler want to repeat the same successful story in the third generation car, of course, but this time it won't be so easy. First of all, the new Sebring Convertible is as ugly as its sedan sister, although it implements the ugliness in different way. An angular profile with a long long tail looks both unbalanced and bulky. Second, starting from $26,000 for the base model to $34,500 for a top model with retractable hard top, it is no longer as bargain as before. You can have Pontiac G6 Convertible and Volkswagen Eos for less money, or add a few thousands to upgrade to Volvo C70.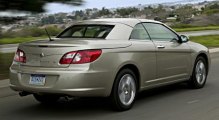 Space-wise, the Chrysler convertible is still a real 4-passenger convertible. Its rear seats can accommodate regular size passengers like Volvo C70, but it is no longer as spacious as before owing to the demise of "cab forward" design and the addition of the complicated roof mechanism behind the rear seats. The roof mechanism and the chassis reinforcement also added 200 kilograms to the car, making the base 173hp 2.4-liter four-pot suffers, the mid-range 189hp 2.7-liter V6 struggles and the top 235hp 3.5-liter V6 barely adequate. I would be surprised if the latter can do 0-60 mph in less than 8 seconds.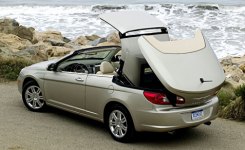 Fortunately, the additional weight are well spent to enhance refinement and convenience. Chrysler claims this chassis is 2.5 times stiffer in torsion than the old car, and it shows on the road. There is very little chassis scuttle shake with or without the roof opened. The cabin is generally quiet and free of turbulence. Such a high level of refinement must be a surprised to an American car. Pontiac G6, for example, is not as refined as this one. The automatic roof mechanism is equally trouble-free, thanks to the engineering job done by German convertible specialist Karmann, which also supplies the roof.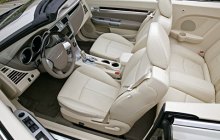 One thing is silly though: this car offers 3 kinds of roof for selection – retractable metal roof (the most expensive), fabric roof (middle price) and vinyl soft roof (the cheapest), with different noise and thermal insulation capability, of course. More silly, all three use the same actuating mechanism, so the soft tops take the same boot space as the hard top when closed. This leave only 200 liters at the boot. It seems likely that the car was designed to use retractable metal roof exclusively from the outset, but after calculated the price and found it would be too expensive, it added the cheaper choices to push down the base price.

Predictably, Sebring Convertible does not aim to be a sporty car. Its foundation is unremarkable, its suspensions are set soft and its steering remains effortless and lifeless. The weight burden also makes swift cornering impossible. However, the refinement and comfortable ride make it a good motorway cruiser, which is open-air motoring all about. In this respect, the old car had never been so good.

Verdict:



| | |
| --- | --- |
| Published on 16 Jan 2011 | All rights reserved. |
Chrysler 200 and Dodge Avenger (2011)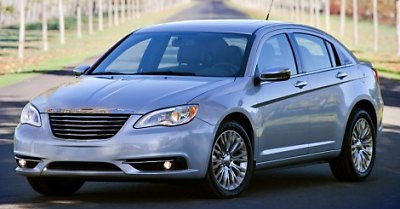 Sebring gets its second chance


Like most of you, I have never been enthusiastic about the outgoing Chrysler Sebring. In my original report written four years ago, it was seriously criticized in many aspects – in particular, performance, handling, styling and cabin quality. Few cars got such a poor reputation at first launch, and even fewer cars could be credited for making its maker bankrupted.

Naturally, the reborn Chrysler does not want to hear this name again, so it has been renamed to Chrysler 200, which goes in line with the larger 300. Apart from a new name, the car got revised clothes. Biggest change is the front end, which sports a new grille and new headlights. Do they make the car more stylish ? yes, but just. Turn your vision towards the side and you will see much the same boring Sebring. Despite of a drop of ride height, the car still appears to be too tall and narrow, lacking the fluidity of Ford Mondeo or Hyundai Sonata. At the back, new LED taillights and redesigned trunk lid lift the style a little. However, like the front grille, they lack character.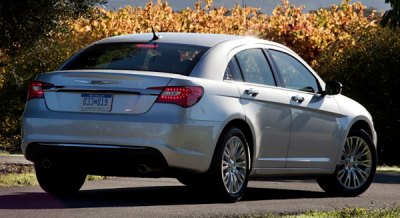 More stylish here but lacks character


Inside, the cabin gets a new dashboard. Style is not its strength, because it has to settle on the old car's dash structure. What really impresses is the materials covering this structure – thanks God, hard shinny plastics have been replaced with soft-touch ones, and the greyness of the old dashboard gives place to chrome accents and piano-black surfaces, even though the analogue clock is too pretentious to be luxury… you won't confuse it with a Maserati.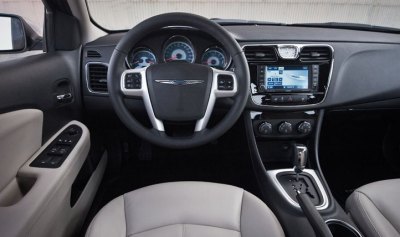 You won't confuse that analogue clock with Maserati's.


In the mechanical side, the most obvious change is of course the use of new Pentastar V6. This 3.6-liter DVVT unit pumps out a remarkable 283 horsepower, finally giving the car competitive performance. 0-60 mph should take about 6.5 seconds. On the flip side, it is rather thirsty, especially when compare against the latest Hyundai Sonata 2.0T. As a result, when it goes on sale in Europe next year (under the name Lancia Flavia) it will probably skip the V6 and adopt a FIAT turbo diesel engine instead. For now, the economy engine is the unchanged 2.4-liter four with 173hp. It cries for more power and better fuel efficiency. Don't expect FIAT's Multiair technology to arrive any time soon.



Dodge Avenger



Sister car Dodge Avenger gets basically the same mechanical modifications in 2011. Difference from Chrysler still lies on packaging. Its face is barely changed, which means it is still an ugly duck. The interior is similar to Chrysler but without the silly clock and lacquer treatment.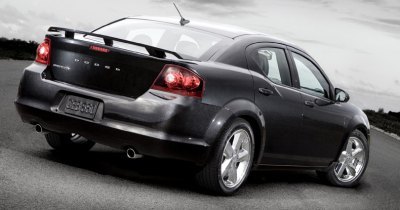 Dodge Avenger is still an ugly duck


To sort out its poor handling, Chrysler widened its tracks and lowered its suspensions a little bit, stiffened its springs and anti-roll bars, adopted stiffer front suspension bushings and a quicker steering rack. On the road, the 200 is more alive. Compare with the Sebring it rolls less in corners and turns in more keenly. However, you will never call it agile. Not only by European standard, but by the standard of its Japanese and Korean rivals fitted with sport suspensions, this American car is bulky to handle. It does not contain its body roll and understeer as good as others. Moreover, its steering, though quicker in response, remains feeless. The only feel is the torque steer when you push the Pentastar engine too hard. Apparently, the modifications made are not enough to mask the fundamental flaws of its platform.

You might say Chrysler has done an admirable job in just one year to convert the Sebring into 200. Even so, it is not going to earn more than two stars from a maximum five, because from any perspective the 200 is still below class average.

Verdict:



| | |
| --- | --- |
| Published on 30 Jan 2011 | All rights reserved. |
200 Convertible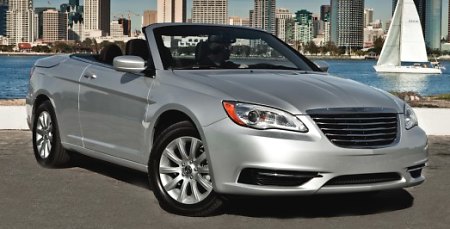 As Chrysler Sebring becomes 200, Sebring Convertible is also updated to 200 Convertible. The basis is the same as the sedan, which means improvement majors on higher quality interior, more refined chassis tuning and new Pentastar V6. The roof mechanism of the Convertible, however, is unchanged. As before, it offers the strange choices of both fabric soft roof and retractable metal roof, though the third choice, i.e. the cheapest vinyl soft roof, has been ditched in the view of little customer interest.

The old convertible was already a heavy car. Now having received all these upgrade of build quality, insulation and refinement, it becomes even heavier. Fortunately, the new V6 is more than enough to compensate, and the retuned suspension copes better with the weight, resulting in decent performance and acceptable handling. The base 2.4-liter engine is not as lucky, so you'd better to avoid it.



As before, the 200 convertible is the only true 4-seat open-top car at affordable price. Its rear seats are more spacious than Volvo C70 and Volkswagen Eos, while its price undercuts the premium BMW 3-series Cabriolet by a comfortable margin. Quality or dynamic-wise, it is hardly memorable. Taking money into account, it is still worth some consideration. At least, it is now a more decent choice than the old car.

Verdict: